An early look at our winter outlook for central Virginia
Winter of 2023-2024 is expected to be influenced by the first El Niño since 2018-2019
Published: Aug. 21, 2023 at 2:25 PM EDT
|
Updated: Aug. 22, 2023 at 9:31 AM EDT
RICHMOND, Va. (WWBT) - Virginians are still sweltering in the heat and humidity, but the start of winter is four months away, and snow lovers are already dreaming of colder weather.
We do have some clues about what to expect this upcoming winter based on climate history and current trends, and it's looking more promising for snow than it has in years for the Commonwealth.
The most important factor that influences our winter outlook each year is the phase of "ENSO" (El Niño-Southern Oscillation).
The Climate Prediction Center (CPC) expects an El Niño phase to be with us for the first time in five years this winter. Our last El Niño happened in the winter of 2018-2019. The last time we saw a big snowfall in RVA was 11.5 inches on Dec. 9, 2018.
Rarely do forecasts get more confident than this: the CPC says there is a greater than 95% chance of El Niño returning this winter. El Niño refers to warmer-than-average water temperatures in the region of the Pacific Ocean near the equator.
This large area of warmer-than-average water temperatures changes the jet stream winds, which control the weather patterns (both temperature and precipitation) over the United States. In the winter, this usually leads to above-average precipitation in the southeastern U.S. as the subtropical jet stream stays active across the southern United States.
Above-average precipitation and an active subtropical jet stream across the southern U.S. would tend to be a favorable pattern for Virginia snow chances. With low pressure frequently tracking near Virginia, we will likely have many "shots on goal" to see storms with potential winter weather.
At the very least, there is not much reason to be concerned about a drought this winter, even if our fall months are dry (autumn tends to be our driest season in Virginia). An El Niño pattern is reflected on the CPC's winter precipitation outlook this year, which predicts above-average precipitation over the southeast, including Virginia.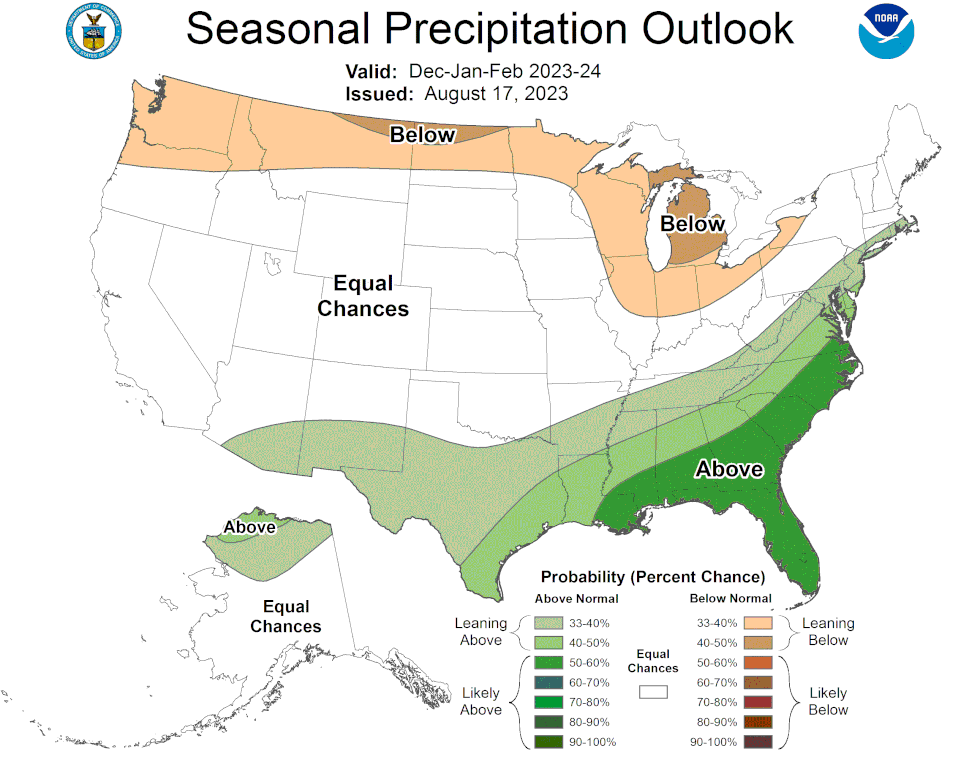 However, the precipitation outlook only tells one side of the story. The temperature outlook is equally essential for our snow chances, which is more tricky to predict months in advance.
Temperatures are usually borderline for snow in central Virginia. The dividing line between rain and snow often sets up near Richmond during winter storms, with areas southeast of RVA seeing predominantly rain and snow more likely northwest of RVA.
The Climate Prediction Center predicts near to above-average temperatures, especially across the northern half of the U.S. Regardless of whether we are in an El Niño or La Niña, global warming means we will frequently have warmer-than-average winters in the Commonwealth. Even in a warming world, Virginia will still have bouts of cold and snow. They just won't be as frequent as they used to be.
We also look to past winters for clues to our snow chances this winter - we call this "analog forecasting."
Historically, El Niño is the most favorable phase of ENSO for snow chances in RVA. Richmond has a median of 13.6 inches of snow in El Niño winters based on records from 1949 through 2021.
La Niña is the opposite of El Niño (colder than average water temperatures in the equatorial Pacific). It is not as favorable for snow in RVA, with a median of 8.4 inches. The prior three winters were influenced by La Niña, including last winter in 2022-2023, when Richmond tied the record for the least snow ever in a winter season with just a trace. NBC12 predicted last year's less snowy winter months ahead of time based on these analogs for La Niña. There can also be periods of ENSO-neutral conditions without an El Niño or La Niña. RVA has a median of 9.5 inches of snow in those winters.
Not all El Niño winters are created equally. Climatologists group El Niño into "weak, moderate, and strong," the impacts are a little different based on the strength and location of the warmest waters.
Our snowiest winters in central Virginia tend to happen in a moderate El Niño. This upcoming winter's El Niño is expected to reach the moderate to strong end of the scale. In fact, the CPC predicts a 65% chance this winter's El Niño becomes strong for a time.
There have only been seven strong El Niño's in our modern climate record, and snowfall in Richmond in those years varies considerably from a lot of snow to very little. There were nearly 30 inches of snow in a couple of strong El Niño years and either side of one inch in a couple of other years, with an average of 13.3 inches in strong El Niño years. The small sample size and large variability mean that if El Niño ends up being strong, the winter's seasonal snowfall could be boom or bust in RVA.
To sum it up, the El Niño winter expected means our chances for above-average snowfall in central Virginia are higher this coming winter than we have seen in a half-decade. Snow lovers can't ask for much more than that four months away from winter's start. We can also say with near certainty that we will have more snow this year than we did last year.
Be sure to download the NBC12 First Alert Weather app for up-to-date information and to receive severe weather alerts, including updates on any winter weather that comes our way. You can find the app in the Apple Store and on Google Play.
Copyright 2023 WWBT. All rights reserved.