Head of Maui emergency management resigns; death toll for Hawaii wildfires remains at 111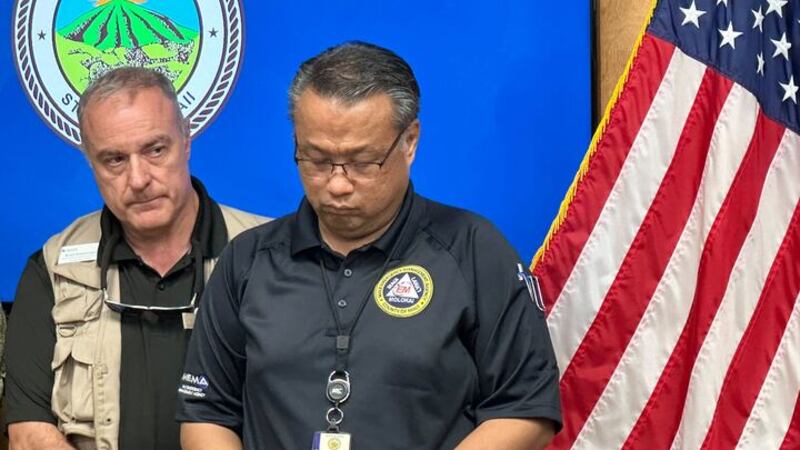 Published: Aug. 17, 2023 at 10:11 PM EDT
HONOLULU (HawaiiNewsNow/Gray News) - The embattled head of the Maui Emergency Management Agency has resigned effectively immediately amid sharp critiques of his handling of the wildfire disaster.
Maui County Mayor Richard Bissen made the announcement in a news release Thursday.
Administrator Herman Andaya cited "health reasons" in his resignation.
"Given the gravity of the crisis we are facing, my team and I will be placing someone in this key position as quickly as possible and I look forward to making that announcement soon," Bissen said.
Andaya has faced mounting questions about his leadership.
In a news conference on Wednesday, Andaya defended the decision not to activate emergency sirens in Lahaina, saying activating the sirens would have "sent people fleeing into fire."
According to KHNL, the sirens are considered "all-hazards," including for wildfires.
Andaya's whereabouts on the night of the wildfire are also raising concerns.
His resignation leaves Maui without an emergency management head as recovery teams continue the grueling work of recovering remains from the wreckage of what was Lahaina's historic center.
As of Thursday, the death toll in the disaster stands at 111. But with hundreds still missing, authorities concede that number is almost certain to rise.
Officials say among the dead are entire families whose bodies were found huddled in cars or in homes, underscoring the speed of the wildfire and the lack of a warning.
Copyright 2023 Hawaii News Now via Gray Media Group, Inc. All rights reserved.