On 3rd anniversary of George Floyd's death, Biden stops GOP-led effort to block DC police reform law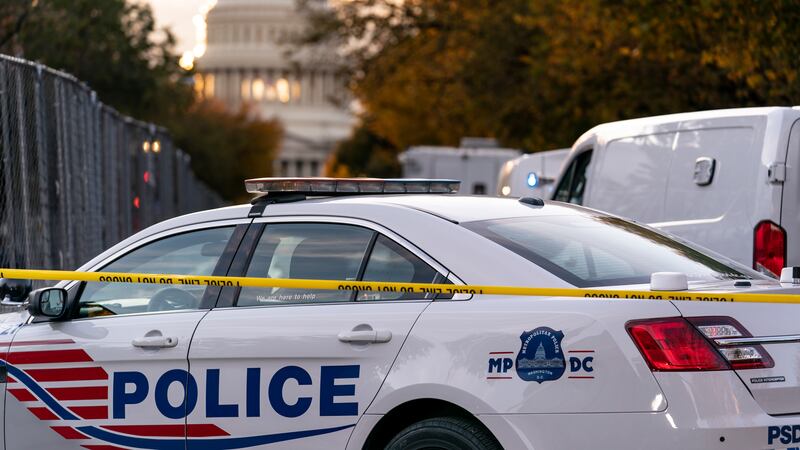 Published: May. 25, 2023 at 3:25 PM EDT
|
Updated: May. 25, 2023 at 4:21 PM EDT
WASHINGTON (AP) — President Joe Biden on Thursday — the third anniversary of George Floyd's murder — vetoed an effort led by congressional Republicans to overturn a new District of Columbia law on improving police accountability.
The law was part of a push to reform policing nationwide and passed in the wake of the police killing of Floyd in 2020 in Minneapolis. Biden has said he supported many parts of the law, including the banning of chokeholds, limiting use of deadly force, improving access to body cameras and requiring training for officers to de-escalate tense situations.
"I believe we have an obligation to make sure that all our people are safe and that public safety depends on public trust," Biden said in a statement to Congress vetoing the effort. "It is a core policy of my administration to provide law enforcement with the resources they need for effective, accountable community policing."
The veto comes as Democrats in Congress have twice this year joined with Republicans to try to block a crime and policing law in the district. The first effort Biden supported — overturning changes to the district's criminal code.
Washington is not a state; and it lacks the same rights that states have to make and amend laws. While Congress has allowed the city's residents some powers of "home rule," it has retained the power to overturn district government actions. District residents also do not have voting members of Congress.
Still, Congress has not regularly used its power to repeal — until this year. Biden's signature two months ago marked the first time in more than three decades that Congress nullified the capital city's laws through the disapproval process — and reflected a shift in the long-held Democratic position that the federal government should let D.C. govern itself.
The earlier bill was an overhaul to the District of Columbia's criminal code. It hasn't been updated substantially since it was first drafted in 1901 — though Black people have been disproportionately affected by the criminal laws, similar to many other cities.
The revisions would have redefined some crimes, changed criminal justice policies and reworked how sentences should be handed down after convictions. It also would have done away with mandatory minimum sentences for many crimes and would have reduced the maximum penalties for burglary, carjacking and robbery.
The Senate approved the House bill that sought to overturn the criminal code changes. Biden signed that resolution, ultimately blocking the D.C. law. The president and members of both parties expressed concern about rising violent crime rates in cities nationwide and said the revisions could lead to rising crime.
In D.C., homicides in the city had risen for four years straight before they dropped around 10% in 2022. The 2021 murder count of 227 was the highest since 2003.
The Senate also voted to overturn the District of Columbia law enacted last year to improve police accountability, after six Democrats voted for the GOP-led resolution. But this time, Biden wasn't on board.
"The Congress should respect the District of Columbia's right to pass measures that improve public safety and public trust. I continue to call on the Congress to pass commonsense police reform legislation," Biden said.
And the president, in a separate missive, also offered condolences to the family of George Floyd, whose death sparked anew protests over police killings of Black people, and calls to reform law enforcement nationwide.
"George Floyd's murder exposed for many what Black and brown communities have long known and experienced — that we must make a whole of society commitment to ensure that our nation lives up to its founding promise of fair and impartial justice for all under the law," he said.
Copyright 2023 The Associated Press. All rights reserved.