Health Department confirms investigation into Westport Rehabilitation and Nursing Center
Published: May. 12, 2023 at 6:20 PM EDT
HENRICO, Va. (WWBT) - Following a 12 On Your Side investigation, the Virginia Department of Health confirms it is investigating Westport Rehabilitation and Nursing Center in Henrico.
"We are aware of the story that aired regarding Westport Rehabilitation and Nursing Center and the matter is being investigated," said Kimberly Beazley, director of the Office of Licensure and Certification.
A concerned grandson contacted 12 On Your Side after his grandmother's experience in the skilled nursing facility on Forest Avenue.
"In late 2022, she had injured her leg on the side of her oven door. It punctured her leg. Over time, it got worse and worse. One of the vascular doctors said it was like an ulcer. It exploded to a big wound. That is how she got to the rehab, so she could learn how to walk again. It was hard to walk with the wound," said Messiah.
Messiah says his grandmother was in the facility for less than a month. He would visit her often, but said visits and calls became increasingly concerning.
"She would hit the red button because she needed something like pain pills or use the restroom. She would need to [be] changed or cleaned up. It would take the nurses almost 2 hours to come," Messiah explained. "My grandma told me there would be nights she felt like she wanted to die. Laying in the bed knowing you can't move and you have feces running down your leg, it's urine all in the bed. You are hitting the red button - the nurses and doctors take forever to come."
She eventually contracted an infection in her leg, was rushed to a hospital and eventually transferred to a different facility.
In a statement to NBC12, a Westport Rehabilitation and Nursing Center spokesperson wrote:
"Westport Rehabilitation and Nursing Center's singular focus is resident care and welfare. While we have achieved 3 stars on quality measures from CMS and did not receive any high-level deficiencies on our last survey, we constantly strive to improve. Whenever we fail to meet our own expectations or that of a resident, we learn from that experience and grow as a community."
A week after the story of Messiah's grandmother's experience aired, health department officials confirmed an investigation.
The Centers for Medicare and Medicaid Services also tells the On Your Side Investigators that CMS is aware of the allegations and complaints regarding Westport Rehabilitation and Nursing Center.
"The Centers for Medicare & Medicaid Services (CMS) is committed to improving the quality of care and quality of life for all nursing home residents. Patient health and safety, access to reliable, high-quality care and the treatment of all residents in nursing homes with dignity and respect are top priorities," a CMS spokesperson explained. "CMS is aware of the allegations and complaints regarding Westport Rehabilitation and Nursing Center in Richmond, VA. The Virginia State Department of Health is conducting an investigation into the complaints. CMS and the State Survey Agency (SA) are actively communicating regarding the on-going investigation."
CMS says it requires Medicare-certified Skilled Nursing Facilities (SNFs) and Nursing Facilities (NFs) to meet rigorous federal health and safety standards.
VDH encourages the community to address concerns directly with a medical facility whenever possible. It also recommends contacting the office of licensure and certification with complaints.
"The earlier an incident is reported, the better opportunity of a thorough investigation of your concerns," a VDH spokesperson explained.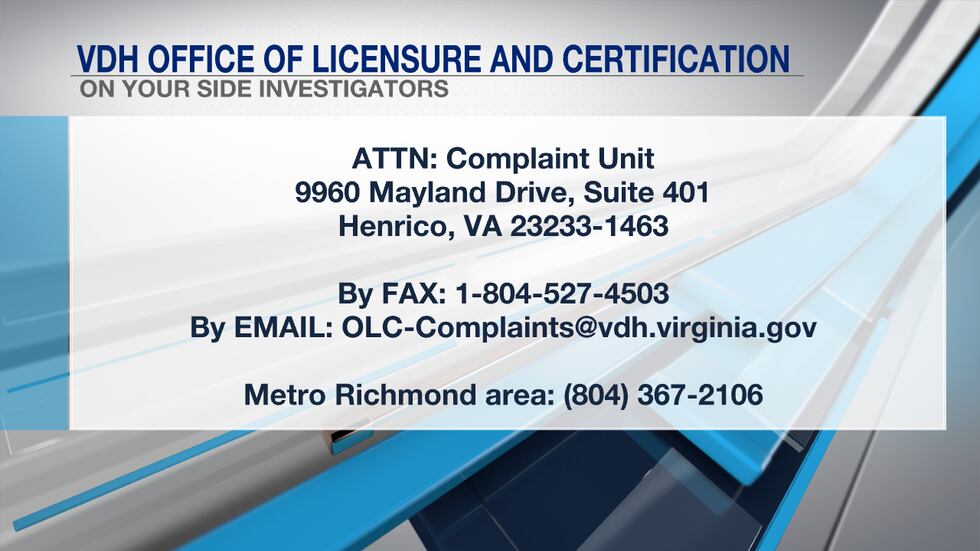 According Henrico's Adult Protective Services, anyone who suspects abuse, neglect, or exploitation of a disabled or elderly adult should immediately make a report to Adult Protective Services.
In Henrico, the local APS hotline number is 804-501-7346 and the hotline is staffed 8 a.m. to 4 p.m. Monday through Friday with the exception of holidays.
The Virginia State APS hotline number is 800-799-7233. They take reports for every locality in Virginia and can be reached 24 hours a day.
Concerns regarding facility conditions and services can also be reported to the Department of Health, Licensure & Certification at 800-955-1819.
Anyone who has concerns that someone's human rights have been violated can contact the State Long-Term Care Ombudsman at (800) 552-3402.
Copyright 2023 WWBT. All rights reserved.