Wilder calls on Youngkin to replace chief diversity officer over comments at VMI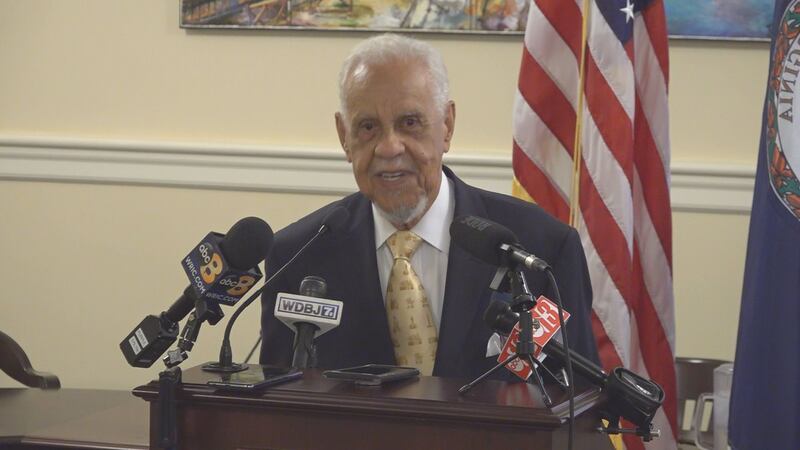 Published: May. 9, 2023 at 6:33 PM EDT
RICHMOND, Va. (WDBJ) - Former Virginia Gov. Doug Wilder says the state's Chief Diversity Officer should be fired for recent comments on diversity, equity and inclusion (DEI).
During a State Capitol news conference, Wilder said Gov. Glenn Youngkin should replace Martin Brown for saying 'DEI is dead' during a recent visit to Virginia Military Institute.
Now in his 90s, Wilder delivered a strong rebuke.
"Not only is DEI not dead; it's needed now more than ever," Wilder told reporters.
He said Martin Brown's statement was reckless and inflammatory, and in conflict with the results of an investigation of VMI during the previous administration.
"We're not talking about a hundred years ago. We're not talking about 50 years ago. We're talking about now," Wilder said.
He said Governor Youngkin has the legal and moral responsibility to take action.
"I have not asked for him to resign," Wilder said of Martin." I am calling for him to be immediately replaced by the Governor, because it's in dereliction of his duties and responsibilities and his statements do collective harm to all of the people of Virginia."
VMI issued a brief statement: "Maj. Gen. Wins and his team are committed to providing VMI's unique educational experience in a safe, inclusive manner for all those who are interested and qualified."
A spokesperson for Governor Youngkin said he will continue to advance equal opportunities—not equal outcomes—for all Virginians.
"This is too important of an issue," Macaulay Porter said, "to succumb to those seeking to cancel Chief Brown for challenging the groupthink of the progressive left's pursuit of equity at any cost."
Copyright 2023 WDBJ. All rights reserved.