Legal battles continue for home renovation company; clients turn to new contractor
Published: Apr. 18, 2023 at 9:20 PM EDT
HENRICO, Va. (WWBT) - A Henrico home remodel and renovation company continues to face lawsuits after closing unexpectedly.
On March 15, customers of Fabling Built were sent an email saying the company was shutting down due to "financial difficulties."
Several Fabling Built clients tell the On Your Side Investigators they are frustrated and trying to get their money back because work either abruptly stopped or never even started on their homes, after they made deposits and payments.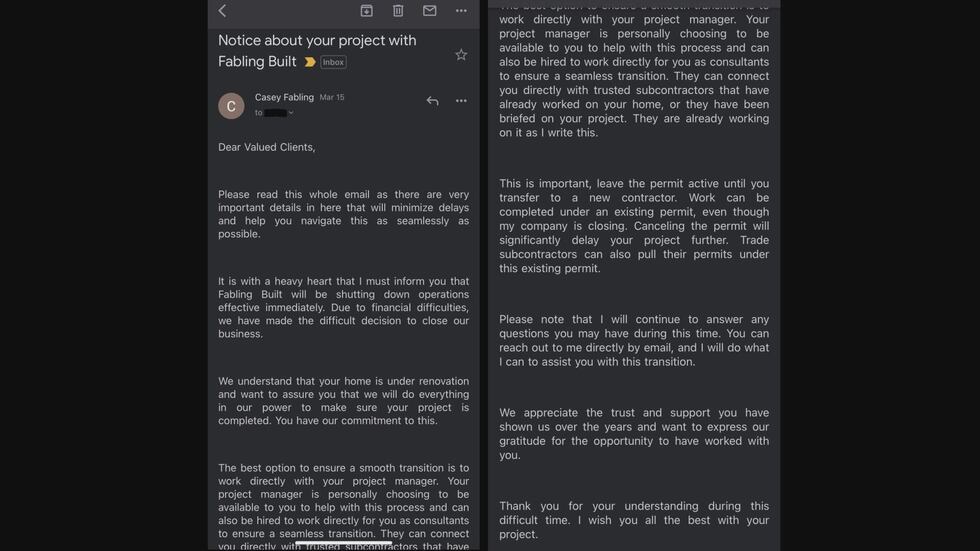 Soon after the closure, warrants in debt were filed against Fabling Built and owner Casey Fabling. In Virginia, warrants in debt are for claims up to $25,000. So far, three lawsuits ranging from $42,000 to $150,000 have been filed against Fabling Built in Henrico County Circuit Court.
In a lawsuit filed by Carroll Plumbing & Heating, the company says in some instances Fabling was paid by the homeowner and failed and refused to Carroll Plumbing and Heating.
On April 14, Casey Fabling appeared before a judge in a warrant in debt case that was seeking more than $23,000 at 6% interest until the judgement is paid in full. Fabling told the judge "no contest," and was ordered to pay a Henrico homeowner.
Fabling declined an interview after the court appearance, but two days later, sent a press release to NBC 12, announcing that Hanover County based Balducci Builders has agreed to assist former Fabling Clients.
Co-owners Christopher and Dennis Balducci tell NBC 12 they did not know Casey Fabling or Fabling Built prior to the company closing.
After they were approached to help, and after being told about the issues homeowners may be facing, the Balduccis say they are willing to take on new clients and work with homeowners trying to complete and in some cases, start projects. Balducci Inc. has already started meeting with former Fabling clients.
Former Fabling Clients in need of assistance are encouraged to contact Balducci Builders, Inc. at (804) 730-0982, extension 113.
Copyright 2023 WWBT. All rights reserved.