'They stopped showing up': Henrico contractor closes unexpectedly; families want thousands back
Published: Apr. 13, 2023 at 11:49 AM EDT
|
Updated: Apr. 13, 2023 at 3:47 PM EDT
HENRICO, Va. (WWBT) - Lawsuits continue to be filed against a Henrico-based home renovator and contractor, Fabling Built. The company closed unexpectedly in mid-March.
Several Fabling Built clients tell the On Your Side Investigators they are frustrated and trying to get their money back because work either abruptly stopped or never even started on their homes, after they made deposits and payments.
"We started doing things around the house to get ready, and about two weeks before the day they were supposed to start demolition, I was called by my project manager and told that he had just lost his job. The company was closing and he suspected my money was gone," explained a Richmond homeowner who did not want to be identified. "That started, you know, a chain of events on our side, obviously panic at first, and trying to find out if the money was truly gone."
The Richmond family says they did as much research as they could before signing a contract with Fabling Built in February 2023.
"We reached out to references, we read reviews. We even looked into pending court cases in Richmond and the surrounding counties to see if they had been sued by clients or by subcontractors and we found nothing," explained the client. "We really had a good experience with the representative that we dealt with. We ended up signing on right at the beginning of February, signed our contract and paid our deposit of around $32,800."
As they spoke to several contractors throughout the process, the family encountered companies that required a deposit for a large scale home renovation.
"Our contract said specifically it was a refundable deposit if our financing did not come through," they explained. "Every contractor we've spoken to for a project of this size requires a deposit. These types of arrangements with contractors requires some trust. I think that's what's been the most difficult part of this, is to have that trust broken."
Fabling Built was started by Casey Fabling in 2016. The company's website says Fabling started the business with just $100 on his 30th birthday.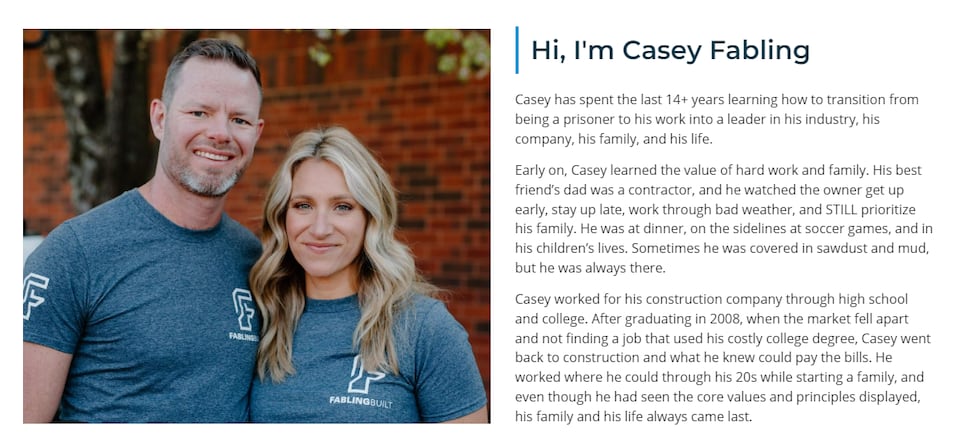 On March 15, Fabling wrote an e-mail to customers with the subject line "Notice about your project with Fabling Built." The e-mail goes on to say that due to "financial difficulties, we have made the difficult decision to close our business."
The e-mail also states that Fabling will do everything in its power to ensure clients' home renovation projects will be completed.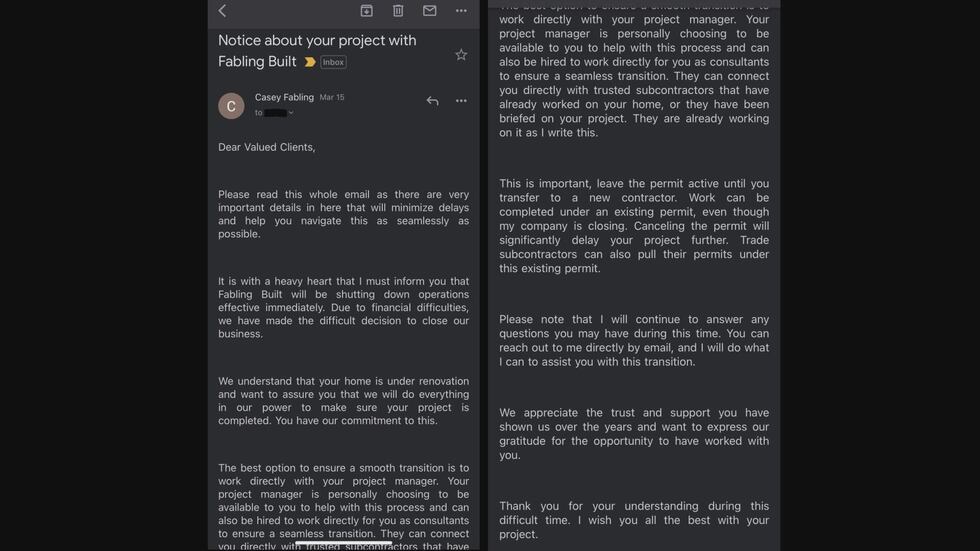 The Richmond homeowner says building permits were pulled, but they are now starting their project again with a smaller budget because they have not recovered the $32,000 from Fabling Built. They are searching for a new contractor during a time when some businesses are booked out for months.
"When we were speaking with contractors last fall, we were basically getting in line to have their availability. So we are still trying to figure out what we're going to do next. We'll have to get a new building permit. We were told that that can't be transferred--that's also money that's gone," they said. "It's terrible. I know, for one, that I'm not in as bad of a position as others. I've heard that there are other families who have bathrooms completely demolished with no one showing up to do work."
A Henrico family who also did not want to be identified, says they have been trying to finish work on an outdoor living space themselves, after work abruptly stopped.
"We interviewed seven contractors, but we really wanted to go with somebody that was very reputable, that had a really good social media presence, showing their testimonials, customer testimonials, projects, everything like that," said the homeowner.
For five years, the family says they saved up to tear down and replace a deck that was built in 1982 and was no longer structurally sound. They chose Fabling Built to construct an outdoor living space with a price tag of $65,000. They signed a contract, put down a deposit and got on a payment plan.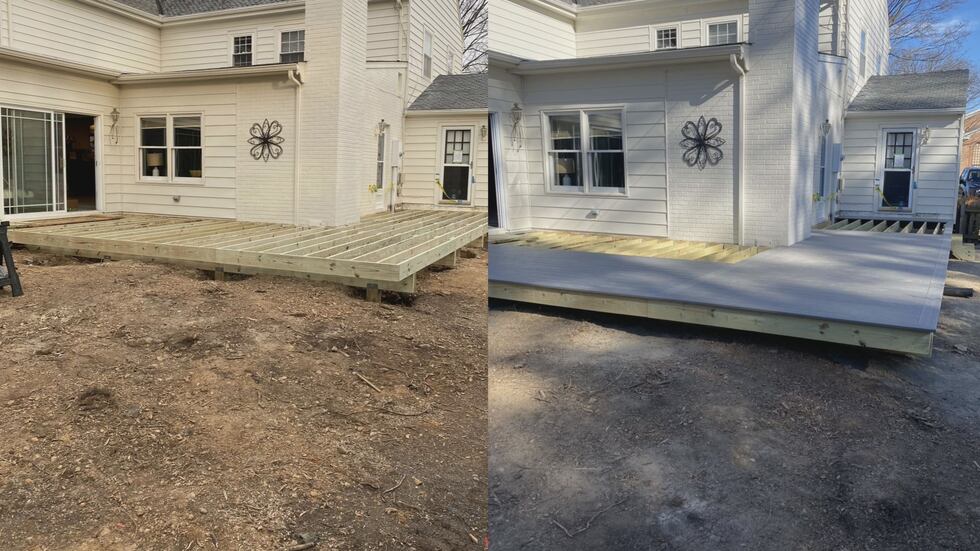 "They were successful in installing the concrete patio, which we have outside," said the Henrico homeowner.
As work continued on a deck, they decided to make a final $28,000 payment.
"The only reason that we didn't finish the installment payments in this project is because there was a 10% fee on every installment payment. We contacted Fabling two weeks before [they closed] and said, Can we make this last $28,000 payment? Will you waive this 10%? And they said yes. Looking back on it, I wish that someone would have said to us, let's hold off on that payment," the homeowner explained.
Two weeks after they made the final payment, Casey Fabling informed customers about the business closing.
"I contacted Casey pretty immediately after that, and I wanted to give him a chance to explain himself. I thought maybe he would do the right thing and come finish the project. When I talked to him, he did say, you know, your materials to finish the project will be delivered tomorrow," the homeowner said.
So far, the materials have not been delivered. The homeowner's family members have been working to finish the deck, but there is work that can't get done without specific supplies.
"I reached out to [two companies] who were supplying the railings and they both told me that we weren't getting our materials that we had paid for, because Fabling Built owed so much money to them that they couldn't release the materials," she explained. "It's still not finished. You'll see that there are parts of the deck that are still missing. We don't have railings."
The final payment was made on a credit card, which in hindsight, the family says may be helpful as they work to recover the money.
"We are currently working with Amex to rectify that and possibly get the money back. If they do the research and find that we're due the money back, which I think that they will," she said. "Putting that last $28,000 on the credit card was simply to get the points. Honestly, we knew we had the cash to immediately pay it off and that was more so in our benefit. Looking back and in talking to all these other families who paid cash, you know, that was probably the best situation for us, because we have more of a chance than other families to get our money back through American Express."
The Henrico homeowners are also trying to help former Fabling employees as they search for new jobs.
"I have been helping them put resumes together to get jobs because, you know, people also don't think about these employees that weren't being paid their last days, weeks, months leading up to this. It's not their responsibility or their fault that this happened," she explained.
In Henrico civil court, warrants in debt against Fabling Built and Casey Fabling continue to be filed. Most of the suits have been filed in the weeks following the business closing. The plaintiffs are homeowners as well as a drywall company and a tech company. One claim is seeking more than $23,000 at 6 percent interest and says Fabling 'did not provide required service--job not started.'
The On Your Side Investigators went to Fabling Built's office on Gaskins Road. It is completely cleared out. The owner, Casey Fabling did answer a phone call but said "no comment right now." He went on to say, if he had any updates he would reach out to NBC 12.
In a statement about Fabling Built, Henrico Police wrote: "Henrico County Police has several reports on file within the last two weeks from community members reporting possible fraud. Currently, the Division is looking into the matter."
Copyright 2023 WWBT. All rights reserved.