Spring outlook for central Virginia
Likely warmer than average spring season ahead
Published: Mar. 28, 2023 at 5:59 PM EDT
RICHMOND, Va. (WWBT) - Central Virginia saw an unseasonably mild winter, and we can expect warmer-than-average weather to stick around for another season.
The Climate Prediction Center says above-average temperatures are likely up and down the east coast of the United States from April through June.
The spring and early summer outlook shows a similar weather pattern to what the U.S. experienced during the winter months, with warmer-than-average weather in the eastern and southern states and cooler-than-average weather in the western U.S.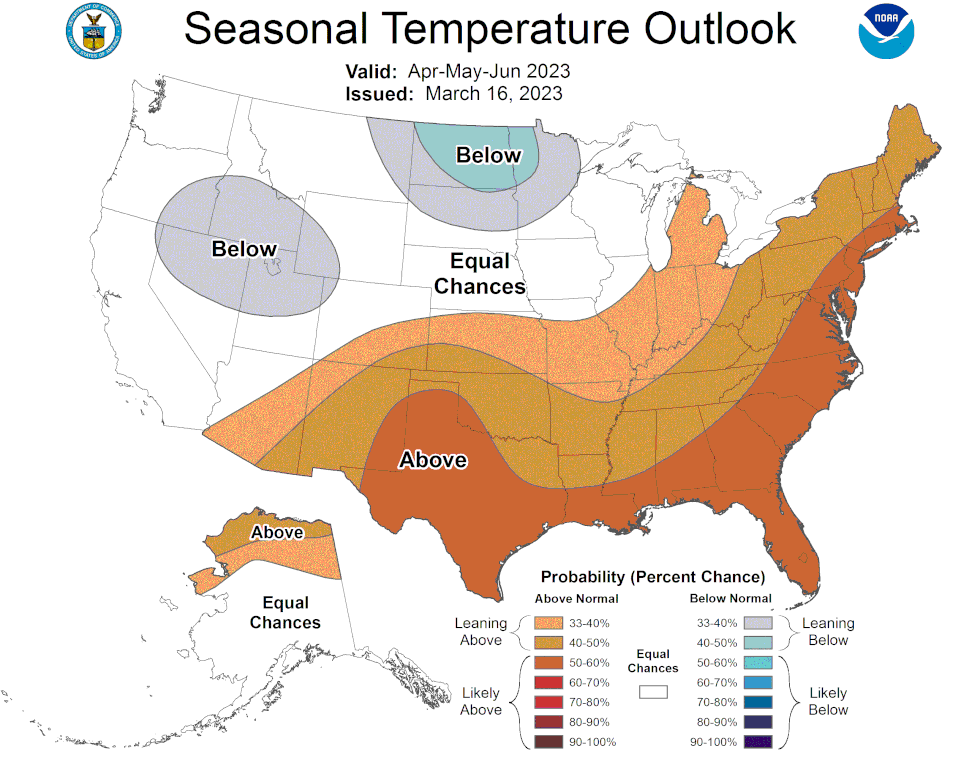 The Climate Prediction Center has central Virginia on the fringe of an area that may see above-average precipitation from April through June. Still, there's not a strong signal either way.
It's difficult to say how this weather pattern will impact our severe weather potential in central Virginia this spring and summer. The conditions that bring severe storms are not easily predicted more than a few days in advance. Central Virginia sees severe storms annually to varying degrees, so we should all be prepared for that potential again this year.
You can find tips on severe weather preparedness, tornado safety, lightning safety and flood safety on our website.
A rare three-year-long La Niña pattern officially ended in early March, and we are now in an ENSO-neutral phase (a time period with no La Niña or El Niño).
La Niña refers to cooler than average water temperatures in the Pacific Ocean near the equator and El Niño features warmer than average water temperatures in the same area.
This change in water temperatures in the Pacific Ocean alters weather conditions in other parts of the world, including here in Virginia.
Climate prediction models show El Niño will likely return later this year, potentially as early as this summer. There are even signs a moderate to strong El Niño could develop towards the end of the year.
If predictions of El Niño pan out, it may be good news for the Atlantic hurricane season, which starts on June 1.
Hurricanes and tropical storms tend to be less frequent in the Atlantic Ocean during an El Niño pattern because the stronger wind in the upper levels of the atmosphere tears tropical systems apart before they can fully develop.
However, it only takes one storm hitting a populated area to cause destruction, so we cannot let our guard down even if the hurricane season does end up being below average.
Be sure to download the NBC12 First Alert Weather app for updates on anything the changing weather patterns may throw our way this spring and summer.
You can find the app in the Apple Store and on Google Play.
Copyright 2023 WWBT. All rights reserved.