'It hasn't been paid:' Chesterfield man waiting for $5,000 payment after issue with tow company
Published: Mar. 28, 2023 at 12:09 PM EDT
|
Updated: Mar. 28, 2023 at 3:36 PM EDT
RICHMOND, Va. (WWBT) - A Chesterfield man says he has been waiting almost a year to receive money owed to him from a Richmond towing company.
In July 2022, a Chesterfield judge signed off on a judgment, awarding Marlon Harris $5,000 at 6% interest against No Limit Towing.
"I sued them for $5,000 plus court costs, plus interest. I won that total and the interest is still accumulating because it hasn't been paid," he said.
Harris says in March 2022 his car broke down in a private parking lot on Hull Street. He left the car and came back to find it had been towed.
Harris reached out to No Limit Towing and paid $295 in a tow fee plus $75 via CashApp to have the car towed to his apartment complex.
When he first tried to get the car back, Harris says he was told there were several drivers with COVID-19 and they could not get his car back for several days. He says this continued for weeks. At one point, an employee sent him a photo from the tow yard's surveillance system showing his Chevy Malibu in No Limit Towing's lot.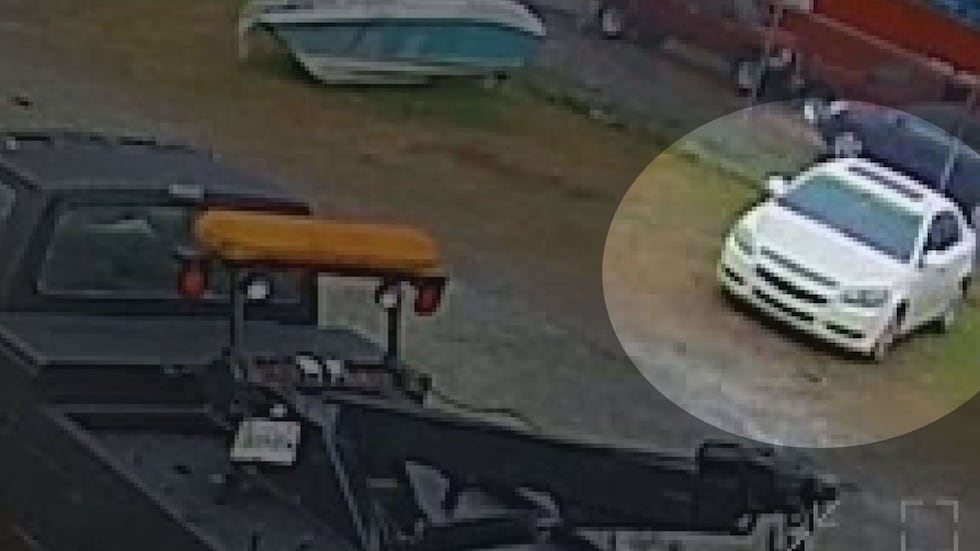 "I was like, okay, I gave them a few days. I call back again and now they had drivers, but they told me that it was illegal to tow the car to an apartment complex. And I knew that it wasn't true anyway. Because I had had cars towed to the apartment complex before," said Harris. "It first started like March 3rd. I didn't get my car back until I think April 21st, but it's been a month, over a month and a half, and I get my car back and I can't use it.
When the car was returned, it was ultimately totaled by his insurance company.
"I look at the car and I'm a few feet away from it. So I can see underneath the car. When I look underneath the car, I saw something hanging. So when I went and look closer, I saw that the catalytic converters - both of the catalytic converters - had been cut out," he explained. "They were just the pipes were just hanging down on the ground. I opened up the driver's side door and there was standing water and mold in from the driver's side floor through to the back, all along the driver's side [even though] both all the windows were up. All the doors were closed. I don't know how water would have gotten in the car unless they had opened the doors, open the windows or something like that."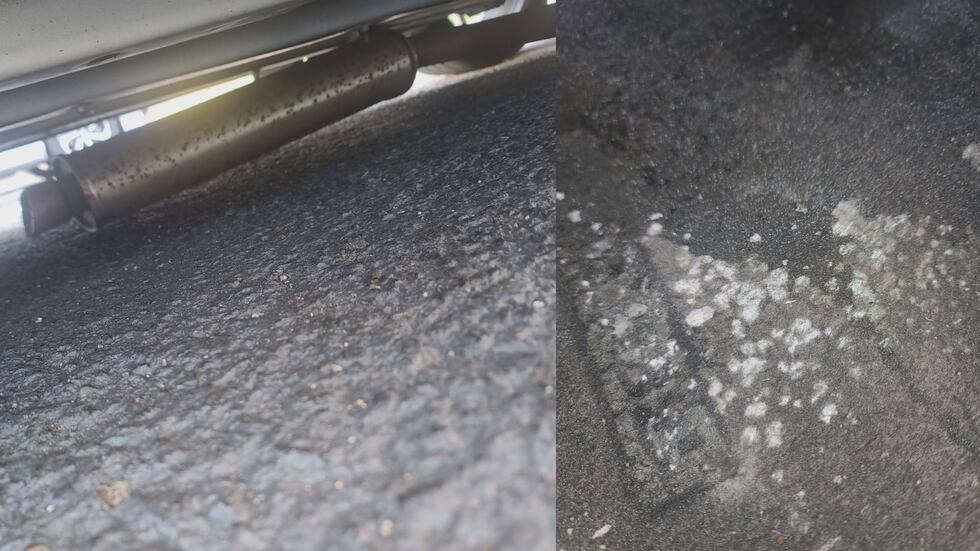 Harris took his issue with No Limit Towing to court. A Chesterfield judge awarded him $5,000 plus interest, but Harris has not been able to collect. According to court documents, No Limit Towing was served with a warrant in debt.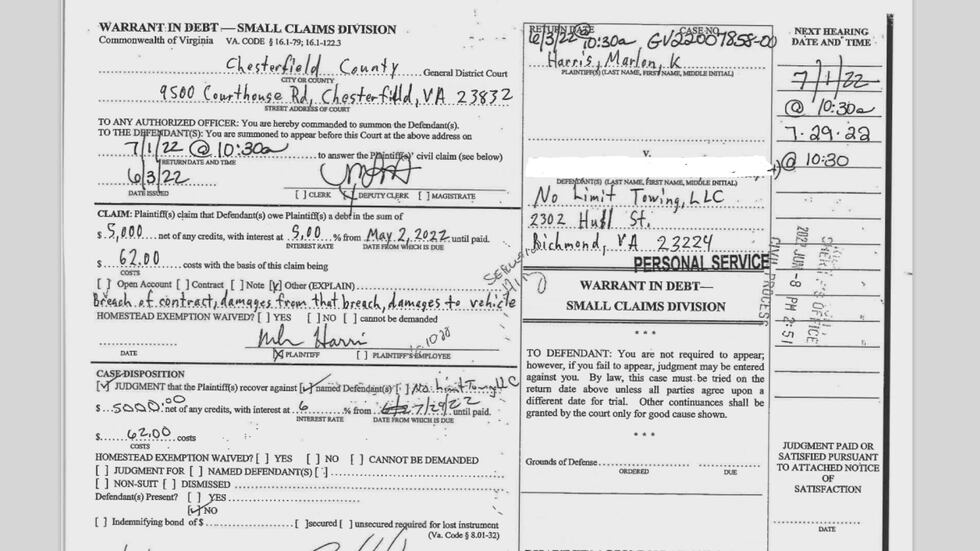 "I hired a collection agency to do the collecting because it's a process, and I figured that they could get it quicker than I could. About a month into that, the collection agency lady called and said that they had closed the business," said Harris.
The On Your Side Investigators called No Limit Towing. An employee answered. When asked about the case involving Harris, they said, "we don't have any information about that, we would have to speak to our attorney - I don't know what's going on," but said the business attorney would call 12 On Your Side.
The On Your Side Investigators followed up via e-mail on three separate occasions. No calls or e-mails have been returned, but someone identifying themselves as a "customer" of No Limit Towing sent the following e-mail :
"Hello, I'm writing to express how helpful and wonderful No Limit Towing has been to me as a customer. Sherral has always been straight forward and honest whenever I've dealt with her. The customer service is always friendly and the prices are reasonable. Things being said about this company I have never experienced. I used No Limit Towing in the past and will continue to use them in the future."
Harris now has a new vehicle. He says spending money on Ubers was not sustainable.
"Because I was without the car, I had to get Ubers to work. Ubers back and forth to work, and then Uber wherever I needed to go - so Ubers every day, kind of, you know, hurt the pockets," he said.
While Harris's judgment against No Limit Towing continues to accumulate interest, he is hoping the wait for the money a judge says he is owed will end soon.
"Anything is better than what it is right now," said Harris.
Copyright 2023 WWBT. All rights reserved.