Youngkin signs universal license recognition law at Richmond barber shop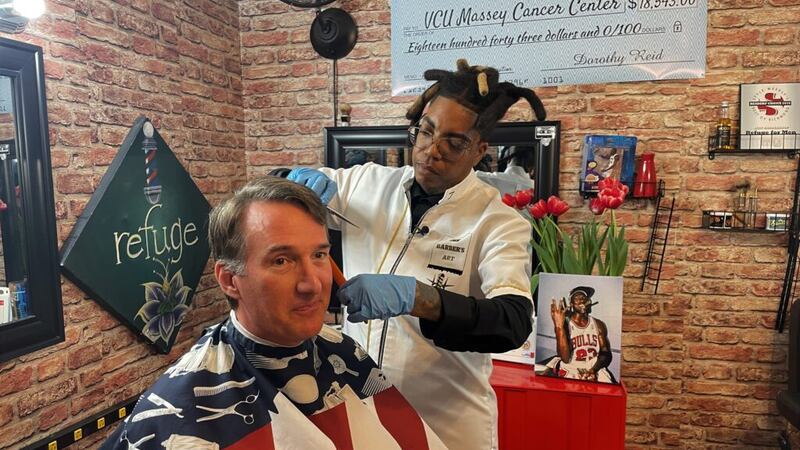 Published: Mar. 3, 2023 at 2:29 PM EST
Dot Reid's barber shop used to have 20 employees and two floors of space in Richmond's Fan District. Coming out of a pandemic when many people treated haircuts as optional or more of a do-it-yourself thing, she's down to five employees on one floor.
As she cut a customer's hair Friday morning, Reid explained the trouble she's had in recruiting new barbers and hairstylists as she tries to rebuild her business. She had a qualified job candidate with over a decade of experience, she said, but because he would've been coming from Maryland, it would've taken a while for him to get licensed to cut hair in Virginia.
"That was a huge challenge for me to actually have qualified candidates right there in front of me," Reid said. "But then I knew we had to deal with the regulation challenges."
Reid's customer, Gov. Glenn Youngkin, chimed in to say it's harder for people to move to Virginia if they know they can't work and make money immediately.
"The income that you had where you were coming from generally stops," Youngkin said as he sat in Reid's chair at Refuge for Men. "And if there's a long gap before you can start working again, you can't move."
A few minutes before the haircut, Youngkin signed universal occupational licensing legislation that will make Virginia recognize many professional licenses issued by other states, a shift supporters say will remove regulatory red tape that can be an obstacle for out-of-state workers trying to get started in a new place.
READ MORE ON VIRGINIAMERCURY.COM >>>

Copyright 2023 WWBT. All rights reserved.