'We are heartbroken': Memphis Zoo announces death of giant panda Le Le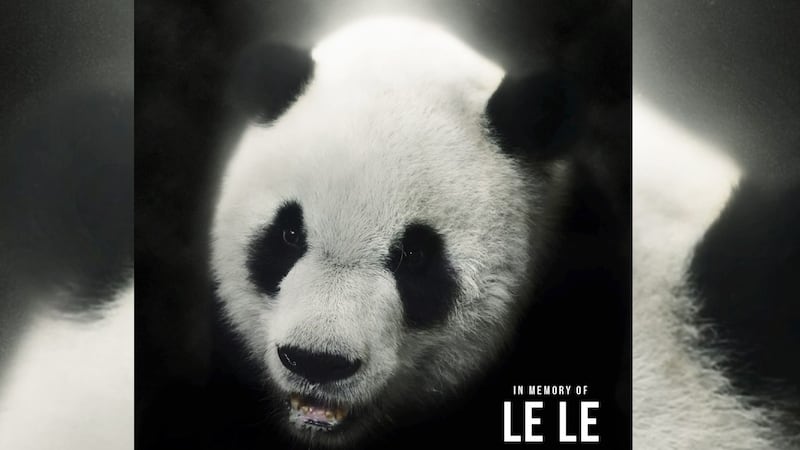 Published: Feb. 3, 2023 at 2:01 PM EST
MEMPHIS, Tenn. (WMC/Gray News) – The Memphis Zoo announced the death of giant panda Le Le on Friday.
Le Le was born on July 18, 1998, and died at the age of 25. Currently, a cause of death is unknown, pending a medical investigation.
In a statement, the zoo said Le Le was a "happy bear that enjoyed apples, engaging with enrichment and relaxing while covering himself with freshly shredded bamboo. He had an easy-going personality and was a favorite of all who met and worked with him over the years."
Le Le's name translates to "happy happy," and the zoo said his name perfectly reflected his personality.
Le Le arrived at the Memphis Zoo in 2003. He was one of two giant pandas at the zoo, the other being a female named Ya Ya. The pandas were at the zoo on a 20-year loan from China, and the contract was set to expire this year.
In a statement from December, the zoo said Le Le and Ya Ya would be making the journey back to China "within the next few months." It's unclear if Le Le's death will contribute to any change of plans for Ya Ya.
Over the last 20 years, Le Le has delighted millions of guests, served as an exemplary ambassador for his species, and remains a shining symbol of a conservation partnership with the People's Republic of China, the Memphis Zoo said.
"Le Le was adored by his keepers, all of the staff at the Memphis Zoo as well as the City of Memphis," the zoo said.
The zoo also shared a video with a collection of photos of Le Le over the years.
"While we are heartbroken, we cherish the memories," the caption reads.
Rest in peace, Le Le.
Copyright 2023 WMC via Gray Media Group, Inc. All rights reserved.