Inmates who escaped Abingdon jail captured in Tennessee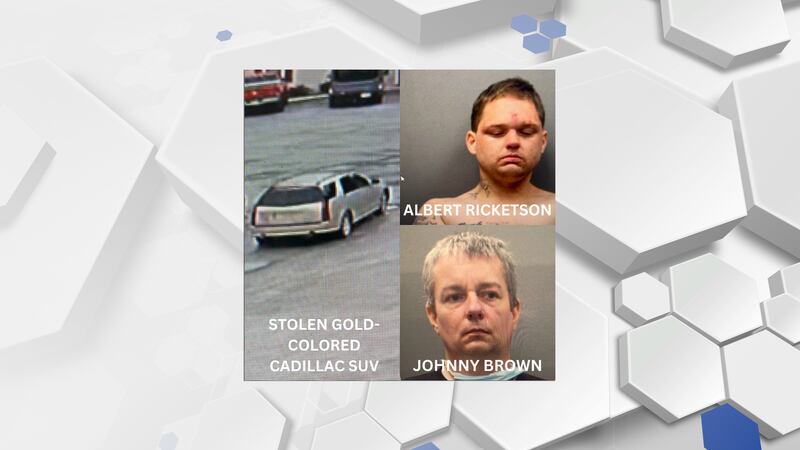 Published: Jan. 26, 2023 at 5:56 PM EST
ABINGDON, Va. (WHSV) - Update: The Washington County Sheriff's Office has announced just after 6:00 p.m. on Jan. 27 that they have captured Brown and Ricketson. According to the WCSO, the two escaped inmates were captured without incident in Hawkins County, Tennessee.
ORIGINAL STORY BELOW
Update: As of 11:15 a.m. Jan 27, the WCSO reported that the 2008 gold-colored Cadillac SUV stolen by Brown and Ricketson was found in Hawkins County, Tennessee, on Route 66 in Bulls Gap, Tennessee. The two escapees were observed and identified earlier before the vehicle was discovered by law enforcement, but have not been located. The WCSO say there is no information on what vehicle the inmates may be driving now.
Two inmates have escaped the Southwest Virginia Regional Jail Authority in Abingdon according to the Washington County Sheriff's Office. (WCSO)
According to a Facebook post by the WCSO, around 2:45 p.m. on Jan. 26, inmates Johnny Shane Brown, age 51 of Rogersville, Tennessee, and Albert Lee Ricketson, age 31 of Abingdon escaped from the recreational yard and are allegedly driving a stolen gold-colored Cadillac SUV that has visible damage on the rear of the vehicle with Virginia license plates of UDZ-6049.
The WCSO describes Brown as a 182-pound white male who is 5 feet, 11 inches tall with gray hair. Ricketson is described as a 212-pound white male who is 5 feet, 8 inches tall with brown hair.
As of 5:30 p.m. a $10,000 reward was being offered for information leading to the apprehension of the two escapees.
The sheriff's office encourages for anyone who sees either men or the vehicle to call 911 immediately.
Copyright 2023 WHSV. All rights reserved.