First Alert Weather Days: Gusty winds and very cold Saturday
Wind Chill Advisory in effect through Saturday morning for 0° to -10°.
Published: Dec. 19, 2022 at 5:26 PM EST
|
Updated: Dec. 24, 2022 at 9:34 AM EST
RICHMOND, Va. (WWBT) - The Arctic cold air is here and so are the winds!
Wind chill values will be in the single digits to 5 below 0 into the rest of this morning. A Wind Chill Advisory is in effect for all of central VA until 11 a.m..
Wind gusts will be up to 30mph with a sustained winds 10-15mph during the day Saturday. Wind chill values Saturday afternoon will feel like the teens.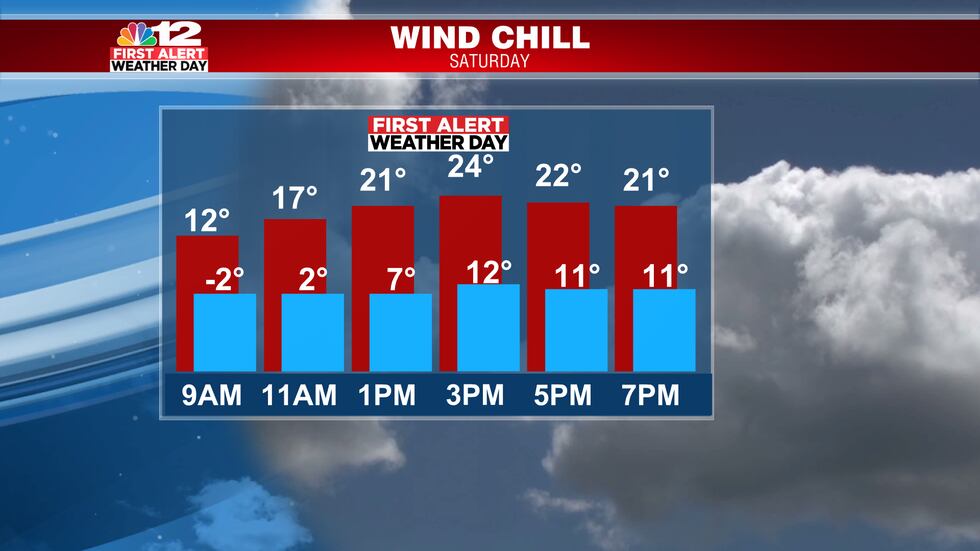 VERY cold air will stay with us all weekend long. Plan for another cold start on Christmas Day in the teens but the winds will not be nearly as breezy.
The record low temperature for Christmas Eve is 6° set back in 1983. We were a couple degrees warmer than the record this morning. The record low-temperature Christmas Day is 3° set back in 1983. The last time we saw temperatures stay below freezing for both Christmas Eve and Christmas Day was 1989.
Stay warm this weekend and don't forget about your pets! We stay near or below freezing until Monday afternoon.
Copyright 2022 WWBT. All rights reserved.