First Alert Weather Day: Freezing rain northwest of Richmond through midday.
Metro Richmond areas will get all rain
Published: Dec. 13, 2022 at 7:21 AM EST
|
Updated: Dec. 15, 2022 at 8:57 AM EST
RICHMOND, Va. (WWBT) - 8:00am Thursday Update: Reports of light accumulating freezing rain have Louisa and Fluvanna Public schools changing from 2 hr delay to CLOSED.
While Metro Richmond will get plain rain, there will be enough cold air for some light freezing rain in our counties to the northwest of Richmond: Louisa, western Goochland, Cumberland, Fluvanna and Buckingham counties. Those are the counties covered by our First Alert Weather Day.
The NWS has Western Louisa and Fluvanna in a Winter Weather Advisory for some light freezing rain.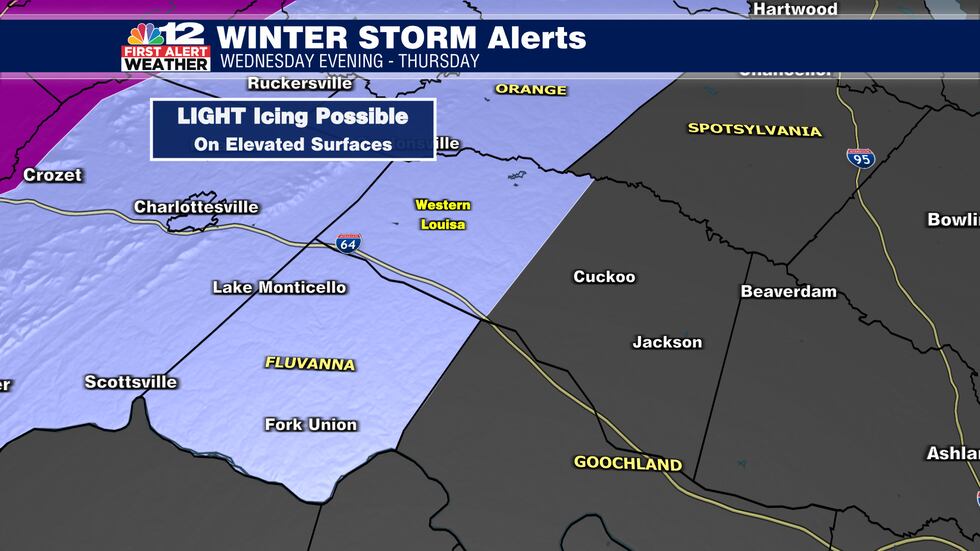 The temperatures should inch above freezing before midday, as freezing rain will change over to rain, which will move out of the area around sunset. Expect 1-1.5″ of rain total.
Highest Elevations in Nelson counting are even getting some SNOW mixed in with the Freezing rain.
Stay safe, especially if your travels take you toward I-81 today!
Download the First Alert Weather App
Copyright 2022 WWBT. All rights reserved.