Severe storm leaves trail of damage in Central Virginia
Storm knocked out power to tens of thousands of people
Published: Jun. 22, 2022 at 3:53 PM EDT
|
Updated: Jun. 22, 2022 at 11:28 PM EDT
RICHMOND, Va. (WWBT) - A severe storm that prompted a "Destructive Warning" struck Central Virginia on Wednesday afternoon causing damage and power outages.
Chesterfield
In North Chesterfield, a tree heavily damaged a home on Swan Drive.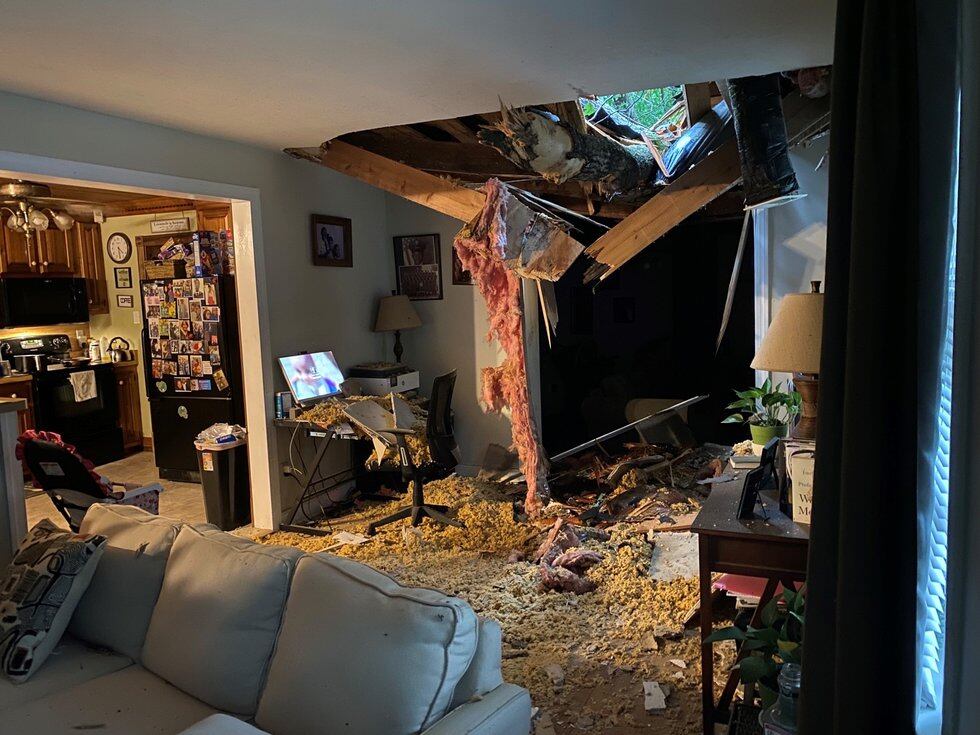 A family was trying to move a camper before the storms rolled through, but branches came crashing down while working. The incident left a few bumps and bruises, but no one was seriously injured.
Fire crews told a Chesterfield family that a lightning strike sparked the fire at their home along Koyoto Court. Family members said they were asleep when a neighbor called saying they saw smoke coming from the home. No one was injured.
Richmond
In Richmond, a building had its roof ripped off near Broad Street and Arthur Ashe Boulevard around 3:30 p.m. Richmond Fire Department said a building inspector and Dominion Energy were notified. No injuries were reported.
A tree also fell into a home in Richmond along Goddin Street around 4 p.m. A building inspector and code enforcement were notified. Dominion Energy was also called since the tree pulled down power lines. The Red Cross is helping five adults and a dog. No one was injured.
Hopewell
A tree fell onto the roof of the River View on the Appomattox Health & Rehab Center. A repair man said it left a hole in the attic area, causing water damage to the activity room. There were no reports of injuries.
Dominion Energy reported thousands of power outages as the storm moved through. At its peak, nearly 80,000 customers were without power. You can see and report power outages HERE.
The Richmond Department of Emergency Communications said it had reports of multiple power lines and trees down throughout the city.
Rappahannock Electric Cooperative crews and contractors responded to storm-related outages across the region. Mutual aid crews were also requested to help.
NBC12 viewers also reported damage in the area immediately after the storm moved through.
Copyright 2022 WWBT. All rights reserved.
Want NBC12's top stories in your inbox each morning? Subscribe here.