News to Know for June 10: Probation bill signing; Fallen firefighters memorial; More scattered showers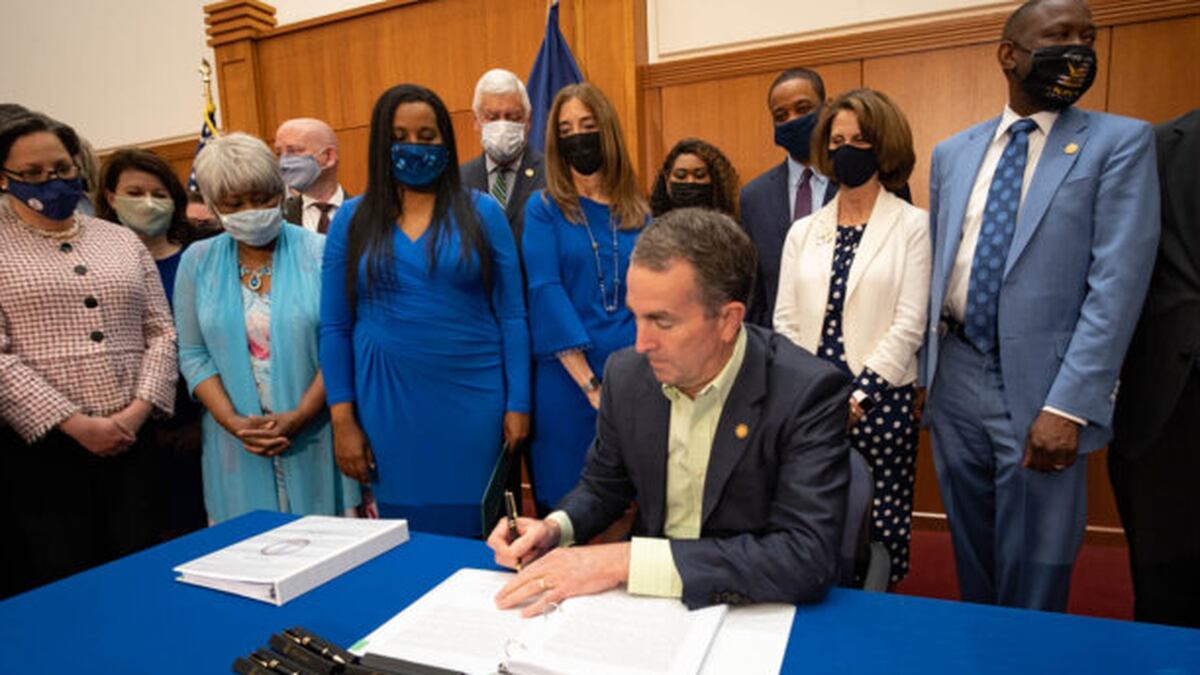 Published: Jun. 10, 2021 at 6:31 AM EDT
RICHMOND, Va. (WWBT) - Take a look at our top headlines before you head out the door!
Showers/downpours and storms likely again this evening and Friday. Localized flooding will be a concern.
Highs in the mid 80s.
Scattered storms moving through the region caused flash flooding around Central Virginia, leading to the Richmond Fire Department needing to rescue 19 people from stuck vehicles.
Several flood advisories and warnings were issued due to slow-moving storms. NBC12 Meteorologist Megan Wise said 1-2.5 inches of rain have already fallen in some of the highlighted areas below.
The Richmond Fire Department said it was called to more than a dozen calls where vehicles were stuck in high water between 4:27 p.m. and 5:22 p.m.
In all on Wednesday afternoon and evening, crews rescued a total of 19 people.
Gov. Ralph Northam is expected to sign probation reform legislation during a ceremony on Thursday.
Northam will attend the ceremony, which is not open to the public, alongside Robert Rooks, the CEO of the Reform Alliance, an organization that aims to transform probation and parole legislation.
The organization was started when rapper Meek Mill received a years-long sentence for a gun and drug case which led to the #FreeMeek movement.
The decade-long legal saga, which put Mill on probation for nearly 12 years, sparked a conversation regarding mass incarceration in the United States.
A Montgomery County General District Court judge approved bond Wednesday for the suspect in a Blacksburg killing, but the Commonwealth's Attorney immediately appealed it, moving the decision to Circuit Court.
Isi Etute, 18, is charged with second-degree murder for the death of Jerry Smith, 40, found dead in his apartment on June 1. The cause of death was determined to be blunt force injuries to the head.
At Wednesday's hearing, Etute's attorney, Jimmy Turk, provided some details about the possible link between the suspect and the victim.
He said Etute and Smith had matched on the dating site Tinder, but Smith's Tinder profile indicated he was a woman named Angie. Turk says the two first met on April 10.
A south Richmond apartment complex is desperately working to get back to normal after a devastating crime rocked their community more than a month ago.
It was back on April 27 when five people were shot at the Belt Atlantic Apartments, killing a woman and her infant daughter.
After the crime happened, managers connected victims and their families with mental health resources to help them get through.
Now, Westover Elementary School is looking to bring activities on-site each week such as food, games and activities to keep young people engaged.
The Thursday event will honor the 48 firefighters who died while working in Richmond during the department's 163-year history.
The Central Virginia Fallen Firefighter & EMS Memorial Service is slated for June 10 at 10 a.m. at the Carillon Tower in Byrd Park.
The service, which is open to the public, will be hosted by the Richmond Fire Department, the Richmond Professional Firefighters Association and the International Association of Fire Fighters Local 995.
VCU Health announced a new COVID-19 clinic for patients with chronic symptoms will be launching.
The clinic will be the first of its kind in Virginia.
The clinic will be located on VCU Health's Stony Point Campus in Richmond.
Existing VCU Health patients should speak to their care team if they are experiencing chronic symptoms from COVID-19.
The City of Richmond wants it to be a #hotvaccinatedsummer, announcing a new campaign to get vaccines to more communities.
The mobile clinics will be walk-up, no appointment necessary, and Thursday at noon.
The Richmond Health District is launching a public interest form for businesses or churches to fill out. Healthcare workers will come on-site to administer vaccines.
The goal is to provide eight mobile clinics per week.
Sportsbackers announced the VCU Health Richmond Marathon will be returning to its regular schedule and in-person format.
The marathon, which will take place on November 13, will continue its traditional finish line at the intersection of 5th Street and Tredegar Street that offers views of Brown's Island and the James River.
The CarMax Richmond Half Marathon and Allianz Partners 8k will also be featured.
Registration for all three events is now open here. A price increase is set for July 1.
Kroger is looking to hire hundreds of workers for its stores across Virginia.
A hiring event will be held on June 10 with the goal of hiring more than 750 people to fill jobs in its retail, e-commerce, pharmacy, manufacturing and logistics operations.
There are 257 openings in the Richmond region.
A partial solar eclipse took place this morning around 5:48 a.m. across Virginia.
The partial solar eclipse happens as the new moon passes in front of the solar disk but does not completely cover it. The sun will appear as if it has a bite taken out of it.
A new healthy lifestyle café will be opening up in Short Pump starting on June 10.
Clean Eatz will offer a full-service cafe, Grab N Go meals and a weekly meal plan for anyone wanting an easier way to cook and prepare healthy meals.
On June 10, Clean Eatz will open for business from 11 a.m. to 7 p.m. Monday through Thursday. It will be open on weekends from 11 a.m. to 3 p.m. The café is located at 11801 W Broad St., Suite 1B, Richmond, VA.
For more information, click here.
Life is what happens when you're busy making other plans -John Lennon
Copyright 2021 WWBT. All rights reserved.
Want NBC12's top stories in your inbox each morning? Subscribe here.