First Alert Weather Day: Severe storm watch until 9 pm
Strong storms will pose a threat for strong wind gusts late this afternoon and early this evening
Updated: Jun. 4, 2021 at 2:29 PM EDT
RICHMOND, Va. (WWBT) - A Severe Thunderstorm Watch is in effect until 9pm Friday evening for most of Central and Eastern Virginia.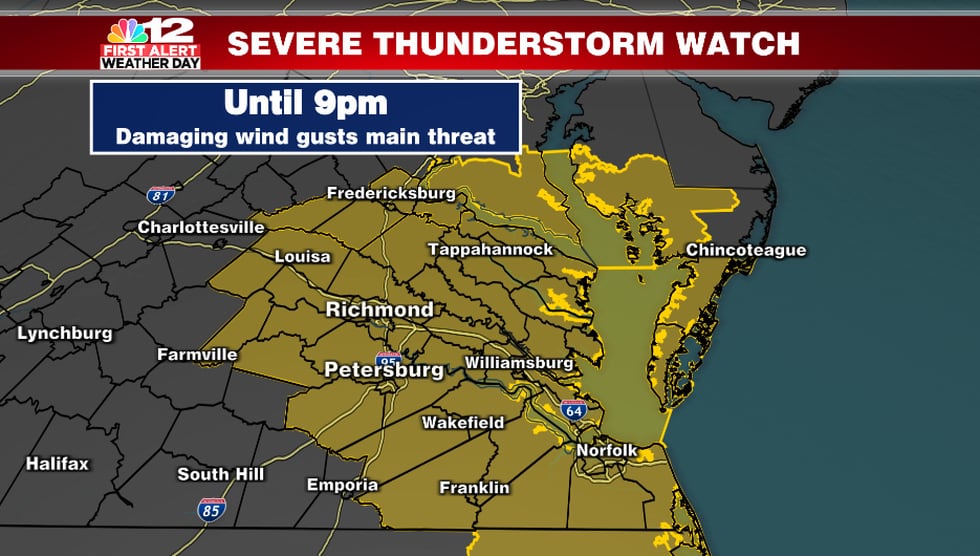 The primary threat with any strong to severe storms will be strong damaging wind gusts that may bring down a few tree limbs and powerlines.
The peak time to watch for metro Richmond looks to be 3 to 6pm. Our eastern and southeastern counties (New Kent/Charles City/Middlesex) could see the threat persist until 7 or 8pm. After 8pm, the threat should quickly end.
The Storm Prediction Center has upgraded areas primarily east of Richmond to a level 2 out of 5 severe risk (in the yellow shaded area).
Keep the NBC12 First Alert Weather app handy for additional updates and possible warnings!
Copyright 2021 WWBT. All rights reserved.
Want NBC12's top stories in your inbox each morning? Subscribe here.