Adams takes reins of Mills Godwin football program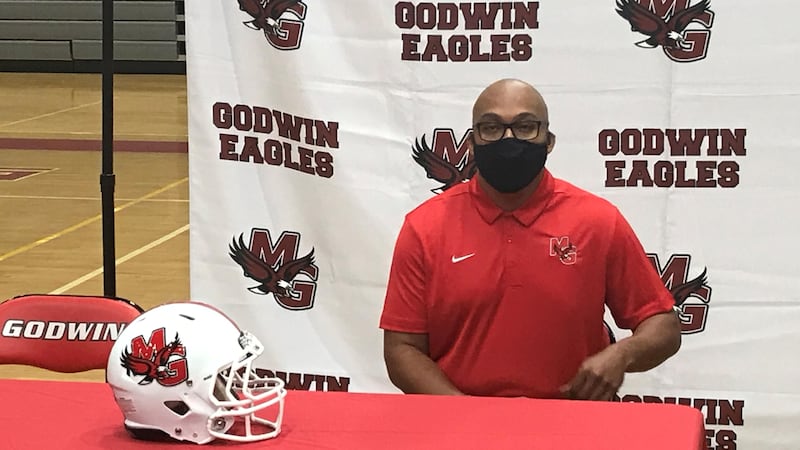 Published: May. 17, 2021 at 6:20 PM EDT
HENRICO, Va. (WWBT) - Mills Godwin has found its new head football coach and the Eagles did not have to look very far to find him.
P.J. Adams was introduced as the new leader of the Godwin football program on Monday afternoon. Adams spent the last three seasons as the head coach at Thomas Jefferson, posting a 26-12 record and leading the Vikings to the Region 2A Championship in 2019. Adams earned region coach of the year honors that season.
"I just felt like it was a promising program, facilities upgrade, a lot of kids," Adams said of the opportunity Godwin presented. "I felt like it was a great opportunity to go move to a bigger program where I felt like I could win at."
Mills Godwin is coming off a 1-5 showing during the delayed 2020 campaign this past season. The Eagles have made the playoffs twice since 2013.
"I want to get to be a more physical football team," Adams noted. "We want to run at people and we want to throw the ball. With that I feel like the O-line can be upgraded massively. They're very big kids, but I feel like we can get more vicious and tenacious and get after it on the football field."
Thomas Jefferson did not play a 2020 football season, after Richmond Public Schools cancelled sports campaigns throughout the 2020-2021 school year, so Adams will be coaching in his first game since the 2019 state semifinals this coming fall.
During his introductory press conference, Adams said he expected to build a team that would win the West End, also stating that the intention will always be to play football into November.
Copyright 2021 WWBT. All rights reserved.
Want NBC12's top stories in your inbox each morning? Subscribe here.