New LOVE sculpture places importance on buckling up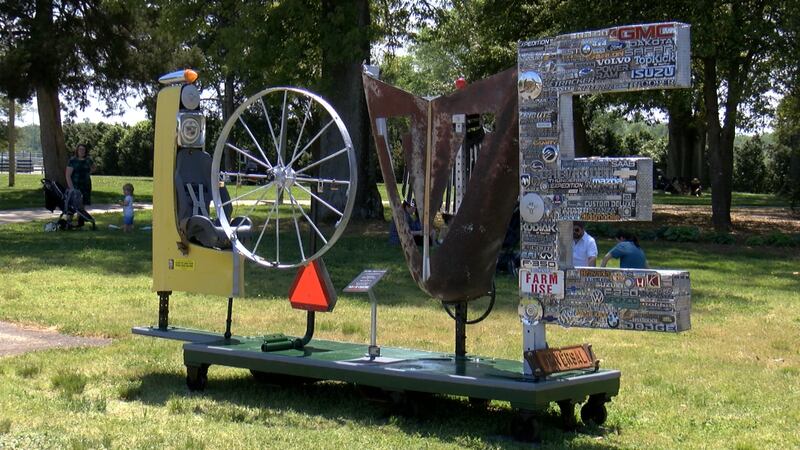 Updated: May. 2, 2021 at 12:26 AM EDT
RICHMOND, Va. (WWBT) - Virginia's latest LOVE sculpture is reminding drivers to buckle their seatbelts.
Drive Smart Virginia and Virginia Farm Bureau teamed up with sculptor Giovanni "John" Meola to create the permanent sign in Caroline County.
The sign was unveiled during a ceremony on May 1 at Meadow Event Park in Caroline County.
The sculpture is part of Drive Smart's "Love Clicks" campaign, which promotes safe travel alongside the "Virginia is for Lovers" message.
"We created this campaign because everyone has a reason to buckle up, and someone they love that they want to make it home to," said Janet Brooking, Drive Smart's executive director. "We are delighted that Farm Bureau and The Meadow Event Park teamed up with us and provided a home for this beautiful piece of art.
According to data from the Virginia Department of Motor Vehicles, 48% of road deaths in 2020 involved an unbuckled vehicle occupant.
"The safety of the roadways of Virginia—particularly our rural roads—is a top priority for us," said Darlene Wells, executive vice president of Virginia Farm Bureau. "Rural roads offer their own special challenges, such as slow moving vehicles and little to no shoulder, so we know they require extra vigilance and attention."
Visitors are encouraged to bring a love lock with them and attach it to the sculpture to symbolize their commitment to wearing a seat belt. A love lock is a padlock that is fastened to a public fixture such as a bridge or monument.
Several crash victims and family members will be the first to click a lock to the sculpture.
Copyright 2021 WWBT. All rights reserved.