Virginia's minimum wage rises to $9.50 an hour on Saturday — the first increase in over a decade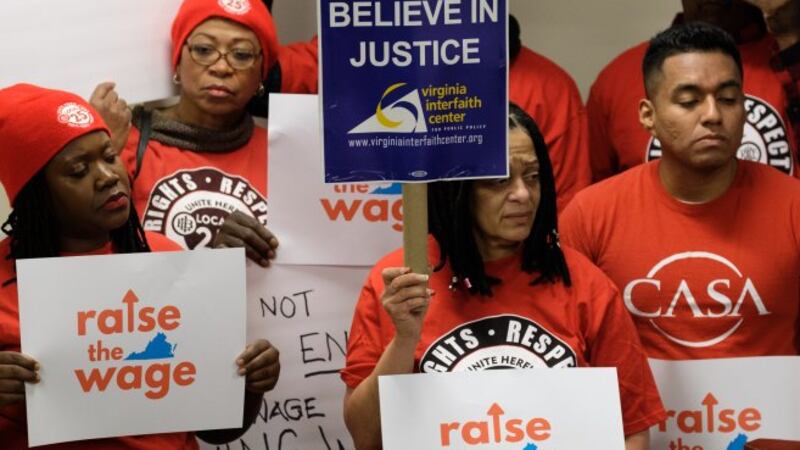 Published: Apr. 30, 2021 at 10:30 AM EDT
The first of three minimum wage increases approved by Virginia lawmakers will take effect Saturday, guaranteeing the state's lowest-paid workers an hourly rate of $9.50 an hour.
While some businesses warned the hikes will force them to lay off workers and cut hours, low-wage employees celebrated the coming raises.
"I just feel like we deserve it," said Jenee Long, who until recently was paid just over the current minimum of $7.25 an hour making sandwiches at a Subway franchise in Richmond. "Luckily, I had a family to take care of me, because how would I pay rent?"
The last minimum wage increase in Virginia came courtesy of the federal government more than a decade ago in 2009 when Congress raised the wage floor to $7.25.
While 29 states and the District of Columbia have opted to raise their state minimum above the federal minimum, the idea was a nonstarter in Virginia until 2020, when Democrats took majorities in the General Assembly for the first time in more than 20 years.
Last year the party adopted a phased plan that includes a second increase to $11 an hour on Jan. 1, 2022, before rising again to $12 an hour in 2023. At that point, lawmakers said they would study the impact and decide whether further increases are warranted.
The decision was unanimously opposed by Republicans and some of the state's largest business groups, which warn that it will have the biggest impact on restaurant, retail and entertainment industries that were hardest hit by the COVID-19 pandemic.
READ MORE ON VIRGINIAMERCURY.COM >>>

The Virginia Mercury is a new, nonpartisan, nonprofit news organization covering Virginia government and policy.