First Alert Weather Day: Low end severe storm risk on Wednesday
An isolated strong thunderstorm can't be ruled out Wednesday evening.
Updated: Mar. 31, 2021 at 1:14 PM EDT
RICHMOND, Va. (WWBT) - Today is a First Alert Weather Day for the low chance of an isolated strong or severe thunderstorm in the afternoon and evening.
The Storm Prediction Center has placed most of Central and Eastern Virginia in a marginal risk (level 1 out of 5) for severe weather on Wednesday with only a sliver of Southern Virginia included in a slight risk (level 2 out of 5).
A couple strong to severe storms could develop any time from 3pm to 11pm. We will fine tune the timing as we get closer.
The primary threat with any storms will be strong wind gusts.
Even if no strong storms develop, a couple rounds of heavy rain are likely Wednesday afternoon and evening. Keep the umbrellas handy and take it slow on the roads, because there may be minor street flooding.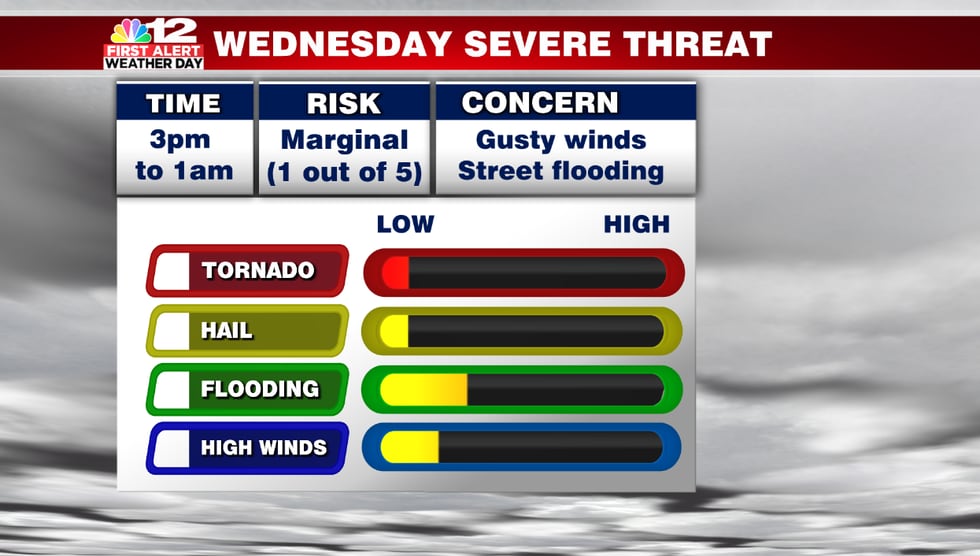 Additional rainfall is expected late Wednesday night into Thursday morning. Rainfall totals could reach more than 1 inch in a few spots!
Keep the NBC12 First Alert Weather app handy for updates and alerts as we get closer!
Copyright 2021 WWBT. All rights reserved.