Va. Republican Amanda Chase pushes unfounded election fraud claims after arrests of armed supporters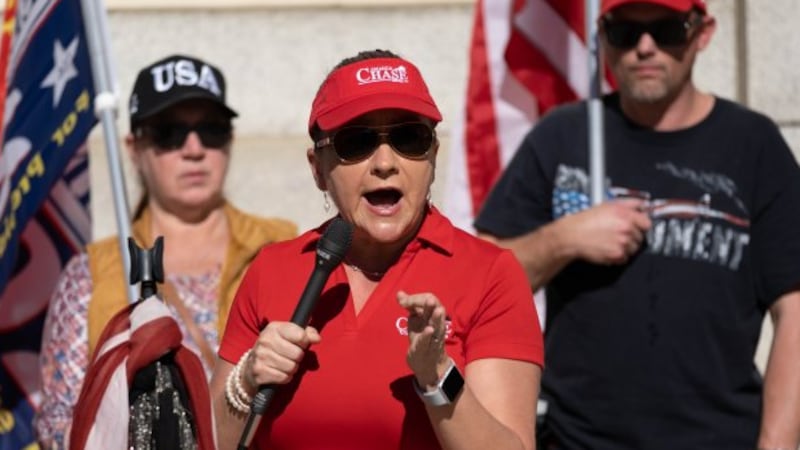 Updated: Nov. 8, 2020 at 8:11 AM EST
State Sen. Amanda Chase, R-Chesterfield, advanced unfounded allegations of widespread election fraud as she rallied support for her gubernatorial campaign Saturday outside the Virginia Department of Elections.
Her claims went further than even those of President Donald Trump's campaign, which have been widely debunked, as she asserted without evidence that the supposed maleficence extended to Virginia — a state that Trump lost by more than 400,000 votes and where a Republican hasn't won a statewide election in more than a decade.
"I believe there's been an attempt by the Democrats to steal this election from President Donald Trump," Chase said, criticizing new state laws that expanded early voting. "Through the legislation, they passed this year, they created an opportunity to steal the election."
The remarks came two days after police in Philadelphia arrested two of her supporters on weapons charges outside a vote counting center in Philadelphia following a tip from FBI agents in Norfolk.
Chase, who announced her candidacy in February, has embraced Trump in a way few other elected Virginia Republicans have. She's also stood out for her vehement opposition to measures aimed at controlling the spread of the coronavirus pandemic — a stance she referenced with pride Saturday as she criticized her GOP colleagues for adhering to mask and social distancing guidelines.
"I don't do COVID, by the way," she said to cheers from the crowd of about 100. "I'm the only legislator in the General Assembly who does not wear a mask."
The rally took place as most major media outlets called the election for Joe Biden.
With elections next year, Virginia's governor's race will likely be seen as one of the first tests of how Republicans run for office in the post-Trump era, and how potent Trump's base might continue to be in GOP primaries.
Virginia Republicans have sent mixed signals in response to Trump's apparent loss this week, at times pushing back on election-related misinformation and sometimes seeming to spread allegations the election was manipulated in Democrats' favor.
Earlier this week, Republican Party of Virginia Chairman Rich Anderson released a statement saying he was confident Trump would win, "despite Democrats' best attempts to manufacture votes in key states."
Former House of Delegates Speaker Kirk Cox, R-Colonial Heights, who is strongly considering running against Chase for the GOP gubernatorial nomination next year as a more rational-minded Republican, declined to respond to her comments Saturday. On Friday, Cox, a former high school civics teacher, posted a statement to social media calling for calm and saying "the American system is resilient."
CONTINUE READING ON VIRGINIAMERCURY.COM >>>>>

The Virginia Mercury is a new, nonpartisan, nonprofit news organization covering Virginia government and policy.