Saturday is drug take-back day | Here's where you can safely dispose unused meds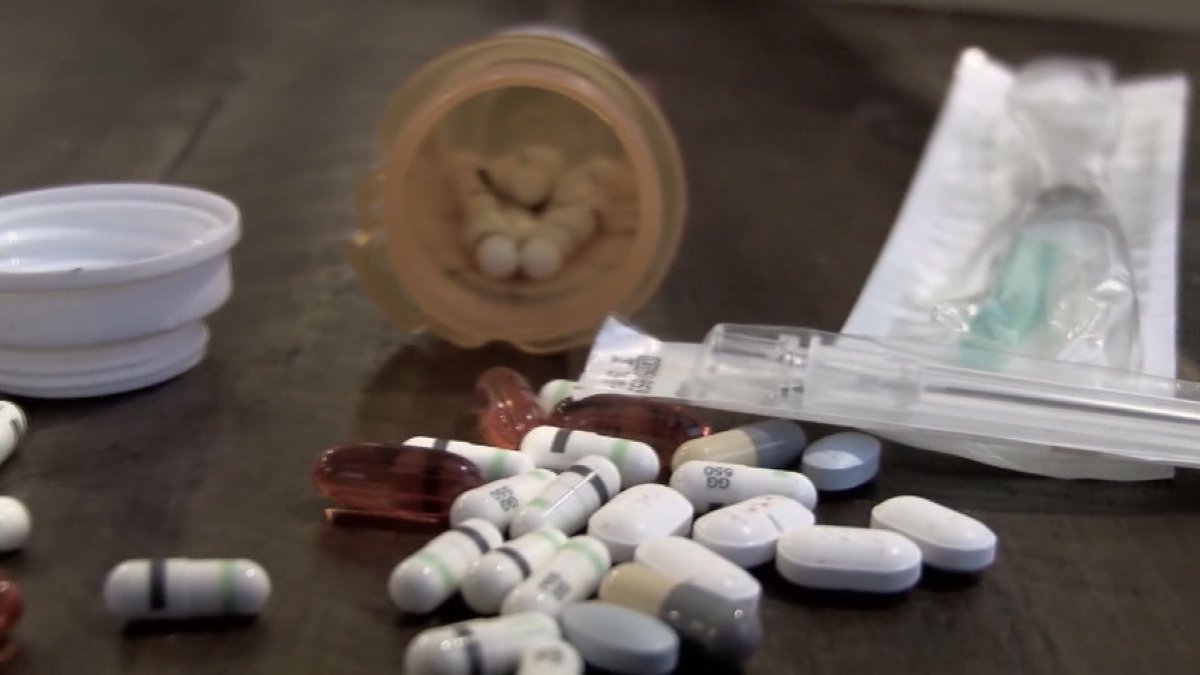 Updated: Oct. 23, 2020 at 10:46 AM EDT
RICHMOND, Va. (WWBT) - Community members can safely dispose of unused or expired medications during "Crush the Crisis" Opioid Take-Back Day.
Collection sites will be open at the following locations on Saturday, Oct. 24 from 10 a.m. to 2 p.m.:
John Randolph Medical Center, 411 W. Randolph Road, Hopewell
Hopewell Police Department, 150 West Randolph Road, Hopewell,
Sarah Cannon Cancer Institute at Henrico Doctors' Hospital, 7607 Forest Ave., Richmond
Spotsylvania Regional Medical Center, 4600 Spotsylvania Pkwy, Fredericksburg
Tricities Emergency Center, 1700 Temple Pkwy, Prince George
Mechanicsville Convenience Center, 7427 Verdi Ln, Mechanicsville
Ashland Police Department, 601 England St, Ashland
Henrico Police Department, Henrico Training Center, 7721 E Parham Rd, Richmond
Virginia State Police Division 1 Office, 9300 Brook Rd, Glen Allen
Chesterfield Police Department Community Services Building, 2730 Hicks Rd, Richmond
Fort Lee Military Police Station
Prince George Police Department, 6600 Courthouse Rd, Prince George
Dinwiddie County Sheriff's Office, Eastside Enhancement Center, 7301 Boydton Plank Rd, Petersburg
CVS Pharmacy, 2100 S Crater Rd, Petersburg
Sam's Club, 735 Southpark Blvd, Colonial Heights
VCU Police, 224 E Broad St, Richmond
VCU Cabell Library, 901 Park Ave, Richmond
Sussex County Sheriff's Office, Sussex County Jail, 20212 Thornton Sq.
Richmond City Sheriff's Office, 1701 Fairfield Way, Richmond
The University of Richmond Police, 490 Westhampton Way, Richmond
Charles City County Sheriff's Office, 10780 Courthouse Rd, Charles City
Blackstone Police Department, 101 West Elm Street, Blackstone
Walgreen's Pharmacy, 15105 Patrick Henry Hwy, Amelia Court House
Manakin Fire-Rescue Company 1 Goochland County, 180 River Rd W, Manakin-Sabot
New Kent County Sheriff's Office, 11995 Courthouse Cir, New Kent
Powhatan County Sheriff's Office, 3880 Old Buckingham Rd, Powhatan
Goochland Fire-Rescue Company 5, 2710 Fairground Rd, Goochland
"Stress related to the COVID-19 pandemic may be exacerbating the opioid crisis by causing Americans to have feelings of anxiety, grief, social isolation, financial worry, and general uncertainty, all of which can affect those with substance use disorders and those at risk of developing one," said Jake O'Shea, chief medical officer of HCA Virginia and HCA Healthcare Capital Division. "Now, more than ever, it's critically important to get unused pain medications out of homes and to educate the community about the serious threat of opioid misuse and abuse."
In 2018, nearly 15,000 people died from an overdose that included prescription opioids, according to a release from the HCA Virginia Health System. A recent study published in the Journal of the American Medical Association showed that hospital visits for non-fatal opioid overdoses more than doubled from 2019 to 2020 in one emergency department in Virginia.
To find the closest location near you, click here.
Copyright 2020 WWBT. All rights reserved.