Worst of 2020 hurricane season likely still to come
NOAA expects 'extremely active' hurricane season
Updated: Aug. 11, 2020 at 7:47 AM EDT
RICHMOND, Va. (WWBT) - Nine named storms have already formed in the Atlantic in 2020, and that number could double or even triple by the end of the season.
NOAA's recently updated forecast for the 2020 hurricane season predicts 19 to 25 named storms (including the nine that already formed earlier this year).
NOAA is expecting 7 to 11 hurricanes and 3 to 6 major hurricanes. NOAA points to warmer than average water temperatures in the Atlantic, less vertical wind shear than usual, weak tropical Atlantic trade winds, and a more active west African monsoon for the increase in expected storms.
Colorado State University also released an updated forecast for 24 named storms, 12 hurricanes, and 5 major hurricanes, which is an even higher number of storms than NOAA is expecting.
The one big caveat with these forecasts is that it's impossible to know at this point how many of those storms will make landfall. But the extremely active forecast increases the odds that at least a few storms will make landfall in the U.S.
The Colorado State University forecast has a 49% chance for a major hurricane making landfall along the east coast of the U.S. (including Florida), which is higher than the chance in an average year, which is 31%.
As of the writing of this article on August 10, we're in a brief lull in tropical storm/hurricane activity in the wake of Isaias.
The lull is due to the MJO (Madden-Julian Oscillation). Without getting into too much detail, the MJO refers to the passage of areas of enhanced rainfall and storminess in the tropical Atlantic. When the MJO is not in favorable phase for storminess in the Atlantic, it means a period of relatively quiet tropical weather. However, this period of quiet weather is only expected to last 1 to 2 weeks, with a potentially significant increase in activity expected in late August and September.
Tropical meteorologist Dr. Michael Ventrice pointed out that the MJO likely brings active tropical weather to the Atlantic from August 15 to September 19th.
Keep in mind the peak of hurricane season does not typically happen until the first couple weeks of September.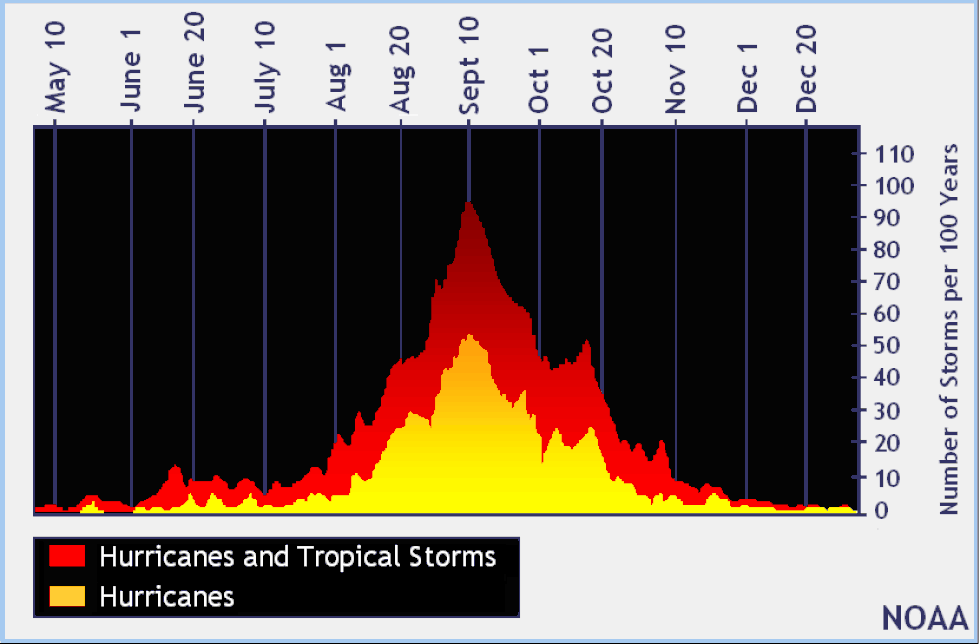 With this forecast for an extremely active hurricane season, it is more important than ever to stay informed and prepared for tropical systems. The NBC12 First Alert Weather App is a great tool to have handy for updates on tropical storms and hurricanes as they develop for the rest of the summer and fall.
Copyright 2020 WWBT. All rights reserved.