Confirmed tornado touches down in Courtland, causes widespread damage
Updated: Aug. 4, 2020 at 6:28 PM EDT
SOUTHAMPTON COUNTY, Va. (WWBT) - The National Weather Service confirms a tornado touched down in Southampton and has caused widespread damage to the area early Tuesday morning.
A 7-Eleven sustained severe damage during the storm. The awning over the gas pumps at a 7-Eleven location were torn off from the storm and scattered also.
Several roads in Courtland are blocked off.
Guests at the Palm Tree Inn woke up to a different alarm Tuesday morning after the tornado ripped through the town of Courtland and the surrounding area.
An Employee said the motel was filled to capacity.
Those inside didn't want to go on camera but say every room was filled.
Next door to the motel is an electric contracting company.
Fire officials condemned the building and a massive work truck is overturned. The storm flipped the vehicle over.
The power of Tropical Storm Isaias was in full effect and scattered debris for miles.
U-Haul trucks were overturned and flattened.
"There's always warnings here and we never get anything," Mallory Francis said.
Mallory Francis rushed over to check on her grandma after she received a frantic call.
"She said to take cover it's coming. She said it sounded like a freight train was about to blow through my house," Francis said.
Power lines were ripped down, windows were broken and cars were damaged.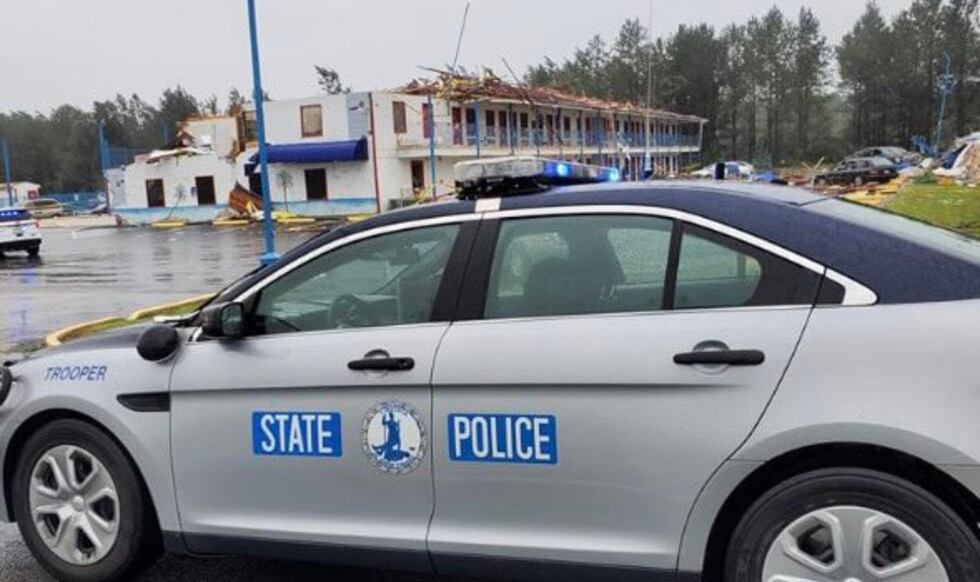 "if I didn't know my grandma was ok I would have though something bad had happened to her. I couldn't even get in the driveway," Francis said.
A field full of tall corn stalks was flattened as Francis believes the tornado touched down there.
"Oh, I think this is from the Griggs Lawncare," Francis said.
Francis found the banner that had been blown in from about half a mile away.
The national weather service will come out to inspect the damage to confirm how strong the tornado was.
No injuries have been reported.
Copyright 2020 WWBT. All rights reserved.