Statue of Confederate Gen. J.E.B. Stuart removed in Richmond
Updated: Jul. 7, 2020 at 2:39 PM EDT
RICHMOND, Va. (WWBT) - The landscape along Richmond's Monument Avenue is very different with the J.E.B. Stuart statue now off its pedestal.
Tuesday's removal marks the fact that all city-owned Confederate statues along Monument Avenue are gone.
"This is great," said Susanna Keating, who lives near the area. "This is something to celebrate but it's also just one of many steps that need to be taken in our city."
As a crane lifted the bronze statue off the granite it sat on, the crowd around it erupted in applause and with chants of "Black Lives Matter."
"Everybody's just super peaceful and I think folks just want to be a part of history and the change that's happening in our city," said Kristen Larson, Richmond City Council.
The contractor moved in around 8 a.m. to start work and had to close down the traffic circle around the statue.
It took about two and a half hours to get it done.
General J.E.B Stuart was born in Patrick County, Virginia on Feb. 6, 1833 and died at the age of 31 in Richmond on May 12, 1864, after being mortally wounded in the Battle of Yellow Tavern.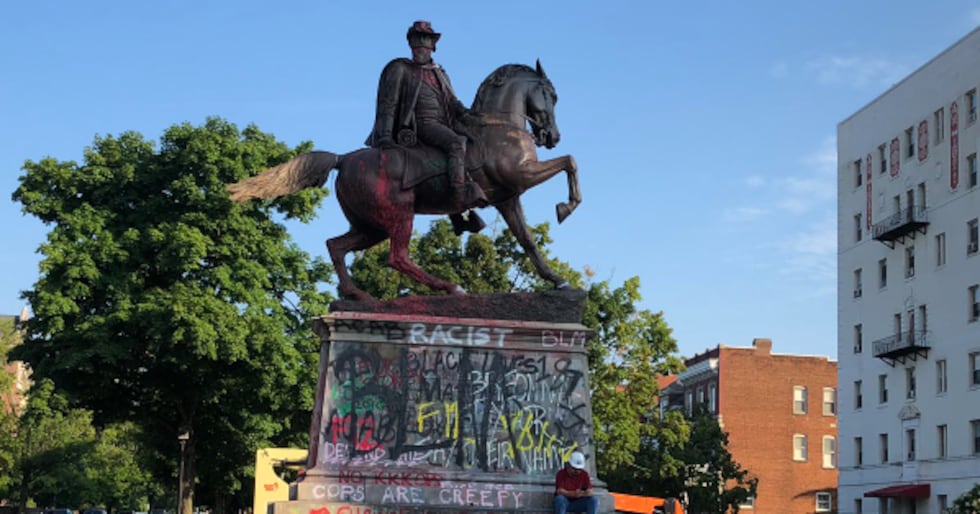 The 22-foot bronze equestrian statue went up on Richmond's Monument Avenue in 1907, a time when white leaders across the South sought to glorify the 'lost cause' of the Civil War and suppress attempts by Black people to achieve equality.
The statue base is made of Virginia granite and is in the shape of a sloping hill.
Those watching all of this unfold say it's important to show up and bear witness to history unfolding.
"The fundamental reason I'm here is to show my support to the POC (persons of color) community in Richmond and to show that I empathize with the reason that the statue is coming down," Will Davenport, who lives near the area.
Stuart's statue stood since 1907 at the intersection of Lombardy Street and Monument Avenue. It, like five other confederate symbols, is now in temporary storage.
Richmond Mayor Levar Stoney says 11 monuments in total will come down by the end of this week. But that's just the beginning.
"And figure out what is the policy to change things? How can we move forward and how can we heal from the ills of our past," said Larson.
The Virginia Flaggers call the mayor's actions along Monument Avenue as "destructive," adding that terrorists are rejoicing in the streets. The group is also calling for a boycott of the capital city.
Copyright 2020 WWBT. All rights reserved.