12 protesters arrested for unlawful assembly of 'Reclamation Square' outside City Hall
Updated: Jun. 23, 2020 at 2:42 PM EDT
RICHMOND, Va. (WWBT) - Twelve protesters were arrested early Tuesday morning after police deemed their demonstration outside City Hall "unlawful."
Protesters had been gathering there in tents since earlier Monday evening, with cars blocking the road, watching a movie they set up on a projector. They deemed the area "Reclamation Square" with a sign - blocking it off with traffic cones, garbage bins, barricades and vehicles.
According to police, the protesters also threw rocks and other objects at officers who were monitoring the situation starting at midnight.
Protestors were distributing fliers which indicated they planned to stay in place long-term. The flier listed several "principles of unity" including their guiding principle: "Black liberation by any means necessary."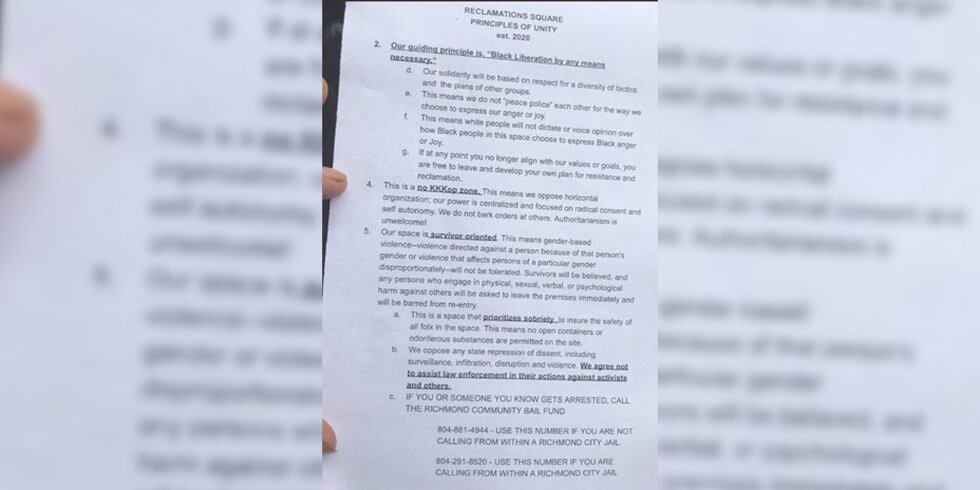 By 12:45 a.m., Richmond police called the gathering an unlawful assembly. Police say they broadcasted the announcement to the crowd several times. It was also posted on Twitter.
Police say they waited another 45 minutes for the group to disperse before making arrests.
The following people were arrested:
Adrianna E. Carpenter, 30, Richmond

William A. Neer, 27, Richmond

Stephanie R. Smith, 29, Richmond

Lily V. Bova, 27, Virginia Beach

Ha N. Tran, 29, Richmond

Darian A. White, 23, Richmond

Anthony J. Laudermilk, 22, Richmond

Jasmine Naghedi, 22, Richmond

Alaja Patterson, 19, Richmond

Deandre J.E. Quarles, 22, Richmond

Jonathan A. Delk, 24, Richmond

John D. Weakley, 37, Richmond
According to police, an officer was injured during the night's unrest when he was hit in the arm by a hickory stick. He was treated at the scene.
Virginia State Police said a protester attacked an RPD officer and three troopers with a wooden pole. One trooper suffered a serious arm injury and another trooper had his helmet cracked by it, police said.
Copyright 2020 WWBT. All rights reserved.