Berea restaurant posts 'our staff will not be wearing masks' sign on door amid coronavirus crisis
Updated: Jun. 12, 2020 at 10:18 AM EDT
BEREA, Ohio (WOIO) - Ohio bars and restaurants were permitted to reopen their indoor dining areas to customers on May 21 for the first time in over two months amid the coronavirus crisis.
However, those that opened were ordered to implement social distancing guidelines and restrictions.
But in Berea, there's one restaurant telling customers they will not be following one of those orders.
Mike's Bar & Grill on 130 Front St. posted a sign on their door that said:
"NOTICE: TO BETTER SERVE OUR CUSTOMERS, OUR STAFF WILL NOT BE WEARING MASKS. IF YOU HAVE A PROBLEM WITH THIS, PLEASE COME BACK TO US AT A TIME WHEN YOU FEEL SAFE TO COME OUT."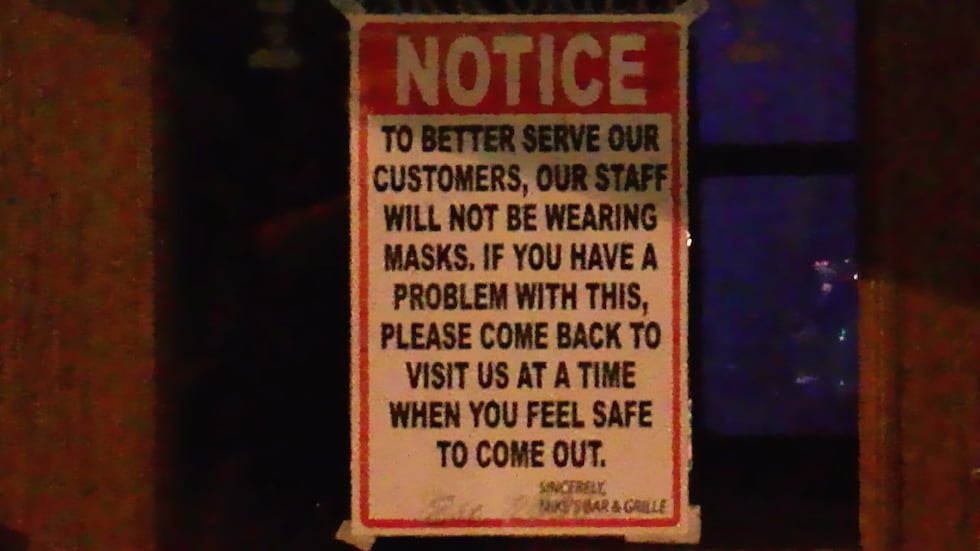 Here are the guidelines issued by the Ohio Restaurant Association for Dine Safe Ohio for bars and restaurants to enforce:
Social Distancing
Stand 6 feet apart in lines

All customers must be seated to be served

Groups of 10 or less seated 6 feet apart
Hand Washing + Sanitizing
Soap + water and wash often

Scrub all hand surfaces + nails for 20 seconds

Make hand sanitizer available in common areas
Face Coverings
Most employees are required to wear them

Disposable or washable face coverings should cover the mouth, nose, and chin.

Customers are encouraged t wear them unless eating and drinking.
Clean + Sanitize
Clean + sanitize regularly

Clean + sanitize all high-tough areas at least every two hours

Clean + sanitize tabletops, menus, and chairs between each seating
Copyright 2020 WOIO. All rights reserved.