Artist shares COVID-19 recovery stories through portraits
Updated: Apr. 7, 2020 at 8:17 PM EDT
RICHMOND, Va. (WWBT) - As the number of COVID-19 cases grows across the country, thousands continue to recover from the illness. A Richmond artist, hoping to share messages of hope, is using his talent to show the faces of recovered coronavirus patients.
Two weeks ago, Alfonso Perez Acosta put a call out on social media, asking for the images and stories of people who have overcome COVID-19.
"With my art, I needed to connect creatively with the situation," he explained. "It was a healing moment of understanding - in the middle of the storm there is a positive way of looking at it and a creative way of going through it."
Perez Acosta uses his iPad and drawing software to electronically recreate the photos of people who have recovered. Since first asking for stories, he has completed 13 portraits. Perez Acosta says it takes him about two hours to complete a drawing.
"What is this complicated situation trying to tell us as a society?" he said. "The fact that we can share their story makes it a little more real, it becomes a commitment in a deeper level."
The latest portraits in the Recovered Series is of a Richmond couple who NBC12 first spoke when they were diagnosed in mid-March.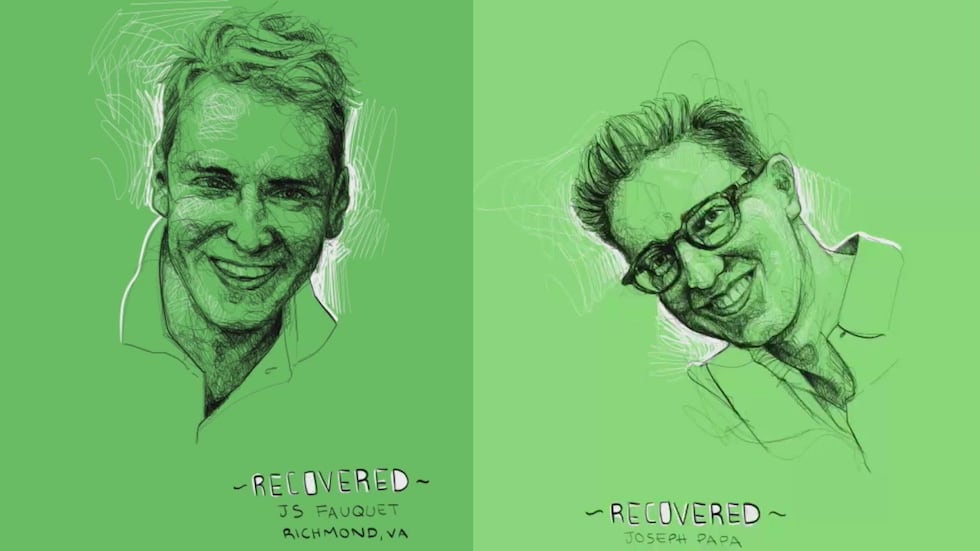 "We both feel pretty great," explained Josepha Papa. "My husband and I are going on a about a week with no symptoms."
Papa and his husband both got sick and tested positive after traveling for work in Philadelphia and New York. Papa says they were sick for about two weeks.
"I described it as it felt like a wet paper towel surrounding my lungs, a very strange sensation," he said.
Papa was surprised this week to first see his husband, JS Fauquet's portrait in Perez Acosta series.
"The things that have moved me to tears in this have been acts of kindness and art," Papa explained. "People of all walks of life are getting through, as you see in Alfonso's portraits, babies to senior citizens."
Perez Acosta says a friend of the couple shared their story with him, and he created and posted the pieces.
"To spread that sense of recovery, it's really important," said Perez Acosta.
If you or someone you know has recovered from the virus, Perez Acosta is asking the community to share their story, and a photo by emailing adrawingtable@gmail.com.
Copyright 2020 WWBT. All rights reserved.