Virginia Union University stops controversial event from taking place on campus
Published: Jan. 14, 2020 at 11:42 PM EST
RICHMOND, Va. (WWBT) -Leaders at Virginia Union University are setting the record straight after a flyer started circulating showing an event honoring President Trump and Jared Kushner on campus.
The flyer said it was honoring 'Urban Impact Leaders' on the Campus on Martin Luther King Day.
It's Hosted by the Urban Revitalization Coalition.
According to the flyer, Honorees include President Trump, President of VUU Hakim Lucas, Trump Top Aide Jared Kushner and Johnathan Holifield.
"It really shocks me a lot," Jordan Alford said.
The news didn't just spread to those on campus but on social media!
Alumni and others sounded off hoping the HBCU had nothing to do with it.
School officials released a statement saying they called and told group leaders they won't be allowed to hold the event.
Officials said they often allow outside organizations to host events on campus but stress they were not a part of the planning and say they were not informed of who would be participating.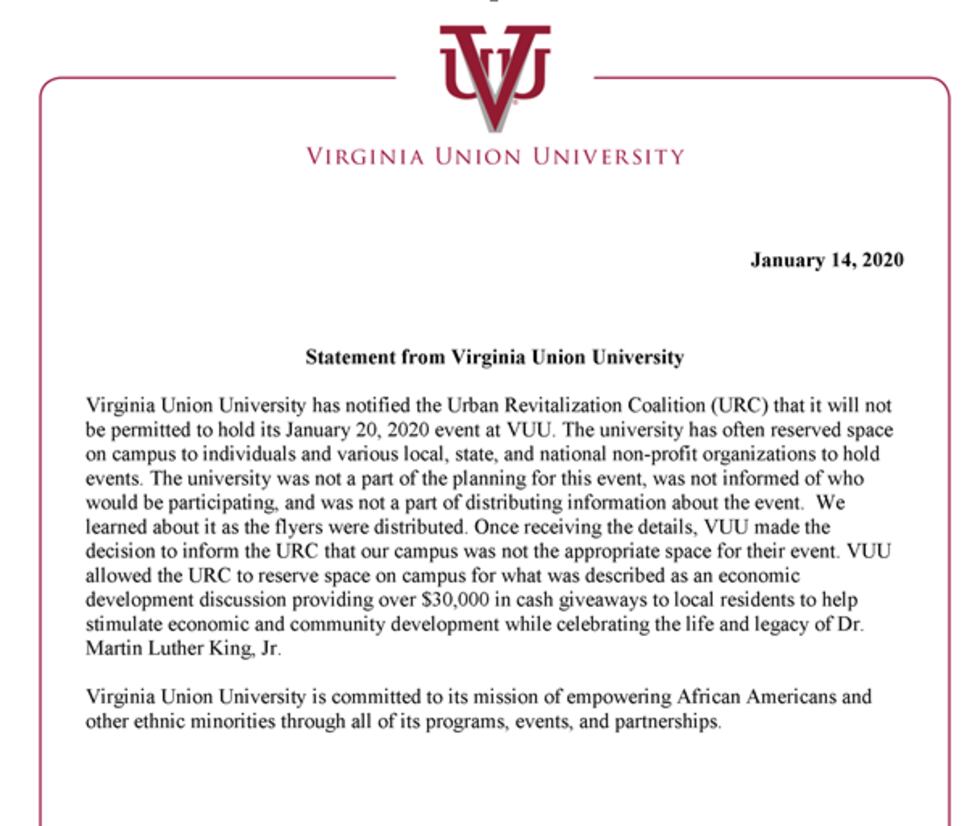 "I really don't think a lot of people would have shown up in the first place," Alford said.
Others think it might be beneficial.
"It would have been great for the state and Virginia. It's a historically black college. It could have been a nice moment," Former Student Stephanie Snead said.
We reached out to the event organizers Dr. Darnell Scott and Kareem Lanier but haven't heard back.
Copyright 2020 WWBT. All rights reserved.