What's on your ballot? Everything you need to know about the 2019 General Election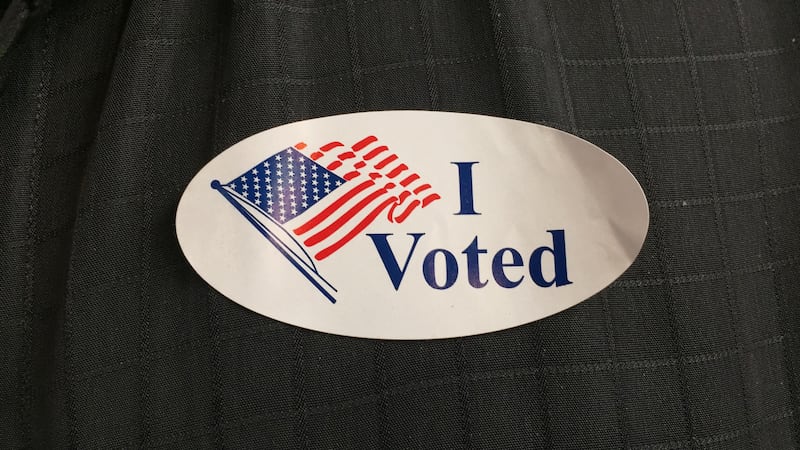 Published: Nov. 5, 2019 at 7:57 AM EST
RICHMOND, Va. (WWBT) - On Nov. 5, registered voters can head to the polls between 6 a.m. and 7 p.m.
Voters must be in line by 7 p.m. at their correct polling place for their vote to count.
It is required that voters have an acceptable Photo ID with them to vote.
If you are unsure where your polling station is, there's a "Where to vote" section on the Virginia Department of Elections' website where you can look up your polling place. You'll need the last four digits of your social security number.
All 140 seats in the General Assembly are up for grabs, including 100 House seats and 40 Senate seats.
The current makeup of the House is 51 Republicans, 48 Democrats and one vacancy.
Richmond City Council - District 5
Graham Sturm

Chuck Richardson

Jer'Mykeal McCoy

Mamie Taylor

Nicholas Da Silva

Robin Mines

Stephanie Lynch

Thad Williamson
Richmond is holding a special election for a city council seat to replace Parker Agelasto. Williamson was a former policy advisor to Mayor Levar Stoney, Taylor spent a few years on the school board, and Chuck Richardson resigned from City Council more than 20 years ago after being arrested for drug distribution and is hoping to make a comeback.
Since last year's election, eight polling places were either split or moved to help with crowding.
Voters who previously voted at the Iron Bridge, Genito, Southside, Winfrees Store or Skinquarter precincts should visit PromoteTheVoteCfield.org to check their polling place
Chesterfield Commissioner of Revenue
Jenefer Hughes (D)

Tim McPeters (R)
Chesterfield Commonwealth's Attorney
Stacey Davenport (R)

Scott Miles (D)
Chesterfield Sheriff
Rahn Kersey (I)

Karl Leonard (R)
Chesterfield Supervisor
Bermuda District

Clover Hill District

Dale District

Matoaca District

Midlothian District
Chesterfield School Board
Bermuda District

Clover Hill District

Dale District

Matoaca District

Midlothian District
Following Election Day in Chesterfield County, there will be a new school board. All five seats are open, and 11 candidates are running for office. The group of 11 includes educators, parents, former Chesterfield County students, attorneys and lifelong residents of the county.
Chesterfield Treasurer
Rebecca Longnaker (R)

Michael Jackson (D)
Hanover Supervisor
Beaverdam District

Cold Harbor District

Henry District

South Anna District
Henrico Commonwealth's Attorney
Owen Conway (R)

Shannon Taylor (D)
Henrico Sheriff
Alisa Gregory (D)

Bob Matson (R)

Tom Wadkins (I)
Henrico Supervisor
Brookland District

Fairfield District

Tuckahoe District

Varina District
Henrico School Board
Brookland District

Fairfield District

Tuckahoe District

Varina District
Commissioner of Revenue
Laura Walsh (I)

Malinda Zachary (I)
Commonwealth's Attorney
Glen Henkle (R)

Lee Harrison (I)
Amelia Sheriff
John Harmon

Ricky Walter

Rondell White
Brunswick Supervisor
District 1

District 5

District 4
Buckingham Supervisor
District 1

District 3

District 4
Commissioner of Revenue
Mark Bissoon

Sandra Stevens
Caroline Supervisor - Bowling Green District
Jeff Sili (R)

David Upshaw (I)
Caroline School Board - Mattaponi District
Nancy Carson

Jamey Lewchanin
Charles City Commonwealth's Attorney
Commissioner of Revenue
Deborah Fuhrman

Denise Smith
Charles City Supervisor
Charles City School Board - District 2
Herbert Johnson

Rodney Tyler
Charles City Sheriff
Jayson Crawley

Alan Jones

Javier Smith
Charles City Treasurer
Mindy Bradby

LaWanda Christian
Cumberland Commonwealth's Attorney
Jason Moore (R)

Patricia Scales (D)
Cumberland Supervisor
District 1

District 2

District 4

District 5
Cumberland School Board - District 3
Latesha Anderson

Heather King
Dinwiddie Sheriff
Duck Adams (D)

Darryl Hayes (I)
Emporia-Greensville Clerk of Court
JoAnne Conner

Linda Edwards

George Morrison
Emporia Sheriff
Tim Jarratt Jr. (I)

Stephen King (D)
Greensville Supervisor
Greensville School Board - District 4
Alexis Jones

Drexel Pierce Jr.
Essex Supervisor - South District
Ronnie Gill (I)

Reese Peck (R)
Essex Sheriff
Arnie Holmes

Darryl Parker
Goochland Sheriff
Steven Creasey

Levin White
Goochland Supervisor
Goochland School Board - District 1
Sandra Barefoot-Reid

Jennifer Mazza
King & Queen Sheriff
Mark Chandler

John Charboneau
King William Commonwealth's Attorney
Samantha Bohannon

Matthew Kite
King William Supervisor
Third District

Fourth District

Fifth District
King William School Board - Fifth District
Lancaster Commonwealth's Attorney
Maggie Ransone (I)

Jan Smith (I)

Tony Spencer (R)
Lancaster Sheriff
Melvin Howard Jr. (I)

Patrick McCranie (R)
Lancaster School Board
Louisa Commissioner of Revenue
Dan Braswell (R)

Stacey Fletcher (I)

Charles Rosson (I)
Louisa Sheriff
Donnie Lowe (R)

Troy Painting (I)
Louisa Supervisor - Jackson District
Bernie Hill Jr. (I)

Toni Williams Jr. (R)
Lunenburg Commissioner of Revenue
Elizabeth Hamlett

Charon Price

Bobby Thompson
Lunenburg Sheriff
Michael Landry

Arthur Townsend Jr.
Lunenburg Supervisor - District 4
Timothy Hatley (I)

Randy Slayton (R)
Lunenburg School Board
Middlesex Commissioner of Revenue
Mae Burke

Jonathan Farinholt
Middlesex Commonwealth's Attorney
David Eberline

Michael Hurd
Middlesex Sheriff
Middlesex Supervisor
Harmony Village

Jamaica District

Pinetop District
New Kent Commonwealth's Attorney
New Kent Supervisor
District 2

District 3

District 5
New Kent School Board
New Kent Treasurer
Larry Clark (I)

Charles Evelyn (R)
Northumberland Supervisor
Northumberland Sheriff
Johnny Beauchamp

Peyton Waller
Nottoway Sheriff
Robert Jones

Tony Mayton

Lonnie Morgan
Nottoway Supervisor
District 2

District 3

District 4
Nottoway School Board
District 1

District 2

District 4

District 5
Powhatan Supervisor
District 1

District 4

District 5
Powhatan School Board
Powhatan Sheriff
Brad Nunnally

Vincent Whittaker
Prince George Supervisor
Prince George School Board
Richmond County Sheriff
Sussex Supervisor
Courthouse District

Stony Creek District

Wakefield District

Waverly District
House District 27
Roxann Robinson (R)

Larry Barnett (D)
House District 66
Kirk Cox (R)

Sheila Bynum-Coleman (D)

L. K. Harris (I)
Kirk Cox is running for re-election in the 66th House District in the Virginia General Assembly. The Republican currently serves as Speaker of the House. He faces Democrat Sheila Bynum-Coleman and Independent Linnard Harris, Sr. on Nov. 5.
House District 68
Garrison Coward (R)

Dawn Adams (D)
Democratic incumbent Delegate Dawn Adams faces Republican challenger Garrison Coward in District 68. The 68th District includes part of Chesterfield and Henrico counties and the city of Richmond.
House District 72
Gay Donna Vandergriff (R)

Schuyler VanValkenburg (D)
Republican GayDonna Vandergriff is running against incumbent Democrat Del. Schuyler VanValkenburg for House District 72 in Henrico.
House District 73
Mary Margaret Kastelberg (R)

Rodney Willett (D)
Democrat Rodney Willett and Republican Mary Margaret Kastelberg are both running for public office for the first time. Kastelberg has a background in finance and Willett is a local entrepreneur
House District 54
Bobby Orrock (R)

Neri Canahui-Ortiz (D)
House District 55
Buddy Fowler (R)

Morgan Goodman (D)
House District 56
John McGuire (R)

Juanita Jo Matkins (D)
House District 60
James Edmunds (R)

Janie Zimmerman (D)
House District 61
Thomas Wright Jr. (R)

Trudy Berry (D)
House District 62
Carrie Coyner (R)

Lindsey Dougherty (D)
House District 63
Lashrecse Aird (D)

Larry Haake (I)
House District 64
Emily Brewer (R)

Michele Joyce (D)
House District 65
Lee Ware (R)

Mike Asip (D)
House District 71
Jeff Bourne (D

Peter Wells (LB)
House District 75
Otto Wachsmann (R)

Roslyn Tyler (D)
House District 97
Scott Wyatt (R)

Kevin Washington (D)
House District 98
Keith Hodges (R)

Ella Webster (D)
House District 99
Margaret Ransone (R)

Francis Edwards (D)
Senate District 3
Tommy Norment (R)

Herb Jones (D)
Senate District 4
Ryan McDougle (R)

Stan Scott (D)
Senate District 9
Jennifer McClellan (D)

Mark Lewis Jr. (LB)
Senate District 10
Glen Sturtevant (R)

Ghazala Hashmi (D)
Republican Incumbent Glenn Sturtevant faces Democratic challenger Dr. Ghazala Hashmi. The district covers much of the City of Richmond, along with all of Powhatan County and parts of Chesterfield County.
Senate District 11
Amanda Chase (R)

Amanda Pohl (D)
Republican Incumbent Amanda Chase faces Democratic Challenger Amanda Pohl. The district covers parts of Chesterfield County and all of Amelia County and Colonial Heights. The district has been represented by Chase since 2015. The Chesterfield County Republican Committee expelled Chase from membership and sent her a letter saying since she has supported the campaign of an opponent of the Republican nominee for Sheriff, she is in violation of the Committee rules.
Senate District 12
Siobhan Dunnavant (R)

Debra Rodman (D)
Republican incumbent Dunnavant faces Rodman to win the seat that covers the northern suburbs of Richmond and parts of Henrico and Hanover counties.
Senate District 15
Frank Ruff (R)

Virginia Smith (D)
Senate District 16
Joe Morrissey (D)

Waylin Ross (I)
Former Delegate Joe Morrissey beat out Incumbent Rosalyn Dance in the Democratic Primary for Senate covering parts of Richmond, Chesterfield and Petersburg. No Republican candidate is running but he faces independent Waylin Ross. After serving time for contributing to the delinquincy of a minor, the House wouldn't work with him.
Senate District 17
Bryce Reeves (R)

Amy Laufer (D)
Senate District 22
Mark Peake (R)

Dakota Claytor (D)
Copyright 2019 WWBT. All rights reserved.