'He considered this home': Fallen Trooper Dowell honored with Va. bridge
Published: Aug. 3, 2019 at 12:48 PM EDT
AMHERST, Va (WDBJ7) - Without Steve Martin, there might never have been a Trooper Lucas B. Dowell Bridge.
Trooper Lucas B. Dowell, was killed after executing a search warrant in Cumberland County in February.
Month after month, the Amherst business owner collected signatures, leaving petitions as local businesses and restaurants. In total, more than 2,000 memebers of the community signed on in support of the dedication.
"I had a lot of help," said Martin.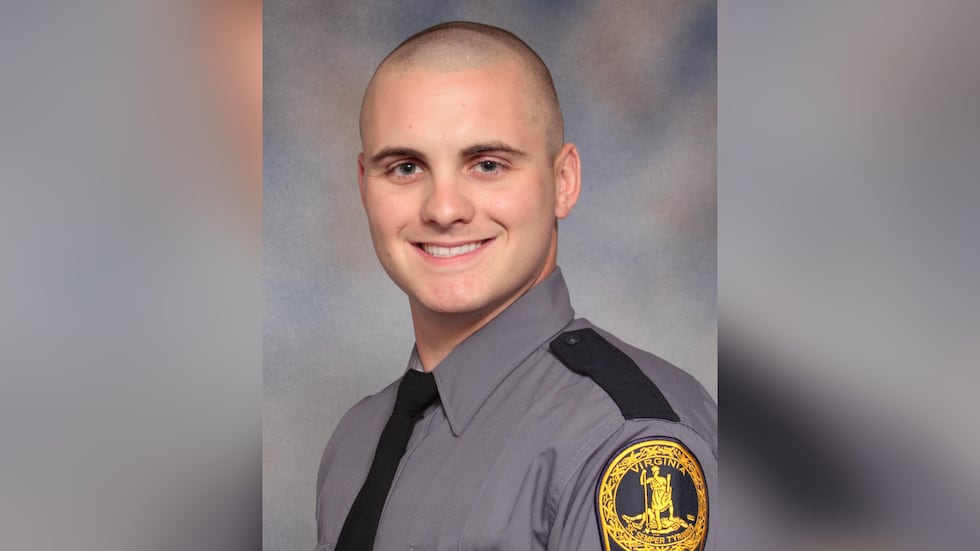 Friday, that effort paid off in full, as Martin joined state troopers, legislators, and Lucas Dowell's family, in a special ceremony dedicating the bridge.
During the ceremony, held at Amherst High School, Dowell's mother, Becky, said that Lucas always loved Amherst, both the people and the place.
"He considered this his home," she said. "Importantly for us, it also means that this community will always have a reminder of Lucas and that he will never be forgotten."
As flags waved, and bagpipes played, those who knew Dowell well, and those who didn't, took the stage to pay their respects. They described him as a man who was always ready to help, quick with a smile, and a kind word.
After the ceremony, a crowd, including Steve Martin, went down to the newly dedicated bridge. Martin said he hopes that as students drive to the nearby Amherst High School, they'll pass over this bridge and remember Trooper Dowell.
"Hopefully some of 'em may decide to go into law enforcement, after all this," said Martin. And in that way, Martin hopes, Dowell's legacy, and memory, may live on in the place he called home.
"We're not gonna forget about him here in Amherst. Especially now we got the signs."
Copyright 2019 WDBJ. All rights reserved.