Hundreds of Virginia seniors financially exploited every year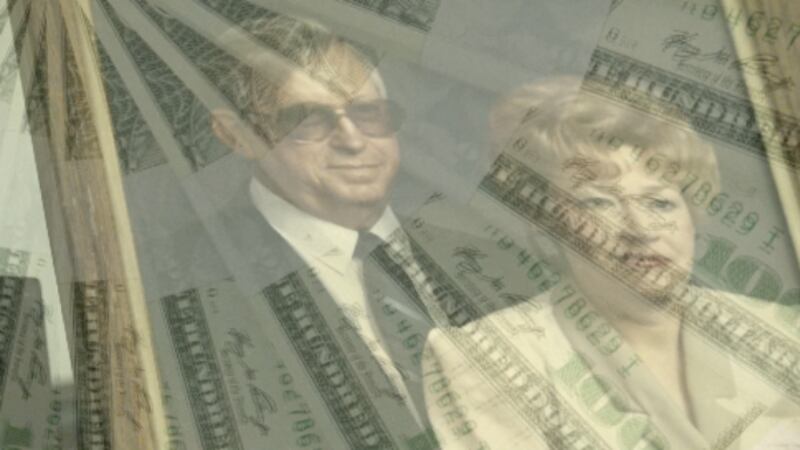 Published: Jul. 10, 2019 at 5:39 PM EDT
|
Updated: Jul. 10, 2019 at 5:40 PM EDT
LYNCHBURG, Va. (WDBJ7)-- Inside the Howard house, memories of a 52-year romance fill an otherwise quiet space.
Loretta Howard went to the ATM after her husband died in 2016 to learn that most of her money was stolen. In December of 2018, the caretakers she hired to help her sick husband were found guilty on theft charges.
"I cannot hardly believe he is not here anymore," said Loretta Howard, of her late husband Charles. "Sometimes I feel his presence...but I know he is not, every night when I go to bed he is not there."
When Charles was diagnosed with Alzheimer's in 2013 she promised to care for him at home. The care became too tasking in late 2015 and Howard needed help. She hired two caretakers who were recommended to her by a friend. They helped take care of Charles until the day he died in July of 2016.
"I had to go check his pulse and that was the hardest thing I've ever had to do, but I didn't cry because he was not suffering," said Howard.
Little did Howard know, her own suffering was just beginning. Howard went to the ATM shortly after to realize most of her savings were gone. Howard allowed the two caretakers to have access to her bank accounts and run errands. She reported them for theft.
"The worst part is I trusted them, I did," said Howard. "I didn't think they would do anything like that."
According to Virginia Adult Protective Services (APS), in 2017 there were 27,105 reports of adult abuse, neglect and/or exploitation, 55 percent of which were substantiated. Of the 27,000 reports, 1,394 were specifically related to financial exploitation.
"We have seen an increase in the abuse, neglect and exploitation of the elderly," said Ryan Crilly, Senior Family Services Specialist for Lynchburg's local office of APS.
Crilly said that when he first started working with department five years ago, his office would see about five cases a month. Now his office averages about 10 cases of exploitation a month.
When a local APS office receives a complaint they investigate the claim alongside police. If there is enough evidence, the case gets turned over to the Commonwealth Attorney's office.
"We usually have several cases a year," said Bethany Harrison, Commonwealth's Attorney for the City of Lynchburg. "These cases are difficult."
Harrison said that families often don't notice their loved one's money is gone until months or a year after it's taken. The delay in reporting makes it much more difficult to prove the case.
"You lose evidence," said Harrison. "Such as if someone is using a credit card beyond their authorization, they go into a store, the store has surveillance footage, but that gets taped over after a very short period of time."
In Howard's case, prosecutors were able to prove that the two women stole about $4,000. Gloria and Catherine Lewis, mother and daughter, entered into a plea agreement in Dec. of 2018. They were ordered to pay back about $2,000 in restitution each, even though Howard said they stole closer to $70,000.
WDBJ7 reached out to the Lewis' attorney Tuesday, but the office did not return our phone call. According to Harrison, the defense team argued that the women were given permission to access the funds.
"I just go from day to day," said Howard. "I borrowed money from my kids... the insurance policy I took out for them when they were very little."
On top of the legal battle and grieving her husband, Howard was just diagnosed with lung cancer. She said that it is far from the retirement she envisioned and saved for. Howard lives off of a social security check and often worries about how she will pay her bills.
"Having to watch her suffer, like she has suffered. It's just unexplainable how I feel...the sorrow I feel for my mother," said Howard's daughter, Wendi Clark.
Clark said that it is a sorrow her family hopes no one else will have to experience.
Experts suggest going through an agency to hire caretakers.
"They have a licensing body, they are governed by the state, they have to follow procedures," explained Crilly.
He also stressed that agencies will do background checks on their employees so families will know of any red flags before the caretaker is hired. Crilly suggests family members to look into an agency to ensure they are doing background checks properly.
Harrison suggested if someone has to trust a caretaker, whether it be a family member or a hired caretaker, to access his/her bank accounts that he/she put in writing exactly what the caretaker is allowed to do. She also said that it might be worth it to open a separate account that just the caretaker can access for those purposes.
Another tip from the CA's office is to freeze a loved one's credit score report before hiring a caretaker. If someone tries to open a credit card or make a big purchase in the person's name, they will not be able to access the credit score.
APS and the CA's office both stressed the importance of keeping a close eye on records in real time so that if a loved on is exploited, it is caught before it is too late.
"If we can get on the front end of it we are much more likely to be able to find the evidence to hold that person accountable and it prevents great losses on the behalf of the elderly or the incapacitated person," said Harrison.
APS has a statewide hotline and receives anonymous reports at: (888) 832-3858.
Copyright 2019 WDBJ. All rights reserved.