Snakes in Virginia: Meet 6 you'll most likely see this season
Updated: May. 3, 2019 at 2:44 PM EDT
Spring is so wonderful — blooming flowers, singing birds and visits from our friends, the snakes.
These reptilian Rip Van Winkles are up from their long winter naps and moving, looking for food and mates.
One just might find you by mistake.
It doesn't have to be a big deal. Believe it or not, Virginia's snakes — even the venomous ones — are not aggressive, experts say.
"Snakes are not out there waiting to ambush you," J.D. Kleopfer, Virginia's state herpetologist, or reptile expert, told Virginia Mercury. "Cottonmouths are not out there looking to attack your fishing boat. It's all a misunderstanding of their behavior."
Virginia has 32 native snakes, and you can't be expected the know them all. But you can take a big step toward protecting yourself and your scaly neighbors if you familiarize yourself with just six.
Three are venomous — rattlesnakes, cottonmouths and copperheads. They can indeed be dangerous if you get too close. The other three are harmless but common — watersnakes, gartersnakes and blacksnakes. They are the ones you are more likely to meet in the park or yard. And they are the ones most likely to get the garden hoe in cases of mistaken identity.
Inhabiting virtually all parts of Virginia, the copperhead is one venomous snake you stand a decent chance of seeing if you spend time outdoors. Helpfully, the copperhead is distinctive, with a copper-colored or pinkish body marked by dark-brown blotches that lie across its back and sides like saddles.
These creatures inhabit our western Piedmont and mountain regions, as well as swampy areas in the state's southeastern corner. (There are no rattlers in most of Virginia, including the Richmond area, according to the Virginia Herpetological Society, a conservation and educational group.)
A thick-bodied, venomous bruiser, the cottonmouth hangs out in the swamps and streams of far southern and southeastern Virginia. An isolated population lives near the confluence of the James and Appomattox rivers in the Hopewell area.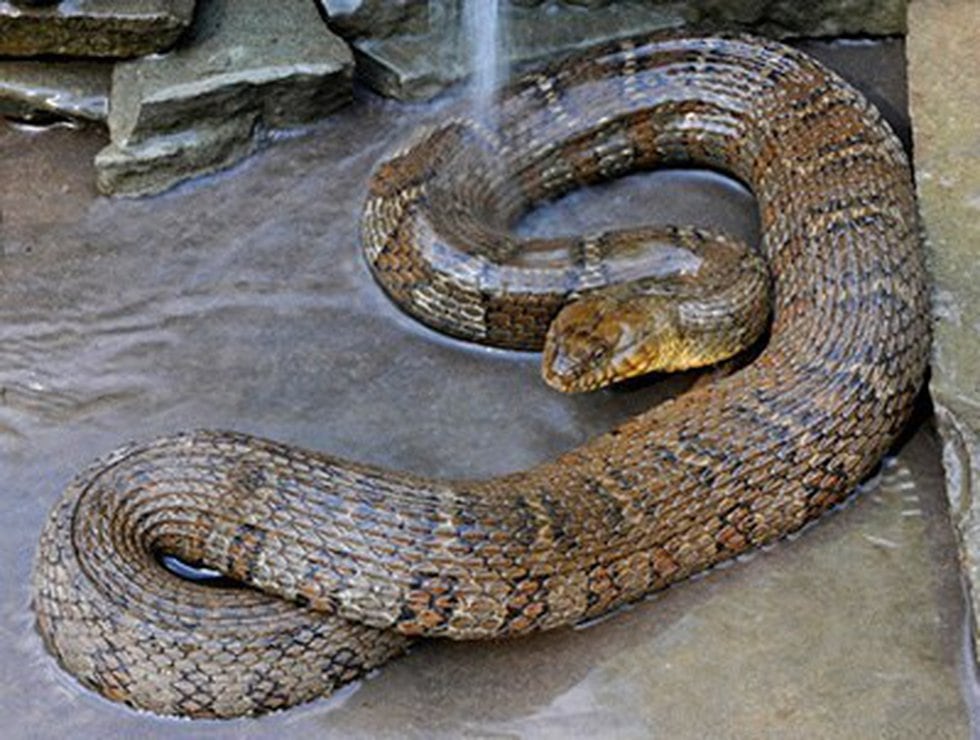 Watersnakes are nonvenomous swimming serpents.
Our most common one, the northern watersnake, lives along rivers, streams and suburban ponds across Virginia. If it's not swimming, it's basking on a leafy limb over water or lying about looking like a tree root. This is the creature that delights some visitors, and freaks out others, when it swims by in places like Richmond's James River Park.
Virginia political leaders made this resident of parks and yards the official state snake in 2016. It was a good choice if you like an ornery, wiggly, little guy that bites and exudes a stinky, poop-like musk when it's scared.
Garter snakes can be brownish to greenish, with numerous little spots or checks.
This is really two species, the black rat snake (aka eastern ratsnake) and the northern black racer.
READ MORE ON VIRGINIAMERCURY.COM >
The Virginia Mercury is a nonpartisan, nonprofit news organization covering Virginia government and policy.