Four Richmond-area high schools compete in international robotics competition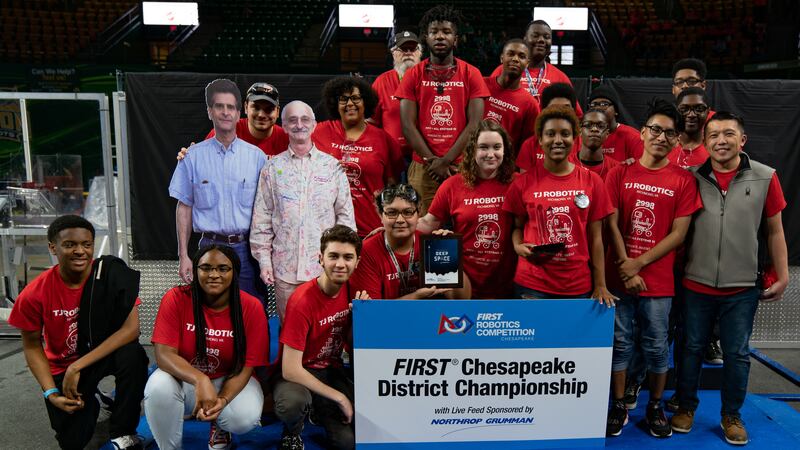 Published: Apr. 15, 2019 at 11:42 PM EDT
RICHMOND, VA (WWBT) - Four Richmond area high school robotics teams are preparing to face competition from around the world at the FIRST (For Inspiration and Recognition of Science and Technology) Championship presented by Qualcomm in Detroit, Michigan.
The teams won spots at the international tournament during the FIRST Chesapeake Championshp this weekend at George Mason's EagleBank Arena, where they took on the best high school robotics teams from the District of Columbia, Maryland and Virginia.
For the first time in recent memory, a team from a Richmond City public high school earned a place on the world stage. Here are the local teams who qualified for the Detroit championship:
FIRST Robotics Team 2998 – VikingBots – Thomas Jefferson H.S., Richmond, Va.

FIRST Robotics Team 346 – RoboHawks – Lloyd C. Bird H.S., Chesterfield County

FIRST Robotics Team 384 – Sparky 384 – J.R. Tucker H.S. – Henrico County

FIRST Robotics Team 1086 – Blue Cheese – Deep Run H.S. – Henrico County
"These students really rose to the occasion and displayed tremendous energy, ingenuity and teamwork," said Leighann Scott Boland, executive director of FIRST Chesapeake, the non-profit that organized the District Championship. "They've sharpened their technical know-how and learned important life skills during this exhilarating season, and we will be rooting for them in Detroit!"
Each team had just six weeks to design, build and test their robots, with help from their volunteer mentors.
The FIRST Championships in Detroit will take place from April 24-27.
Copyright 2019 WWBT. All rights reserved.