Leukemia survivor achieves dream, becomes United States Marine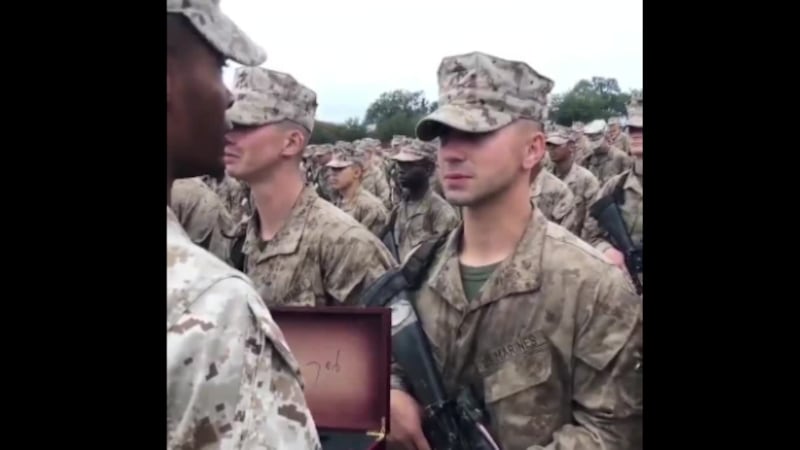 Updated: Feb. 27, 2019 at 6:58 PM EST
(WLBT) - Michael Campofiori, who was diagnosed with Leukemia at the age of 11, has achieved his dream of becoming a United States Marine - and the video of the moment has gone viral.
Campofiori went through chemotherapy for five years before winning his battle with the disease, which is found in the blood and bone marrow.
After going into remission, Campofiori faced a hard time while applying to the military.
"I was used to carrying my medical records because I knew the recruiters would ask me for them, but it would only take them a few seconds to say, 'No,'" he told Military.com
After several attempts, Campofiori received a waiver and was accepted into boot camp.
On Febrary 23rd, Campofiori faced "The Crucible," a 54-hour test that includes food and sleep deprivation and 45 miles of marching. The test determines if one can become a Marine.
Campofiori passed, and the moment he earned the title of United States Marine has been shared on Twitter almost forty-five thousand times!
Michael Campofiori was diagnosed with Leukemia at age 11. He won the battle against cancer after enduring five years of chemotherapy treatments. On Feb 23, 2019, he fought his way through "The Crucible," and earned the title of United States Marine.#BATTLESWON pic.twitter.com/zc4qFt6fy5

— USMC Recruiting (@USMarineCorps) February 26, 2019
Meghan McCain, daughter of the late John McCain, is among those who've shared the video, adding "Absolutely amazing story. Thank you for your service Michael. Semper Fi!!"
"Semper Fidelis," usually shortened to "Semper Fi," is the motto of the United States Marine Corps and is Latin for "always faithful" or "always loyal."
Copyright 2019 WLBT. All rights reserved.