Timeline of turmoil: How Virginia's ongoing political scandals developed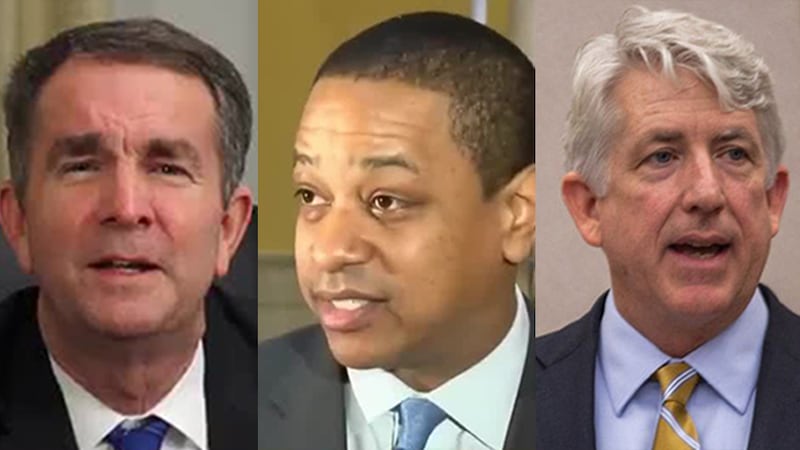 Updated: Apr. 3, 2019 at 3:55 PM EDT
RICHMOND, VA (WWBT) - It's been a tumultuous few months for Virginia with the commonwealth's top three officials embroiled each embroiled in separate scandals.
Here is a minute-by-minute timeline of the political controversies that have put the commonwealth in the national spotlight.
Gov. Ralph Northam defends proposed bill loosening restrictions on abortion in an interview with WTOP and says, "It's done in cases where there may be severe deformities, there may be a fetus that's non-viable. So in this particular example, if a mother is in labor, I can tell you exactly what would happen. The infant would be delivered. The infant would be kept comfortable. The infant would be resuscitated if that's what the mother and the family desired, and then a discussion would ensue between the physicians and the mother."
2:06 p.m. – Right-wing blog Big League Politics posts picture from Northam's 1984 East Virginia Medical School yearbook to Twitter.
5:15 p.m. – Republican General Assembly leaders call on Northam to provide an "immediate explanation." Over the next hour, the call is echoed by other political leaders.
~ 6 p.m. – A photo from a 1981 VMI yearbook with Northam's nickname listed as "Coonman" begins to circulate on social media.
6:12 p.m. – Northam releases a statement calling the photo "clearly racist and offensive" and says he is "deeply sorry for the decision I made to appear as I did in this photo."
7:17 p.m. – NAACP President Derrick Johnson calls for Northam to resign. Prominent politicians throughout the state and nation begin to issue statements calling on Northam's resignation.
8:35 p.m. – Northam releases a video statement saying he is committed to the rest of him term.
9:39 p.m. – Richmond Mayor Levar Stoney calls for Northam to resign.
10:56 p.m. – Virginia Legislative Black Caucus said it met with Northam and calls on his resignation saying, "it is clear he can no longer effectively serve as governor."
11:02 p.m. – Former Gov. Terry McAuliffe calls for Northam to resign.
12:26 a.m. – NARAL Pro-Choice Virginia calls for Northam's resignation.
9 a.m. – Protest rally begins outside Governor's Mansion.
9:59 a.m. – Former Gov. Douglas Wilder says the choice of Northam remaining governor is his to make.
10:29 a.m. – Democratic Party of Virginia announces Northam will not resign.
10:34 a.m. – New York Times reports Northam is questioning whether he is in the yearbook photo.
11:15 a.m. – Governor's office announces 2:30 p.m. press conference.
1:59 p.m. – ACLU of Virginia says Northam's failure to address the controversy "disqualify him from being a leader."
2:29 p.m. – Capitol Police say two people were arrested outside the Governor's Mansion earlier in the day.
2:41 p.m. – Northam press conference begins.
2:44 p.m. – Northam says, "I am not the person in that photo."
2:45 p.m. – Northam says, "I darkened my face" while participating in a dance contest for which he learned to moonwalk to portray Michael Jackson.
3:06 p.m. – Northam is asked if he still knows how to moonwalk. Virginia first lady Pamela Northam tells him it is "inappropriate circumstances."
3:09 p.m. – VLBC issues statement saying it amplifies its call for Northam to resign.
3:23 p.m. – Northam press conference ends.
3:43 p.m. – Virginia House Democrats issue statement reiterating their call for Northam's resignation.
4:13 p.m. – Lt. Gov. Justin Fairfax releases a statement saying he's glad Northam apologized and that Northam had apologized to him directly.
4:54 p.m. – Virginia Attorney General Mark Herring says Northam should resign and he will support Fairfax as the new governor.
7:39 p.m. – President Donald Trump tweets that Northam is "unforgivable."
9:18 a.m. – Virginia State Conference NAACP says it voted unanimously to "forcefully demand Ralph Northam to immediately resign."
8:03 p.m. – NBC News confirms Northam held an "urgent meeting" to discuss his path forward.
8:12 p.m. – Northam's college roommate tells NBC12 he does not think it is Northam in the picture.
11:21 p.m. – Big League Politics publishes a private Facebook message by Dr. Vanessa Tyson accusing Fairfax, who was not named, if sexual assault.
2:57 a.m. – Fairfax tweets a statement condemning what he says is a false allegation of sexual assault against him.
~ 10 a.m. – Protest held outside Governor's Mansion.
10:54 a.m. – The College of William and Mary confirms Northam would not attend an annual celebration for the school where he was originally scheduled to appear.
12:57 p.m. – NBC News reports Northam tells staff he needs more time to decide on his future as governor.
3:51 p.m. – CNN reports Northam told staff he didn't want to resign and be branded a "racist for life."
7 p.m. – Virginia Legislative Black Caucus issues statement saying it takes all allegations of sexual assault seriously and is assessing the accusation against Fairfax.
2 p.m. – East Virginia Medical School holds press conference to discuss racist photos in yearbooks and why publication of the yearbook was discontinued in 2013.
3:59 p.m. – NBC News reports statement from Northam's medical school classmates saying he never "engaged in, promoted, tolerated or condoned racism."
10:20 a.m. – Capitol police announce an officer was placed on leave after white supremacist pictures of him surface.
11:38 a.m. – Herring admits to wearing blackface at a college party in 1980 to imitate rapper Kurtis Blow.
11:38 a.m. – Fairfax releases statement saying it is important to listen to women who bring forward allegations of sexual assault, but reiterates his denial that he did not sexual assault anyone.
11:47 a.m. – NBC News reports Fairfax said "f--- that b----" when informed of the sexual assault allegation against him by Tyson.
1:17 p.m. – A spokesperson for Fairfax confirms part of the reaction, but said no "heated language" was directed at Tyson.
~ 2 p.m. – A law firm representing Tyson releases a statement in which she graphically describes the alleged encounter between her and Fairfax in 2004.
5:12 p.m. – Speaker of the House Kirk Cox releases statement saying the General Assembly is continuing to work on legislation despite the "disturbing" series of controversies encircling the Capitol.
5:29 p.m. – Republican Party of Virginia releases statement calling on Herring to resign.
5:59 p.m. – National Organization of Women calls for Fairfax to resign.
8:31 p.m. – New York Post unveils "Virginia is for Losers" cover.
7:35 a.m. – Trump tweets "Democrats at the top are killing the Great State of Virginia."
11:58 a.m. – Al Sharpton speaks at VUU and says Northam's "political days are over."
2:45 p.m. – Virginia Sen. Majority Leader Tommy Norment, a Republican, releases statement regarding being editor of the 1968 Virginia Military Institute yearbook that included pictures of blackface. Norment calls blackface "abhorrent." "As one of seven working on a 259-page yearbook, I cannot endorse or associate myself with every photo," and says he is not in nor did he take the photos appearing in the yearbook.
4:31 p.m. – Cox statement says it is, "unfair to compare assisting in the production of a yearbook to the other revelations this week."
8:17 p.m. – Democrats representing Virginia in Congress release joint statement saying they are "brokenhearted" over the Northam and Herring revelations and reiterate their individual calls for Northam to resign. The statement says Herring must "stand ready to answer to answer questions from the public if he is to regain their trust." It also says the allegation against Fairfax should be taken seriously and will be evaluated.
Time unknown – Northam tells top staff he will not resign. In related email to state employees, Northam says, "You have placed your trust in me to lead Virginia forward and I plan to do that."
1:57 p.m. – National Black Farmers Association president John Boyd Jr tweets that he met with Northam and pledged his support that the governor not resign.
4:15 p.m. – The Guardian political reporter Ben Jacobs tweets a statement from a second woman, Meredith Watson, accusing Fairfax of sexual assault.
5:03 p.m. – McAuliffe calls on Fairfax to resign.
~ 5:15 p.m. – Fairfax denies second allegation saying he will "clear my good name and I have nothing to hide."
5:31 p.m. – Rep. Jennifer Wexton calls on Fairfax to resign.
5:59 p.m. – Rep. Donald McEachin calls for Fairfax to resign.
6:31 p.m. – Virginia Democratic congressional representatives call on Fairfax to resign in joint statement.
6:31 p.m. – Del. Patrick Hope (D-Arlington) says he will issue articles of impeachment against Fairfax if he does not resign by Monday, Feb. 11.
8:08 p.m. – Virginia House, Senate Democrats call for Fairfax to resign.
9:20 p.m. – Virginia Legislative Black Causes calls for Fairfax to resign.
11:13 p.m. – Sen. Time Kaine calls on Fairfax to resign.
8:56 a.m. – Cox says Fairfax's ability to lead is "permanently impaired" and calls for him to resign.
10:36 a.m. – Virginia Democrats call for Fairfax to resign.
6:51 p.m. – CNN's Ryan Nobles tweets statement from Fairfax denying the second allegation.
10:30 a.m. – In interview with Gayle King, Northam says he thought about resigning, but "Virginia needs someone that can heal … that's why I'm not going anywhere." During the same interview, Northam describes slaves arriving from Africa as "indentured servants."
7:53 p.m. – NAACP issues statement reiterating call for Northam to resign but declines comment on Fairfax and Herring situations.
9:46 a.m. – Hope says "additional conversations" are needed before filing for impeachment against Fairfax.
~ Noon – Black leaders gather at Virginia State Capitol. Calls for his resignation are repeated, but leaders say they believe his apology is sincere but say there are different standards for which the man and the officer of governor should be evaluated.
4:10 p.m. – Fairfax spokesperson confirms two of his staffers and two staffers at a PAC that supports him resigned over the sexual assault allegations against him.
6:33 p.m. – VUU announces Northam will speak Feb. 21 at a Faith, Community and Racial Reconciliation rally in what the university describes as the part of his "apology tour."
10:33 a.m. – Northam spokesperson says Black History Month reception previously scheduled for Feb. 13 has been rescheduled for later in the month.
8:30 p.m. – Tyson speaks at #MeToo panel event at Stanford, but does not discuss her accusation towards Fairfax.
5:30 p.m. – Ralph Must Resign Rally held at Governor's Mansion.
12:20 p.m. - California man charged with pouring red dye into fountain at Capitol Square and a woman was issued a citation banning her from Capitol Square for six months. A Florida woman was charged with indecent exposure in unrelated incident.
4:33 p.m. - Washing Post publishes an op-ed from Watson saying she will testify publicly about her allegation against Fairfax and says he should do the same.
6:22 p.m. - Cox calls for "legislative forum" on Fairfax allegations.
5:32 p.m. - Northam announces he will put out of scheduled "reconciliation tour" event at VUU.
Noon - House committee announces plans to invite Fairfax, accusers to testify at a hearing.
Dozens of protesters gathered at the Capitol and continued to call on Northam to resign.
As the General Assembly session came to a close, Fairfax delivered a speech and once again denied the allegations and said the truth is on his side. He mentioned legislation that the General Assembly passed expressing "profound regret" for lynchings in Virginia between 1877 and 1950. Fairfax said his opponents were "willing to do the same thing."
An eighth-grade Senate Page writes a letter to first lady Pamela Northam telling her it was "beyond inappropriate" to hand out cotton during a tour of the Executive Mansion.
Herring makes his first public appearance after apologizing in an Op-Ed.
Republican Party of Virginia offers $1,000 reward for picture of Herring in blackface.
Fairfax says he took a polygraph test that exonerates him of sexual assault accusations.
Vanessa Tyson, one of the two women accusing Fairfax of sexual assault says in an interview on CBS his response has been "disgraceful, irresponsible and manipulative."
In another CBS interview, Meredith Watson she has nothing to gain by going public with her allegation.
Northam addressed accusations against Fairfax saying, "It takes a lot of courage for women to step forward and talk about these issues. They need to be heard, but we need to get to the truth. An investigation needs to move forward and find the truth, and that's what I support."
Lawmakers continued to debate a proposed hearing into the allegations against Fairfax.
Fairfax say he's willing to testify under oath and releases his polygraph test results.
The Rev. William Keen, president of the SCLC of Virginia, continued to call on Northam to resign.
Eastern Virginia Medical School says investigation into yearbook photo is inconclusive. In September, the Virginian-Pilot reported the investigation cost $368,000.
Copyright 2019 WWBT. All rights reserved.