Burned dog Tommie dies a day after taking steps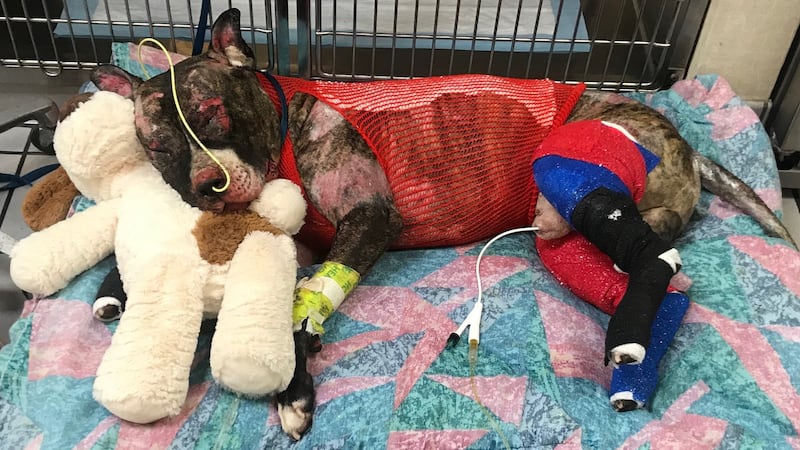 Updated: Feb. 14, 2019 at 7:37 PM EST
RICHMOND, VA (WWBT) - A dog that was set on fire at Abner Clay Park on Sunday has died.
This comes one day after he took steps while being treated at the Virginia Veterinary Center on West Cary Street.
"Tommie is doing okay he is not out of the clear unfortunately we are cautiously optimistic," Rob Leinberger with Richmond Animal Care and Control said on Thursday. "He is in a rough patch right now."
On Thursday, RACC posted that Tommie "was done laying down. He got up and walked away from his bed."
"We are not out the danger zone yet, but for today, we win," RACC posted on Facebook.
On Wednesday, RACC said says Tommie's burns are getting worse before they get better, and said that there is a chance that Tommie may not survive.
The love and support for Tommie continues, with the firefighters who rescued him from Richmond's Engine 5 stopping by to see him Wednesday evening.
The VCU Evan-Haynes Burn Center team has also set up a rotating schedule to help care for Tommie. They have also been collecting donations of medical supplies. Some are from former burn patients who have unused supplies that they say they want Tommie's caretakers to have.
"It's an intersection of things dear to me and I've never felt compelled to take an animal home from social media but I was very certain when I saw his case," said James Crodick, a burn nurse with VCU. "We are being cautiously optimistic, his injuries are severe, but everybody is rooting for him. We could not have a more dedicated collaboration of people."
Crodick says the original RACC post about Tommie compelled him to reach out to the shelter to offer his medical expertise and also offer to adopt Tommie if that was an option. Crodick has continued to work with his team, volunteering to help Virginia Veterinary Centers with Tommie's wound care.
"The structure of the skin of canines is different from what we're seeing, but it functions the same way, it still creates a barrier there is still risk for infection," he explained.
Crodick says the veterinary staff are learning from and with each other in the process of caring for Tommie.
"When your patient can't speak and tell you what their wishes are it ramps of the urgency to do what's best and Tommie is the patient," explained nurse practitioner Meg Shea. "I would be lying if I said it didn't impact us everyday. It is different with an act of cruelty. I have unfortunately been witness to that for humans, and now as well for Tommie."
Shea says Tommie's wounds are still evolving, explaining him as a critical care patient. The medical staff is concerned most about infection, working as carefully as they can.
"I know that I've got a fighter on the table we are working with," said Shea.
The shelter is hopeful he will make it and said tons of support has come in since the story was first shared Monday. The RACC reward fund for information leading to the arrest and conviction of those involved in Tommie's burning has risen to $10,000.
RACC says it has received so many donations, that Tommie's vet bills may be covered in full, but that any sort of donation is still welcome for the thousands of other animals that need treatment. Any donations received for Tommie that are beyond what is needed for his care will go toward other emergency cases. You can donate to the shelter here.
The cruelty shown to Tommie and so many other animals is why Senator Bill DeSteph sponsored legislation to make the penalty harsher for animal cruelty cases. As state law stands right now, a person is only charged with a felony if a dog or cat dies as a direct result of cruelty. If the animal lives, it's a misdemeanor.
"I don't think the outcome should matter on this, if you beat or torture a dog its a heinous act, and it leads to other heinous acts which should be a felony," DeSteph said.
DeSteph says the legislation has passed in the Senate, and is expected to be voted on again later in the week.
The sympathy for Tommie extends all the way to Richmond City Hall.
City Councilwoman Kim Gray said she has been working with Richmond Police to put more security at Abner Clay Park, and that the chief will be utilizing grants funds to put more cameras in place. Gray said the park has been a part of her life for years, and that she was taken back knowing that someone could be capable of such cruelty.
"Anyone who's this cruel to animals is a pretty depraved individual, and it's scary to think that they're walking around among us," Gray said.
The councilwoman says she's been putting forth efforts to get more security cameras in place, and is now working with police to help prevent future incidents like Tommie's.
Tommie, a male pit bull, was burned over more than 40 percent of his body after being tied to a fence post and covered in a flammable liquid. RACC has set up a reward fund to capture the person who did it. Witnesses said a man wearing multiple layers of pants was seen running from the area towards Belvidere Street.
Put REWARD in the notes field to have your money go toward that fund.
Christie Chipps Peters of RACC says firefighters from Engine 5, which is nearby the park, quickly rushed over to put out the flames.
"They literally opened their bay doors and saw him on fire and ran across the street with their fire extinguishers," she said.
Tommie is on a catheter, and his injuries are obstructing even basic functions.
"He doesn't want to eat because the inside of his mouth is burned so severely," Chipps Peters said. "This one just sort of takes it to a different level of cruelty. There's just such an evil component to it that's so senseless."
Anyone with information about the suspect is asked to call Crime Stoppers at (804) 780-1000.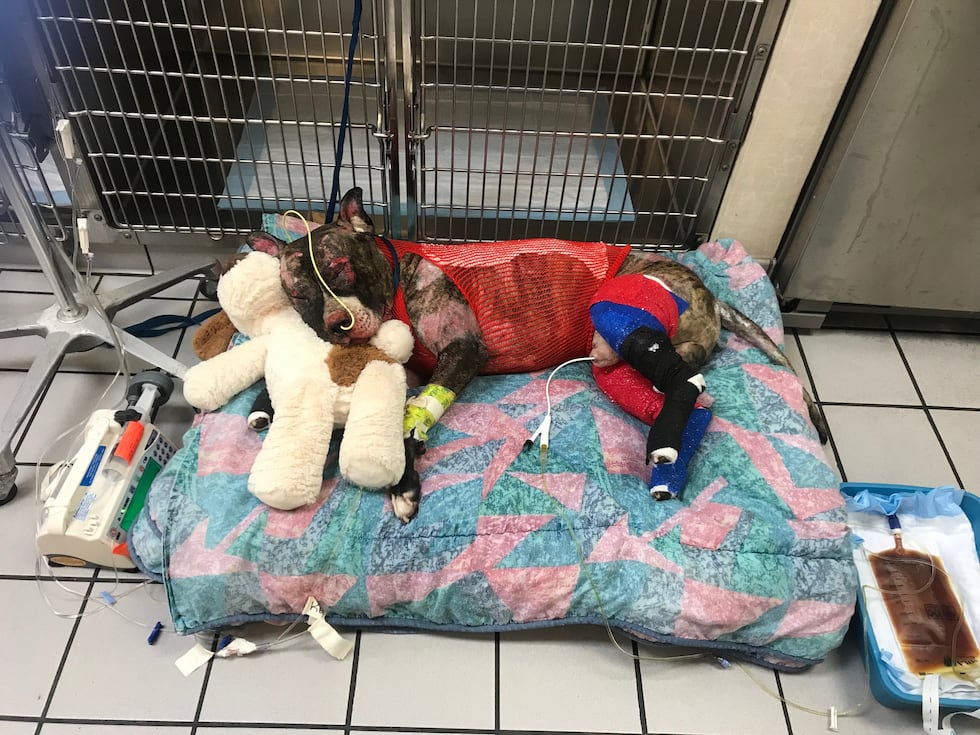 Copyright 2019 WWBT. All rights reserved.