'Virginia is for losers': New York Post cover calls out state political leaders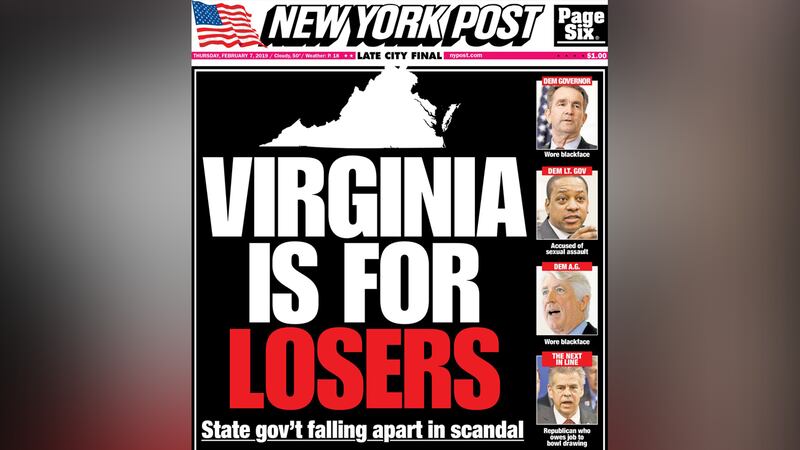 Published: Feb. 7, 2019 at 11:36 AM EST
RICHMOND, VA (WWBT) - Today's New York Post cover addresses Virginia's capitol crisis.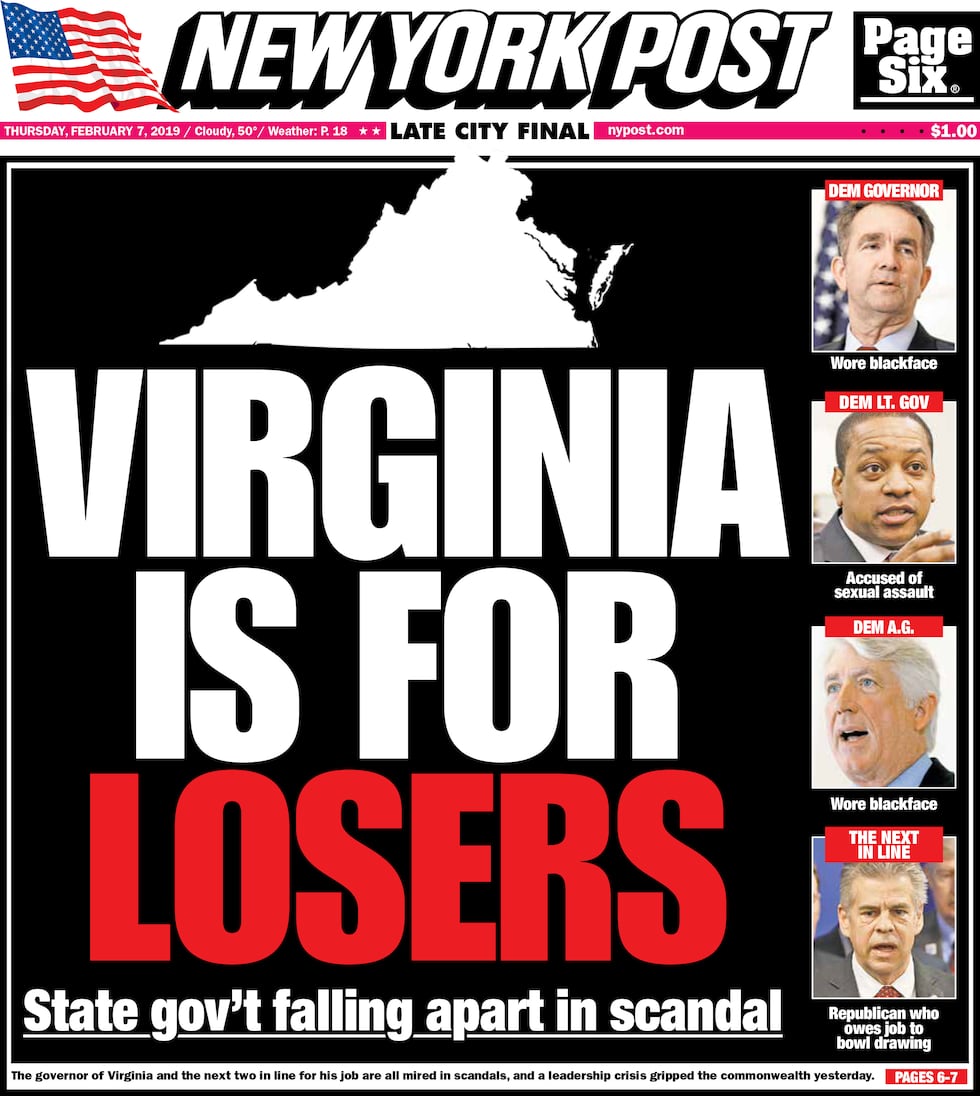 The daily newspaper's front page reads "Virginia is for losers," playing off the state motto, "Virginia is for lovers."
The cover shows Governor Ralph Northam, Lt. Governor Justin Fairfax, Attorney General Mark Herring and House Speaker Kirk Cox, who would be next in line should the three men resign.
Northam was at the forefront of the political controversies, after his medical school yearbook page featured a photo of someone in blackface beside someone in KKK garb.
The governor apologized for the picture, then later said he was not either person in the picture.
However, Northam did admit to wearing blackface at a press conference on Saturday, saying he used shoe polish to darken his face when he dressed up as Michael Jackson at 25 years old.
Following Northam's blackface scandal, Virginia's Democratic Attorney General Mark Herring says he wore blackface at a college party in 1980.
In a statement issued Wednesday, he says he wore brown makeup and a wig to look like a black rapper during a party as an undergraduate at the University of Virginia.
"That conduct clearly shows that, as a young man, I had a callous and inexcusable lack of awareness and insensitivity to the pain my behavior could inflict on others," said Herring in the statement. " ... This conduct is in no way reflective of the man I have become in the nearly 40 years since."
Amid the political scandals, Virginia's Lt. Governor Justin Fairfax was recently accused of sexually assaulting Dr. Vanessa Tyson in 2004.
Dr. Tyson has consulted with a law firm, releasing a statement on Wednesday which graphically described the allegation.
"What began as consensual kissing quickly turned into a sexual assault," the statement said. "Utterly shocked and terrified, I tried to move my head away, but could not because his hand was holding down my neck and he was much stronger than me. As I cried and gagged, Mr. Fairfax forced me to perform oral sex on him."
Tyson said she first came forward and told friends about the incident in 2017 when Fairfax was running for lieutenant governor.
Fairfax continues to deny the allegation, saying he simply cannot agree to a description of events that are not true.
President Donald Trump took to Twitter to weigh in on the political scandals, saying the three leaders are "killing the great state of Virginia."
Copyright 2019 WWBT. All rights reserved.