Bills to legalize sports betting in Virginia move forward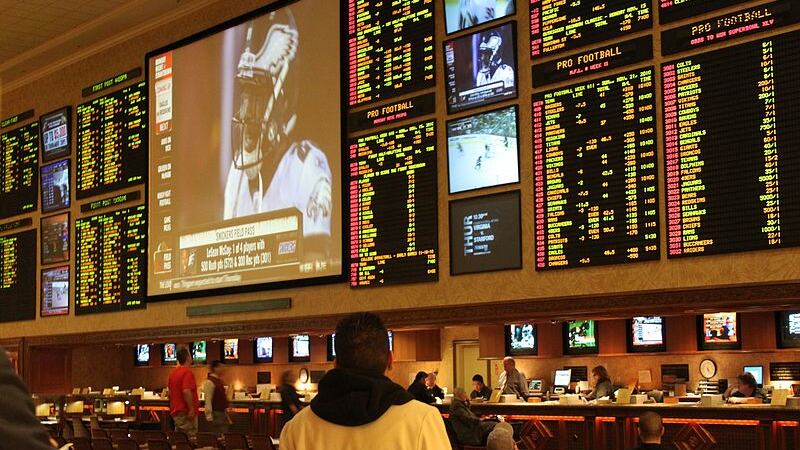 Published: Jan. 30, 2019 at 8:22 PM EST
By Andrew Gionfriddo and Ben Burstein
Capital News Service
RICHMOND - The odds of Virginia legalizing professional sports betting are improving as bills to authorize sports gambling are advancing in the Virginia General Assembly.
However, legalizing online sports betting may need a little push from companies that wish to bring their business to the commonwealth.
Senate Bill 1238, which would establish the Virginia Sports Betting Department and authorize sports betting, cleared the Senate Committee on General Laws and Technology on Tuesday and is now heading to the Senate Finance Committee.
Also making its way to the Finance Committee is Senate Bill 1356, which would change the name of the Virginia Lottery Board to the Virginia Lottery and Sports Wagering Commission. The department would be allowed to accept sports betting wagers.
SB 1238 would prohibit betting on youth and collegiate sports, while SB 1356 would allow betting on youth and collegiate sports outside of Virginia.
The Virginia Sports Betting Department established in SB 1238 would allow for betting entities to apply for a three-year license if a locality votes to approve gambling facilities.
The Virginia Lottery and Sports Wagering Commission of SB 1356 would operate its own facility. While SB 1356 would create an online platform operated by the Lottery, neither bill would legalize private online sports betting.
Still, the push for online sports betting remains alive and well.
Last week, sports betting websites FanDuel and DraftKings lobbied the General Assembly to legalize mobile gambling in addition to sports betting, saying the move would generate millions in tax revenue and help curb illegal gambling in Virginia. Mobile gambling is done on a cellphone, tablet or a remote device with a wireless internet connection.
Sarah Koch, director of government affairs for DraftKings, and Cory Fox, counsel for policy and government affairs for FanDuel, detailed the benefits of sports betting to the Senate Committee on General Laws and Technology on Jan. 18.
Both companies currently operate mobile and web-based fantasy sports, allowing the sites to operate legally as a game of skill, not chance. That's an important distinction in Virginia, where there's more flexibility built into the Code of Virginia for games of skills than games of chance. Since there are a number of facets for players to consider, such as statistics or injuries, the operators contend that fantasy sports gambling is more about finesse than luck.
If online and mobile gambling were legalized, DraftKings and FanDuel would be able to open up their sportsbook facets of their websites and apps in Virginia. Both FanDuel and DraftKings sportsbooks act as traditional Vegas style gambling entities and operate in all states where sports betting is legal.
According to Koch, legalizing mobile gambling would help curb illegal sports gambling in the commonwealth.
"Mobile betting allows for advanced age and identity verification, tracking of bet activity, and the ability to restrict or exclude bettors to a greater degree," Koch said.
Supporters also said the state could get a financial boost if such laws are passed. Fox said Virginia could match New Jersey's success. He said over $94 million in revenue was generated in the first six months since electronic and in-person sports betting was legalized in New Jersey.
SB 1238 states that 50 percent of the revenue would go to the locality in which it was generated, whereas in SB 1356, 95 percent of the revenue generated from sports gambling would go into the state's general fund.
Fox said fair tax rates could also assist in the decrease of illegal betting.
"Reasonable tax rates also help attract illegal betters to legal platforms because it allows the operators access to a viable marketplace, while also providing bettors more favorable payouts, further dis-incentivizing betting on illegal platforms," he said.
Those who oppose sports betting, such as the Family Foundation, have voiced concerns about gambling addiction and collegiate sports betting. Both SB 1238 and SB 1356 aim to mitigate fears of facilitating gambling addiction by funding programs to help compulsive gamblers.
A study was recommended to be completed prior to the passing of any gambling bills. Virginia Secretary of Finance Aubrey Layne spoke about the study last week, stating it would be about the public policy and regulatory structure of such bills.
"We have significant questions to answer regarding financial impacts," he said. The study would look into the revenue sharing between state and local governments and what social impacts legalizing such gambling could bring.
Capital News Service is a program of Virginia Commonwealth University's Robertson School of Media and Culture. Students in the program provide state government coverage for a variety of media outlets in Virginia.