'I wanted to feel more feminine': Woman warns of breast implant illnesses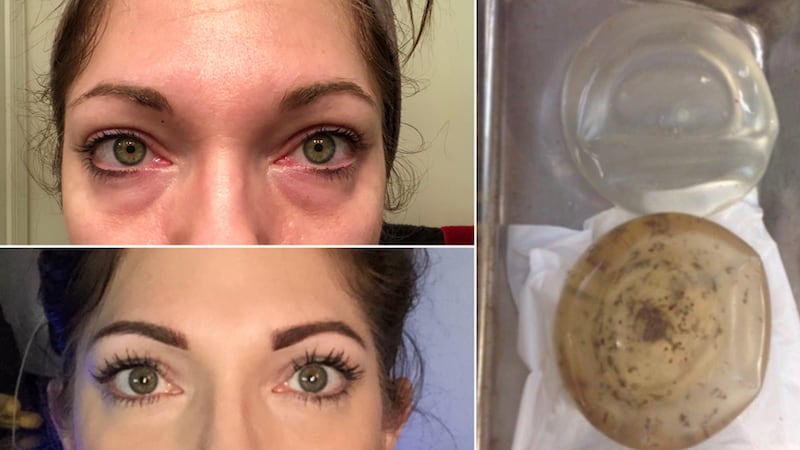 Updated: Dec. 17, 2018 at 5:32 PM EST
RICHMOND, VA (WWBT) - A new health alert reveals alarming news about FDA-approved breast implants.
Studies show evidence that breast implants could be linked to a rare, and sometimes deadly, cancer of the immune system called ALCL.
More than 400 women have been diagnosed with the disease, and at least nine women have died.
It is an alert that hits close to home for one Richmond woman.
Shawna Pringle recently had her breast implants removed because she realized they were physically making her sick.
Now, she is on a mission to raise awareness about the true cost of added beauty.
Put Pringle inside any gym, and she'll make herself right at home.
"I grew up into the fitness industry. My father was a body builder," said Pringle.
So, this physical therapist knows a thing or two about the importance of arm, back and shoulder day, as well as, all the other days that turn average bodies into the well-defined powerhouses that win bodybuilding, figure and fitness competitions.
"Competition life is a whole job," said Pringle.
And it's a job she decided to take on as an 18-year-old college freshman.
She worked hard to get her body in top shape, spending several hours in the gym, seven days a week.
However, as she made gains in one area, she lost in another.
"As we get lean, we lose a lot of our breast because it's fat," said Pringle. "I felt like I needed to take myself to the next level, and although I loved the physique I was showing everyone, I still wanted to feel more feminine. If you were to put two girls onstage, both with the same physiques, a lot of times, the woman with the breast implants would win."
In 2008, she decided she wanted to be a winner.
"I decided to get the breast implants," said Pringle.
She joined the more than 300,000 women who make that decision each year in the United States.
As she predicted, her new saline enhancements enhanced her level of competitiveness. She won her pro card, meaning judges finally awarded her the title of being a fitness professional.
She then went on to compete for prize money, and she trained other people for competitions as well.
However, while she looked to be at the top of her game, something else was off.
"I honestly almost didn't feel like myself," said Pringle.
This healthy, energetic woman, was now constantly tired. Her eyes and nose - puffy.
"I took supplement after supplement to try to fix what was going on in my body, and sometimes I would get better for a few days, a few weeks, but then I would reverse back to not feeling good again," said Pringle.
For several years and after several visits to doctors, this pattern continued with the symptoms getting worse.
"I had twitching in my left eye every day. I had sciatica down my left leg. Off and on tingling in my left arm," said Pringle.
While doctors could not confirm what was going on, a friend's Facebook post did.
It was a post about symptoms of breast implant illness, and all the symptoms highlighted in yellow were the ones making Shawna sick.
"There were so many, over 30 symptoms that I had, that I had no answers to," said Pringle.
She stumbled upon a Facebook group dedicated to the subject with more than 55,000 women chiming in on what they were experiencing - everything from anxiety to memory loss to kidney dysfunction.
"A lot of women are having symptoms that are possibly related to their implants," said Dr. Matthew Stanwix.
Dr. Stanwix is a cosmetic and plastic surgeon in the Richmond area. He has performed a number of breast augmentations over the years. However, these days, his schedule is booked with breast implant removals.
"I can do anywhere from three to seven per week," said Dr. Stanwix. "Implant removal is definitely more trending in terms of having them out. Because I think that the word is spreading around this subset of people who, women who have this reaction to implants."
As for what's causing the reaction? Well, that's what doctors are trying to figure out because it is happening in women who have either the silicone or saline implants.
Many surgeons consider saline to be the safer option. Yet-
"Both silicone and saline have a silicone shell. Some people don't realize that saline has a silicone that your body sees. So, the implant in itself and the body are kind of reacting to this silicone on the outside of it," said Dr. Stanwix.
While Dr. Stanwix believes much more research is needed surrounding the rise of illnesses in women with breast implants, here is what research has shown so far.
"There's been a few studies in plastic surgery showing that 50 to 75 percent of women who have their implants removed actually experience symptomatic relief. So, all of these symptoms and systemic issues, even local issues, are much improved after their implants are out," said Dr. Stanwix.
'Much improved' is an understatement for Shawna Pringle.
She decided to have her implants removed in January of 2018, which the implant had mold growing right in the center of it.
"The inflammation around my face, around my eyes, around my nose, was going away, right away. I woke up and I could actually breathe better. I had energy I hadn't had in years. Symptoms, almost all of the symptoms, were slowly going away."
These days, instead of building bodies, she is focused on building awareness among those considering breast implants.
"Beauty is from within. It's not your physical appearance," said Pringle. "I would never tell a woman what to do and what not to do. My message is to do your research. Ask the right questions."
An alternative option to breast implants is a fat transfer.
That's when a plastic surgeon does liposuction in one area and transfers it to the breasts to naturally enhance them.
Copyright 2018 WWBT. All rights reserved.