Students hold walkout after teacher at center of transgender student controversy fired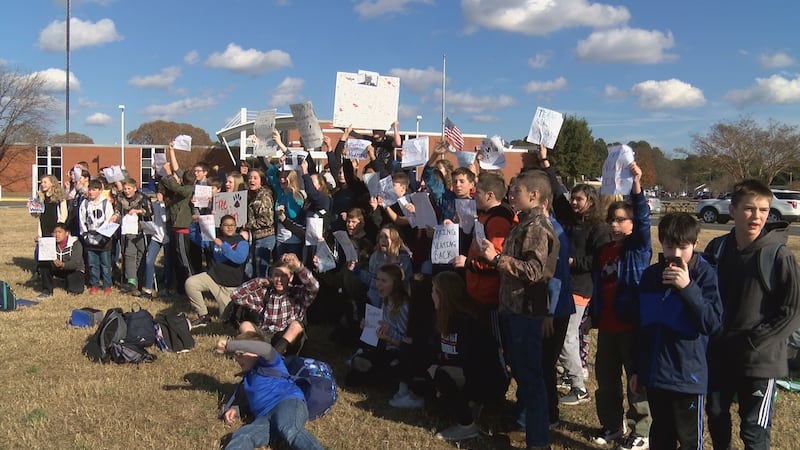 Updated: Dec. 7, 2018 at 6:22 PM EST
WEST POINT, VA (WWBT) - Less than 24 hours after a West Point French teacher was fired for allegedly not using proper identity pronouns with a transgender student, students held a walkout Friday in support of the teacher.
After a five-and-a-half hour public hearing Thursday night the West Point School Board voted to uphold the superintendent's recommendation to fire Peter Vlaming.
"Mr. Vlaming was recommended for termination due to this insubordination and repeated refusal to comply with directives made to him by multiple WPPS administrators," said Superintendent Laura Abel following the board's decision.
"My client respects the rights of all students, including this student's rights; he simply asked that his rights be respected as well," reiterated Vlaming's lawyer Shawn Voyles Friday. "Unfortunately, the school division refused to consider any solutions that would respect the freedoms of everyone involved."
On Oct. 31, Vlaming was placed on paid administrative leave after West Point High School Principal Jon Hochman said Vlaming did not obey his directive to use the proper identity pronouns for the transgender student ("he", "him" etc.).
That decision came after a virtual reality exercise in the classroom, where Vlaming testified he called out "don't let her walk into the wall" as the transgender student walked in that direction.
Vlaming claimed it was a slip of the tongue.
Vlaming told school administrators he would not honor a transgender student's request to be referred to as a male, with male pronouns; saying it was against his religion.
"I feel like everyone should have the freedom of speech and the freedom of religion as well," said Junior Zachary Gonzalez.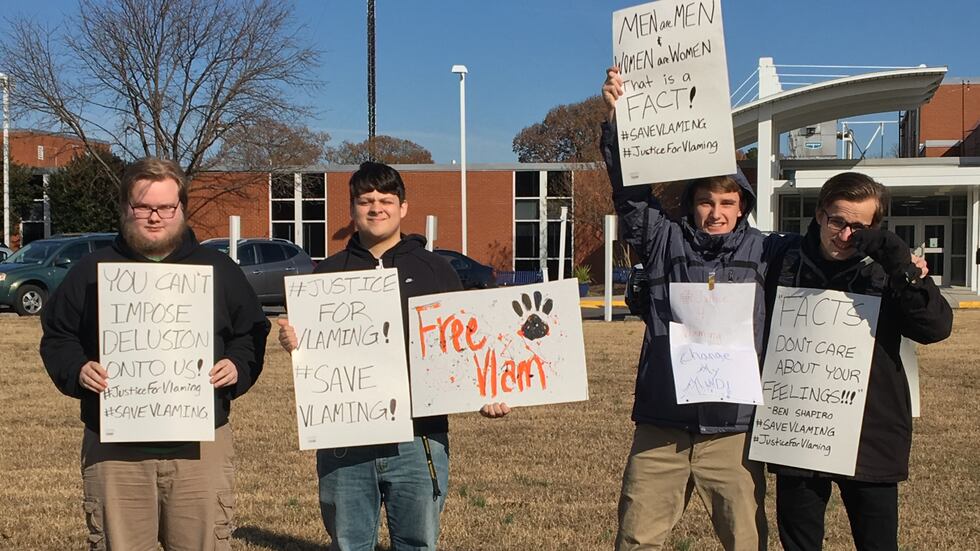 Instead Vlaming tried to resolve the issue by using the student's preferred name and avoid feminine pronouns.
The superintendent determined this was an act of insubordination along with his repeated refusal to comply with directives.
"Tolerance is a two-way street," Voyles said. "Unfortunately, tolerance on the part of the school division has been noticeably absent. It chose to impose its own orthodoxy on Mr. Vlaming and fired him because he didn't relinquish his rights protected by the First Amendment."
"We certainly applaud the board's decision," said James Millner, president of VA Pride. "It was clear that Mr. Vlaming was in violation of school policy that was made clear to him multiple times by administrators."
Thursday night Vlaming's attorney, Shawn Voyles, claimed there was no detailed policy on gender identity.
"The policy speaks not one word about pronoun usage," Voyles said. "There is absolutely nothing in the policy, as the witnesses admitted from the school division, that speaks to that issue. Which makes that policy so problematic that it leaves it up to the individual for interpretation."
But Millner also believes the issue of how teachers should treat transgender students will continue to be an issue.
"There's no statewide guidance on this issue and that's what we really need," he said. "So that there can be guidance across the state to be well equipped to handle this issue because it's not going to go away."
"They really do need to sit down, all the school systems in the state need to come to a decision," said Latia Masterson, whose two children attended the walkout.
Vlaming worked with West Point School Division for seven years, teaching students in both the middle school and high school.
Around 12:15 p.m. Friday, students walked out of the building to the front lawn of the school in support of Vlaming.
Many of those students were also in attendance at the public hearing Thursday night.
"He's an amazing man," said Wyatt Pedersen, who testified on Vlaming's behalf Thursday. "I think he really was going with what he believed was right and it's really unfair that he's being punished for that, especially in such a dramatic way."
"The school board is trying to force the teacher to conform to their ideologies with the threat of removal from the school," added Forrest Rohde, a Junior who organized the walkout.
In a statement regarding the walkout Voyles said:
"We are glad to see that West Point Public Schools permitted this peaceful protest today. That was not the case in November when the students began circulating a petition to return my client to his job. As a student testified at the hearing yesterday, the high school principal actually confiscated the petition. It unfortunately took a threat of legal action by a student to have it returned."
"Both of my kids are out here and I'm so proud of them," Masterson said. "I'm so proud they are exercising their rights to explain how they feel in a peaceful way."
Several students involved in the walkout said they don't blame the transgender student.
"The child is going through a lot," Rohde said. "We shouldn't be directing this towards her, we should be directing this towards the school board."
"I'm not sure there are any real winners in this situation," Millner said. "Our heart certainly goes out to the student who has clearly experienced an environment in this situation where they may feel marginalized and further separated from their fellow students. That's going to be a hard issue for them."
"Mr. Vlaming and I request that West Point students always show respect for this student, including when protesting against the school's actions," Voyles added.
West Point School Division Superintendent Laura Abel also acknowledged the protest, writing:
"Today, several WPHS and WPMS students left the school building to participate in a walkout on the front lawn. At all times, students were monitored by school staff and the division resource officer and were on school property. Given the peaceful nature of the event, students will not be disciplined for this instance of leaving lunch or class. We understand that some students are unhappy with the decision made by the School Board last evening and felt it important to let them express their viewpoint concerning this matter."
Voyles said he's assessing his options on how to proceed including a possible appeal with the circuit court.
Copyright 2018 WWBT. All rights reserved.