2 military veteran families given free vehicles for holidays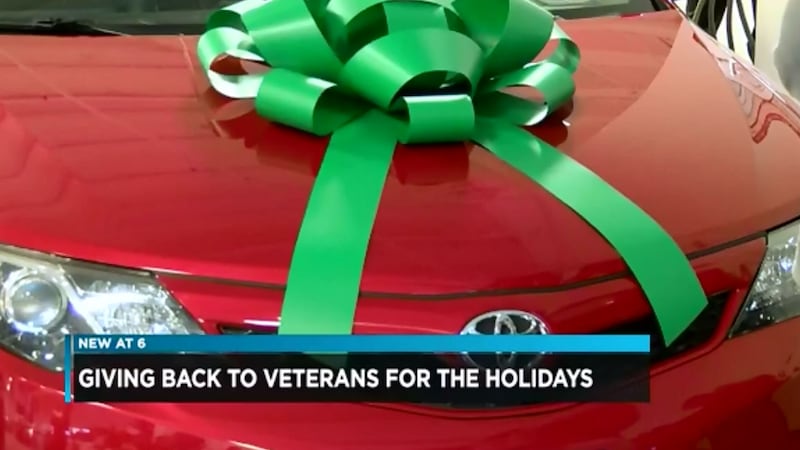 Updated: Dec. 4, 2018 at 10:15 PM EST
RICHMOND, VA (WWBT) - Christmas came early for two Virginia military families who are receiving the gift of transportation.
"It just opens up a lot of things that have been taken away from us, the economy's been hard but this right here, it will put us right back on top," said military veteran Che Griffin.
Griffin and his wife both served in the military and are the latest recipients of the Recycled Rides program, a partnership between Caliber Collision, Geico and others that repair vehicles and provides them to families, especially veterans families, in need.
The couple has four children and an injured back has kept Griffin out of work. His wife knew what was about to happen this day, he did not.
"This is just a big surprise to me. I did not expect this at all, and it's a big blessing and Lord knows we needed this," Griffin said.
Military veteran Joey Burrell was the other recipient - getting a shiny new four-door sedan. He recently lost his 6-year-old son and his wife suffers from medical issues. He said this will make a huge difference in the life of his family.
"I love it, I know they'll love it too. And this is the dream to be able to go home with a car," Burrell said.
"We're pleased to restore the rhythm of life to two families, deserving local veteran families providing them with the gift of reliable transportation," said Caliber Collision Regional Manager Ric Pugmire.
Then on top of it, the trunks of both vehicles were stuffed with gifts for the holidays. Gift cards, toys, you name it. And that put a smile on Griffin's little girl's face.
"She's blown away by it. She loves Barbie dolls and they were in there. It was wonderful. A lot of people had a hand in this and I'm really thankful for them. It restores a lot of hope," Griffin said.
Copyright 2018 WWBT. All rights reserved.