Witnesses in Fields trial: Scene of 'love' quickly turned into 'pandemonium'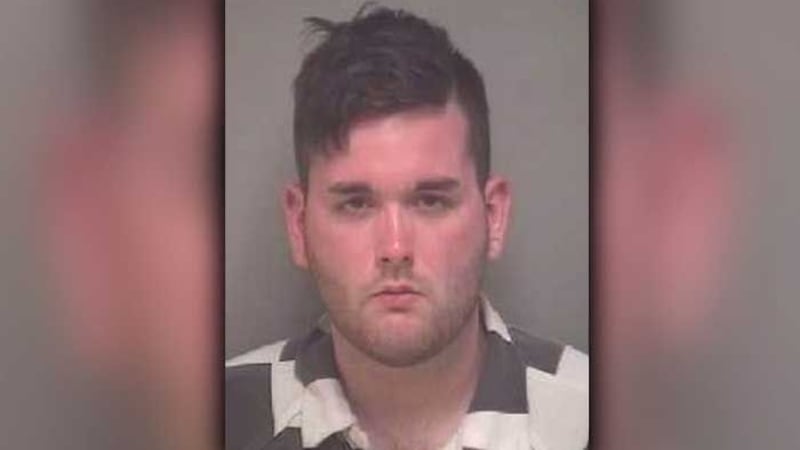 Updated: Dec. 3, 2018 at 2:21 PM EST
CHARLOTTESVILLE, VA (WWBT) - Testimony continued Monday in the state murder trial of James Fields Jr., the man accused of plowing into a crowd during the Unite the Right rally in August 2017 and killing Heather Heyer.
The first witness, Melissa Elliott, was with her boyfriend Michael Webster, who testified last week. The two didn't participate in the rally but were in the downtown mall area when the crash happened.
Elliott says she saw the Silver Challenger at one point slowly backing up and thought "how unfortunate they got stuck" near the big crowd.
At one point Elliott says she and Webster walked in front of the Challenger to cross the street, soon after they heard an engine revving and she described the "sound of a car bottoming out."
She says she didn't see the impact but heard the crash, screaming and yelling. She says she was just "frozen." She eventually ran and hid by an Urban Outfitters in the downtown mall and told the jury she saw the car again when it "flew backwards and out of sight."
Another witness on Monday, Marissa Blair Martin, says she was friends with Heyer.
"You're an optimist, I'm a realist, but I like you," Blair Martin remembers Heyer once saying to her.
She says the scene on that day "felt like love" and had a sense of joy before the incident.
Martin says she and Heyer worked at the Miller Law Group together and often talked about social activism. She says Heyer wasn't 100 percent sure about going to the rally to counterprotest, but met friends downtown on Aug. 12.
While in a parking lot near protesters with the Unite the Right Rally, Martin saw Heyer talking to a woman, she asked Heyer if she knew the woman, and told the jury Heyer didn't know her, but decided to ask her why she was in Charlottesville, asking about her beliefs, and sharing her own beleifs and why [Heyer] felt it was important to counter protest and be a part of the day.
Once near 4th and Water Street, Martin decided to get on Facebook Live, showing the joy and happiness she says the counter protesters were experiencing. Martin says the scene soon turned into complete chaos. She says she felt a push and was knocked towards the sidewalk. She lost her then-fiancé, now husband, Marcus and described it as moments of terror. Martin eventually ran to an alley, she saw the Silver Challenger reversing out of the Downtown Mall, and eventually found Marcus injured.
Fire Capt. Nick Barrell testified that when he got to the scene that CPR was being performed on Heyer.
He says at first Heyer's color was that of a "salvageable patient," but as they continued to work, her color faded more. She was quickly put in an ambulance. Capt. Barrell says Heyer had a large bruise across her chest, and told jurors that immediate bruising like what was seen on her, is a sign of serious injury.
Alexis Morris testified that she made her way to the downtown area with her 14 year old on Aug 12, 2017. They saw a "friendly group in a good mood." As they walked up 4th street she heard a big boom, saw a flash of light and though it was a bomb. She was knocked out, and suffered a broken leg.
"It was pandemonium," she said,
Thomas Baker testified Monday that he's not an activist or protester, but wanted to be present against hateful speech and ideology. He spent most of the day observing. Eventually found a "joyous, celebratory and peaceful" group of counter protesters.
Baker suffered severe arm and hip injuries and a concussion in the incident when he was directly hit by the Silver Challenger. When it first happened Baker said he wanted to make sure he could walk. He was able to find enough strength to head away from the scene, thinking he wanted to get away from the path of car as fast as he could, but also help other people. Baker told the jury he eventually tipped and fell, and all of the pain set in. He has four permanent screws in his hip and he can no longer run because of pain and not wanting to speed up the process of eventually needing a hip replacement. Baker testified that almost every aspect of his life has been dramatically altered from the crash.
Charlottesville resident Peter Jasiurkowski was riding his bike near the downtown mall when he heard a sudden loud acceleration of the Silver Challenger, and said the car looked like it "caught air" when it hit a speed bump as it was heading into the crowd. After the crash, Jasiurkowski saw the car reverse through the downtown mall.
Assistant Chief Medical Examiner Jennifer Nicole Bowers took to the stand Monday afternoon to testify that Heyer's cause of death was blunt force injury to the torso. Heyer's aorta artery was split in two.
Foresnsic biologist and DNA analyst Kristin Van Itallie tested potential blood and soft tissue evidence found on the Silver Challenger, and told the jury that it is likely the DNA evidence found on the windshield of the car is Heyer's. Van Itallie said Heyer could not be ruled out as match, and there is a 1 in 7.2 billion chance the DNA belonged to someone else.
Officer Dean Dotts with the University of Virginia Police Department responded to Monticello Ave. where James Fields Jr. eventually stopped his car and was arrested, after Dotts said Fields Jr. had previously fled from officers. Part of Dotts body camera footage was shown in court. Dotts testified to seeing blood, personal property and what appeared to be flesh on the Silver Challenger.
The Commonwealth has called 23 witnesses to the stand so far, and expects to rest before lunch time Tuesday. Court will resume Tuesday at 9:30 a.m.
Copyright 2018 WWBT. All rights reserved.