Man who struck, killed firefighter charged with involuntary manslaughter
Published: Apr. 16, 2019 at 3:35 PM EDT
HANOVER, VA (WWBT) - The man who struck and killed a Hanover County firefighter on I-295 has been charged with involuntary manslaughter.
Virginia State Police have charged Lester Labarge, 49, of California, Maryland with reckless driving and cited him for defective brakes. Labarge was further indicted by the Hanover Circuit Court on charges of involuntary manslaughter and reckless driving.
Lt. Brad Clark, 43, of Mechanicsville, and a 13-year veteran with the agency, was killed when a tractor-trailer struck the fire engine from behind on Oct. 11, 2018. Clark died at the scene.
"The rule is if you see an emergency vehicle on the side of the road you move over," said Geegee Goebel, of Mechanicsville. "Why can't people understand this. It's so senseless."
The situation started when firefighters responded to the scene of a two-vehicle crash around 9 p.m.
Shortly after arriving on scene, police said Labarge rear-ended the fire engine.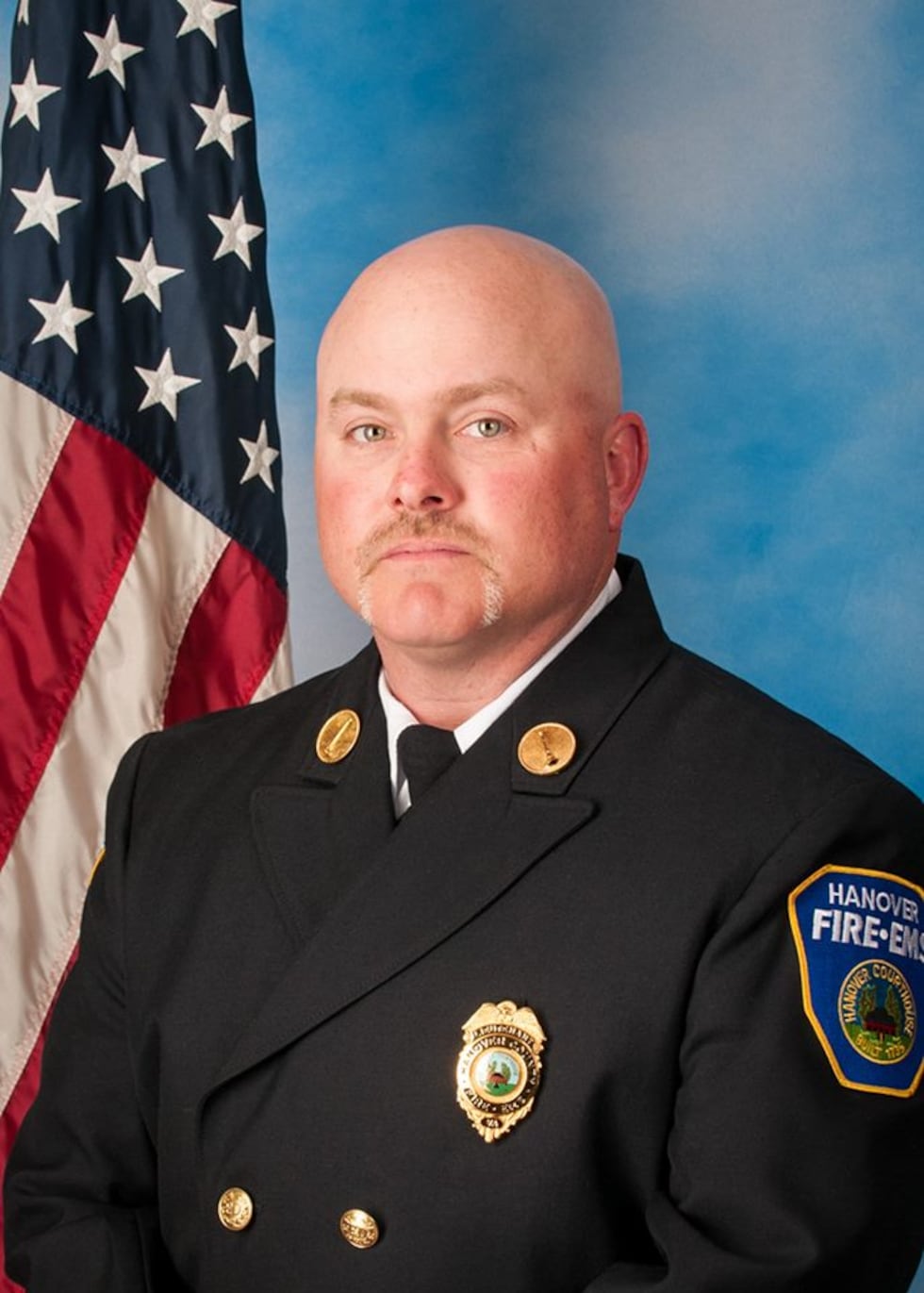 "It really does hit home for us," said Lt. Jason Elmore with Chesterfield County Fire & EMS. "They're our brothers and sisters from Hanover so out heart goes out to them and it impacts the entire fire service."
Another Hanover County firefighter suffered life-threatening injuries and another firefighter and Labarge were both transported to the hospital with serious injuries. Labarge had to be extricated from the cab.
A fourth firefighter was treated for minor injuries and released.
Officer Chris Saunders, of the Richmond Police Department, tweeted photos of Richmond firefighters honoring Clark on an overpass Thursday night.
The fire engine Clark and his crew responded in was towed from the scene around 5:30 a.m. Friday. The tractor trailer in the crash was also towed around the same time.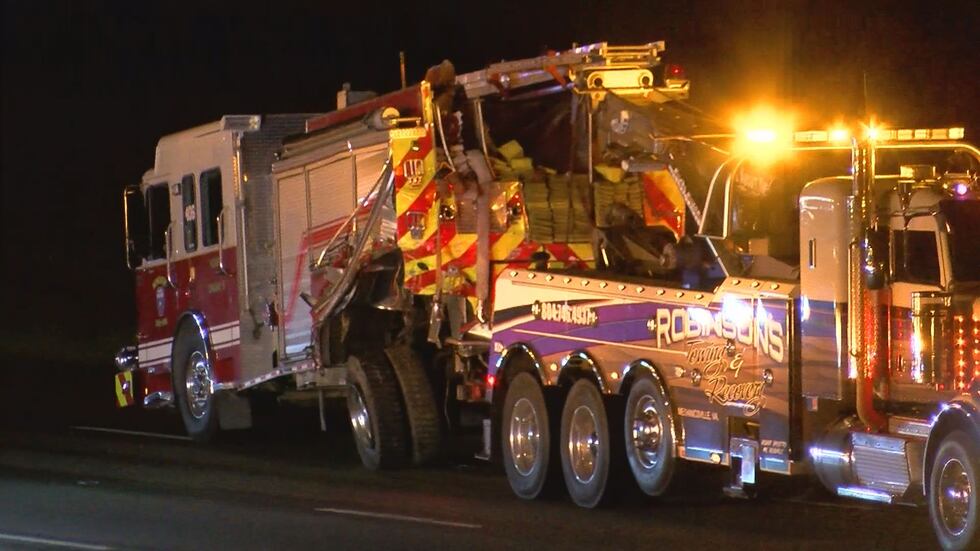 While this situation unfolded, Henrico County Fire jumped in to help; staffing some of the stations in the area until noon Friday.
Neighboring agencies also took to social media to express their sympathies to Hanover County Fire & EMS.
"I think it's important to realize that it is a true brother and sisterhood in the service and when one person, even if you didn't know the individual, dies in the line of duty, it's something that impacts us all and we're there to support each other," Elmore said.
Throughout the day people from the community could be seen dropping off food and other mementos showing their support for the crew.
"I just bought some of the firefighters some donuts," Goebel said. "I don't know anybody in that fire station, but it happened, and we lost him. They need to know that we're here for them too, because they're certainly here for us."
"It's huge to feel that impact that you make on the community when people stop by," said Lt. Jason Elmore with Chesterfield County Fire & EMS. "Just to give you their love or to give a card or food."
The spokesman for the agency said they are, "humbled by the show of support during this difficult time".
The crew is busy balancing the family's needs and trying to push out information in a timely manner.
They're asking the public to keep Clark's family and fellow firefighters in their thoughts and prayers.
Friday afternoon the crew at Station 6 draped a black cloth over one of the bays at the station.
A GoFundMe page has been set up in his honor, anyone wishing to donate can CLICK HERE.
Lt. Clark's family has released a statement:
The Clark family cannot begin to express our gratitude to the community for the outpouring of love and support we have received since we lost Brad on Thursday night. The Clark family has always been very proud of our public safety family as well as our wonderful Hanover community. While our mourning is far from over, we are encouraged to know that we will be able to continue to lean on the support of so many.
Now we ask the community to support the families of the two wounded firefighters that sill have a long road ahead of them. Thoughts, prayers, encouraging words, and simple acts of kindness are welcome at any time and mean so much. Many people have asked about making financial donations and those intentions are greatly appreciated. To offer the most reliable way to make such donations, we encourage people that would like to donate to visit the Hanover CREW Foundation at https://www.hanovercrewfoundation.org and click on the "Donate" tab. The foundation is working with the families to ensure all donations are being used to meet the needs of each of the families.
Lastly, we remind everyone that the driver of the other vehicle involved in Brad's accident had no evil intentions in his heart Thursday night. He is also seriously injured and his family is hurting as well. We harbor no ill will toward him. We wish only comfort for his family and healing for his wounds and encourage the community to do the same.
The Clark family is both proud and moved beyond measure to know that Brad had such a profound impact on so many people. Brad was a dedicated public servant and family man. We delight in the joyous years we spent with Brad and the time we had to know the hero that he was, long before he laid down his life so that others may live.
Sincerely,
The Clark Family
The visitation and memorial service arrangements to honor Lt. Brad Clark are as follows:
Visitation: Monday, Oct. 15 and Tuesday, Oct. 16, viewing times will be 2 - 4 p.m. and 6 - 8 p.m. both days at Woody Funeral Home located at 1771 North Parham Road in Richmond.
Memorial Service: Wednesday, Oct. 17 beginning at 2 p.m. located at the Farm Bureau Center at Meadow Event Park at 13191 Dawn Boulevard in Doswell. Reception to follow onsite.
The incident is still being investigated with the assistance of the Virginia State Police Crash Reconstruction Team.
Labarge appeared in court on Thursday, April 11. His charges are currently set aside.
Copyright 2018 WWBT. All rights reserved.