Richmond ultra-athlete breaks world record at 60
Updated: Oct. 5, 2018 at 3:06 AM EDT
SPOTSYLVANIA, VA (WWBT) - Some call Will Turner ambitious, others say he's totally crazy, but on a humid Thursday night in Lake Anna, this Richmond man just set a new triathlon world record.
Turner just completed his 45th, Ultra Ironman competition just five years shy of retirement age.
"If your dream doesn't scare you, it's not big enough." So I was thinking this is plenty big enough and it scares the crap out of me," Turner said.
It's a dream the Richmond native has been kicking around since his 60th birthday, completing 60 Ironman Triathlons at 60 years old.
An Ironman triathlon consists of a 2.4-mile swim, a 112-mile bike ride, and a 26.2-mile run in that order. Ironman events must be done consecutively within a 17-hour time frame. Each segment of the race has cut-off times as well.
It's an insane ambition for sure, but while many of us haven't kept up with our resolutions for 2018, Turner has been swimming, pedaling and running towards his goal ever since.
For the past 10 months Turner's dream has taken him from coast to coast and border to border completing officials Ironman races and "on your own," events, documenting each leg of it through social media all while calling on those inspired by him to live their bold.
Though he hasn't made it to 60 triathlons just yet, this 45th finish line at the Virginia ANVIL Race at Lake Anna State Park in Spotsylvania is almost as satisfying because it means will Turner has broken the three-year-old World Record for most Ironman Triathlons completed in one year.
The Guinness World Record of 44 Ironmans completed in one year was previously held by the French athlete Ludovic Chorgnon in 2014/2015. Turner matched that record at a race in Charlotte, NC on September 28, 2018.
"I feel amazing!," said Turner. "I'm tired, but I feel amazing!"
It's a tradition for participants who finish the Virginia Anvil to strike the victory anvil upon crossing the finish line, but to signify his latest achievement, Turner was allowed to strike the anvil 45 times. Each strike representing the 45 races he's completed thus far.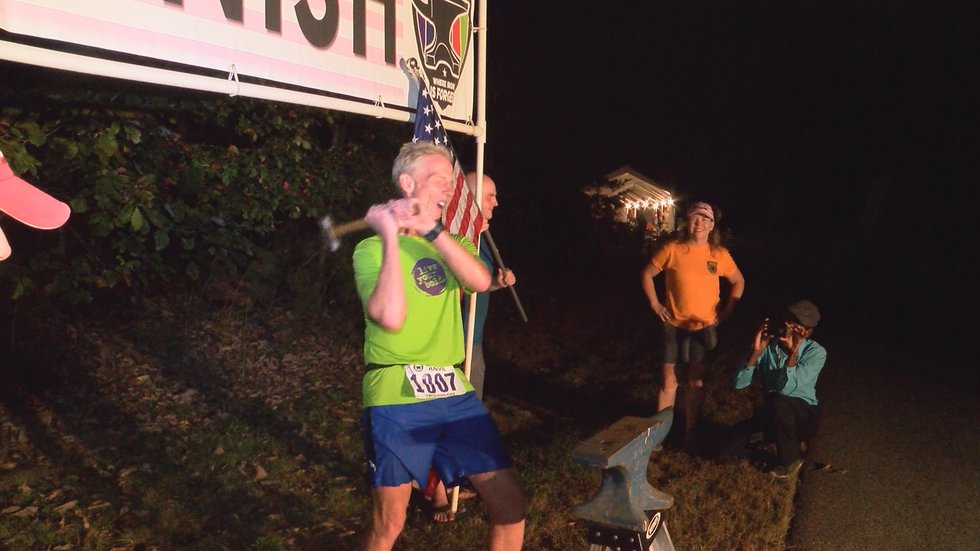 Amidst the celebration Turner was surrounded by his support group of close friends who have helped him on his journey since he first began back in January.
"45 is definitely a milestone and I've been waiting to get here for a long time, so it feels great," said Turner.
It's an incredible feat to be sure, but Turner has no plans on stopping there. Before the year's end, this 60-year-old will continue to set and break this same world record 15 more times before he reaches his ultimate goal.
All the while letting his accomplishments serve as a gift to give back to others to help them break through their own obstacles and limiting beliefs.
"The whole purpose of live your bold is to let people know we're all capable of so much more than we think we are and if we push ourselves and we really focus, we can achieve anything," said Turner. "Life is just waiting for you to grab it so go for it!"
Turner said once he completes all 60 Ironman Triathlons he will submit for the Guinness World Record. He hopes to reach that goal by December 31st.
On your Side in A.J. Nwoko NBC12 News
Copyright 2018 SITE. All rights reserved.