Richmond man receives $20K in free dental care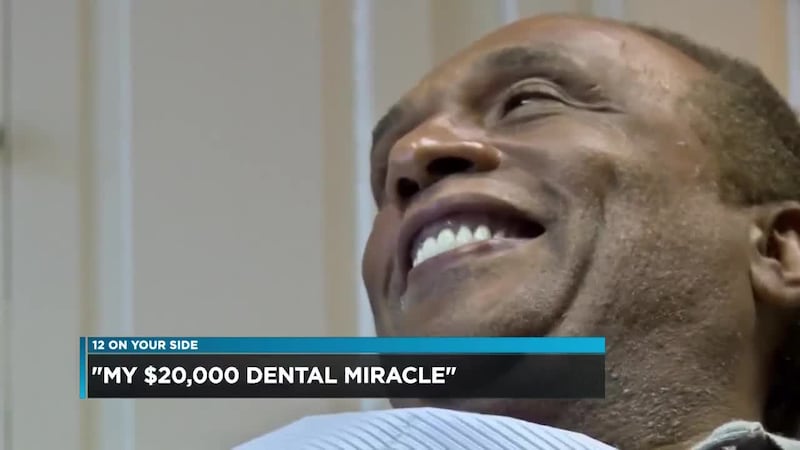 Updated: Sep. 25, 2018 at 8:36 PM EDT
RICHMOND, VA (WWBT) - A Richmond man, desperate to get his smile back, got the help he needed thanks to the generosity of a local dentist.
Ted Mills does not have insurance or the money to get his health back on track.
He's a new man. Ted said he wants to do more. Get out more and be productive. NBC12′s On Your Side Investigator Diane Walker caught up with him producing music on his key board at home.
The gifted musician writes, sings and plays his own creations with renewed energy and a different spirit. Ted Mills' new found outlook is reflected in the brand new $20,000 smile he flashes with confidence now. Ted said he's glad he called 12 for help and adds, "I'm just enjoying life more. I'm going to try to do more with my music now."
Life wasn't all smiles before Ted wrote to 12 On Your Side with his desperate plea for new teeth. His were chipped and broken and many were just missing. It effected how Ted viewed himself and made it difficult for him to eat.
"I had teeth missing in the back. I would bite my tongue because I had the space and it would really hurt and I was self conscious about that. Thank God, and thank him for Diane Walker and Channel 12 On your side and RVA Dental Care," Mills said.
RVA Dental Care is truly Ted's rescuer. Dr. Christopher Collie provided him amazing dental work, start to finish, and beyond after receiving a call from the Virginia Dental Association Foundation.
VDAF reached out to Dr. Collie after NBC 12 shared Ted's heartbreaking struggle to smile again. It was a collaborative effort that extended all the way to California.
"That's the beauty of donated dental services. A lot of local labs gave their time and expertise and donated materials to give Mr. Mills what he needed. It was a wonderful team effort," Dr. Collie said.
"The lower bridge stays in place. The upper is a full denture, so it comes out every night and he'll clean that. That was the best option for Mr. Mills, and that's the route he and I decided to go," Dr. Collie said about the work done.
Dr. Collie said the only requirement from Ted is to spread the blessing, and he's doing just that.
"Actually, I did write a song about it. It's called "Tears of Joy". When I was first sitting in the dentist chair, I was so happy I really had to hold back the tears and that's how joyful I was. Really. I really had to hold back because I couldn't believe I was there. I feel good. I just want to thank God for my $20,000 dental miracle," Mills said.
Dr. Collie said there's help out there for people who don't have insurance or money to pay for dental services themselves. A great place to start is the Virginia Dental Association Foundation. You can reach them online at: VDAF.org or call: (804) 523-2180 .
Copyright 2018 WWBT. All rights reserved.